How to receive Freeview on your PC

Brian Butterworth published on UK Free TV
If you want to watch digital television, one of the way to do this is use your PC. There are three main options, starting at around only 20.
Option 1: USB box
If you have a laptop computer, or do not wish to take your computer apart to fit a
card
into it, the most straightforward way is to use a USB box.
Once you have purchased the box, you first need to
install
some software on your computer. This will come on the CD with your USB package, or you can download the latest software from the company's web site. As a general rule, the on-line software will be a more up-to-date version.
You then plug the box into your
roof
-mounted
aerial
connection, and attach the USB
cable
to one of the USB ports on your computer. If you have USB 2 ports you should use these to get the best possible results.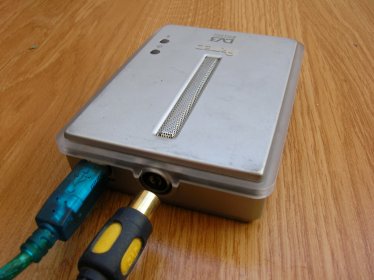 Now start the "Digital TV" software. The first time you use it, you will need to
scan
for the
Freeview
channels
. This can take several minutes (a lot longer than a Freeview set-top box).
Once this has completed, you will be able to select from the Freeview channels that are available in your area.
The software that comes with these boxes has two drawbacks: the channel numbers are not the
standard
Freeview ones (in the example,
BBC News
24 is on channel 2 rather than channel 80), and there are no
interactive services
. This means you cannot view
BBC Parliament
at all, or have the graphical screens when listening to the radio channels.
On the plus side, these boxes do support the full 14 day Freeview programme guide. You can use you PC as a PVR (
personal video recorder
) as the software will record the Freeview transmission and
save
them as MPEG-2 (.mpg) files.
Option 2: PCI card
Another option is to use a PCI card. This will keep the equipment within your PC, but does require the confidence to open up your PC.
To install a PCI card you MUST first ensure that your computer is unplugged from the
mains
. It is not enough to switch it off using the button on the front; you must ensure that it is disconnected from the mains.
Locate a free PCI slot - you will need a screwdriver to remove any blanking plate.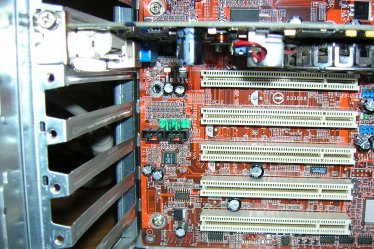 You must ensure that after seating the card firmly in the slot that your digital TV card is securely fastened into the slot. The thick television aerial cables are sturdy and can easily rip out a card that is not firmly fixed.
Once you have replaced the case of the computer, you can then attach the aerial connection to the appropriate connection.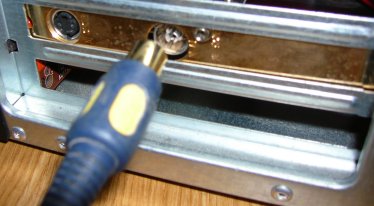 The software installation and operation of the digital television software is otherwise identical to a USB box.
Option 3: Media Center
Microsoft
Windows XP Media Center Edition
2005 has full personal video recorder support, and if you have this version of Windows you do not need to install any software, just one or two PCI cards.
One requirement is that you must have installed some DVD playing software before you can watch the programmes.
The set-up is slightly more complicated than the above, but this results in a easy-to-use programme guide and sophisticated recording facilities.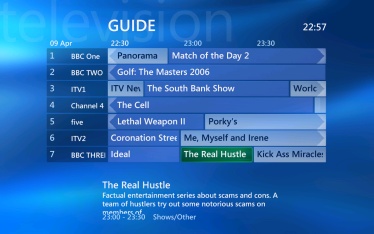 Another advantage of using the Media Center software is that all your recorded TV can be watched by any other PC connected to your home
network
and by any Xbox 360 you may have.
There is now full support for the Freeview digital radio channels, but there are no red button text facilities. However, there is a full BBC News player in Media Center's Online Services menu.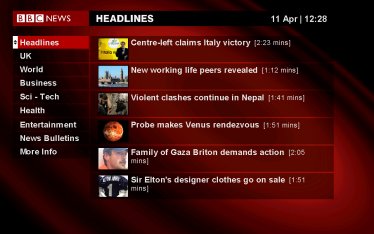 Comments
Monday, 21 March 2011

sean: It could be the booster - try removing it from the system if you can and use a passive splitter, as boosters usually degrade digital signals.

Briantist's 38,905 posts
Thursday, 31 March 2011

I bought a DVB-T USB dongle, which came with Blaze HDTV 6.0.
It's connected to an external, wideband aerial and I can get most channels (it doesn't seem to be able to distinguish the channels that share a frequency, such as CBBC).
After switching to BST from GMT, the EPG fails to show the right times.
I have the right time-zone set.
I've tried re-scanning, and switching off the "Automatically adjust clock for daylight saving changes" option in the Windows clock, but nothing seems to work.
Any suggestions on how to get the EPG to work properly? Or maybe some better software - I don't like the Blaze EPG even when it's working properly.
I don't want to upgrade the Blaze software because that's going to cost me £20 - about twice what I paid for the USB dongle!

Phil Rogers's 5 posts

Hmmm. After setting the Automatic daylight saving option, re-scanning and then re-booting my PC, the times in the EPG seem to be correct, but Now and Next remain blank for most channels, and for those that are not blank, it's showing the wrong program (1 hour out).

I thought my previous DVB-T dongle with Savvy TV was poor, but I'm beginning to prefer it over Blaze.

Phil Rogers's 5 posts

Phil Rogers: It is usually best to use the Windows Media Centre software.

Briantist's 38,905 posts

Here's some advice for anyone using USB dongle receivers.

Some USB Hubs (the little boxes that give you extra USB ports) don't always give you the full functionality of USB ports.
If I plug my USB DVB-T receiver into one of my hubs (cheap Asda brand), it doesn't work very reliably at all.
But when I plug it in to a USB port directly, it works just fine.

So if you are using a hub and you're having problems, try plugging it in directly to a USB port on your PC. It's possible that it might just fix the problem (I'm not guaranteeing it though!).

Phil Rogers's 5 posts
M
Mike Dimmick
2:24 PM
Reading

Briantist: Windows Media Center only comes with some editions of Windows. For Windows XP you need the specific Media Center Edition. For Windows Vista, it's part of Home Premium and Ultimate only - it's *not* part of Vista Business. For Windows 7 you need Home Premium, Professional or Ultimate (or Enterprise, but that's only available through Volume Licensing and I don't expect anyone to have it at home!)

Phil Rogers: The problem here is that all devices connected to one port have to share the bandwidth. Lower-speed devices such as mice, keyboards, and ADSL modems reduce the available capacity for the tuner, which has to chuck several megabits per second to the PC. If it's throwing the whole multiplex to the PC to decode, that could be 24 Mb/s, or 40 Mb/s if it supports Freeview HD. If it's decoding the multiplex and just passing the single programme stream it's still up to 5 Mb/s or more.

The hub also has to be High-Speed compatible, but Windows should tell you if you plug the tuner into a port that doesn't support High-Speed.

Hubs can also be powered or un-powered. Unpowered hubs might not be able to give the tuner enough power, if it doesn't have its own power supply.

Plugging straight into the PC should ensure it has enough power, and will dedicate the entire capacity of that port to the tuner.

Mike Dimmick's 2,486 posts
Mike's:
map
M's Freeview map
terrain
M's terrain plot
waves
M's frequency data
M's Freeview Detailed Coverage

Mike Dimmick: Yes, I do know this. If you have Windows 7 and don't have it you can easily get it via the Windows Anytime Upgrade, which takes a few minutes to switch the edition - for a payment of course.

Briantist's 38,905 posts
Tuesday, 5 April 2011

I have a DVB-T digital TV stick and have installed all the necessary things from the disk that came with it. However when trying to scan for channels it just says there's no signal and none of the lights light up on the dongle. I don't know what the problem is.

Lizzie's 1 post

@Lizzie:

Does the dongle have lights, if it that just the IR receiver for the remote control? Which USB stick do you have?

Also, is the USB Stick connected the supplied mini-aerials or to another source?

The supplied aerials are often insufficent unless you live near to your local transmitter. This is especially the case in earea that haven't yet reached Digital Switchover.

Lance's 2 posts
Lance's:
map
L's Freeview map
terrain
L's terrain plot
waves
L's frequency data
L's Freeview Detailed Coverage

You can download "tvcatchup" to your pc, this is a full freeview service and i think if you buy a usb, you should be able to record and pause live tv.

Stevieg's 3 posts
Select more comments
Your comment please