Freesat reception - all about dishes

Brian Butterworth published on UK Free TV
Satellite reception has both advantages and disadvantages compare with terrestrial (aerial) reception.

By using much higher frequencies (gigahertz, compared to terrestrial televisions megahertz) more transmission channels called transponders (the satellite equivalent of multiplexes) can be provided. For example, there are only six Freeview multiplexes, but Sky or Freesat users can access two hundred satellite transponders.

Aside from exceptional weather conditions (very heavy rain for example) digital satellite provides stable pictures and audio. Where Freeview transmitters are no more than 732 metres above sea level, the geostationary satellites used for television are 35,800,000 metres above the equator so reception is possible even where buildings, trees and hills make terrestrial reception impossible.





The downside of the transmitters being 22,300 miles up in the air is that the signals are very, very weak - so standard TV aerial is of little use. When the signals are sent to the satellites, huge dish transmitters are used to uplink the signal to the satellite. These are tens of metres from side to side, and feature an emitter that generates the signal, which is first bounced of a mirror (called a reflector) and then off the surface of the parabolic dish.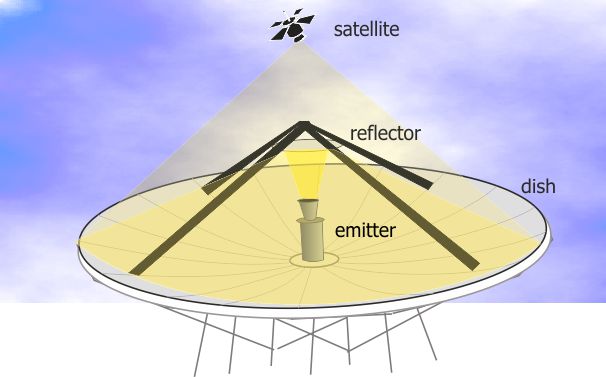 There are many satellites in the sky over the equator. Often these are in clusters over a particular position, for example there are four used for UK television are at 28.2 degrees east. There is another cluster over the 19.2 degrees east positions that are used for German television.

To receive these very weak signals from the satellite, it is necessary to use a dish for reception too. By using a reflective dish, this concentrates the signals onto a small device called a LNB. This is held in front of the dish by a metal arm.




The size of dish for reception is typically much smaller; often 60cm to 100cm in diameter, but the exact size depends upon the transmitting satellite transponder. To keep the transmission power levels down to levels that can be powered by the satellite's solar panels, each beam is focused on a particular area of the Earth's surface. If you are trying to receive the signal at the centre of this zone, a small dish is required. At the outer edges, you may need a 5 metre dish. Maps of these zones are provided by the satellite companies, and are called satellite footprints.

When the dish is installed it must be aligned carefully as the signal is very weak. The installer needs to know the inclination and the azimuth from the ground location to the satellite. If you install yourself you will find that there are markings on the dish that are used to point the dish in the correct position. It is important that the view of the satellite will not be blocked, so must take into account leaves growing on trees and potential building works.

For many people the LNB will have a single cable connected to it, however if you have Sky+ or a multi-room installation the LNB package will actually contain four receivers a quad-LNB. Unlike terrestrial television where you can split the aerial cable to feed more than one Freeview box or television set, with satelite reception you cannot. So, a Sky+ box with two receivers (so you can watch one thing and record another) has two cables connecting the box to the dish.

The cable that connects the dish to the receiver must be satellite grade cable. Whilst this looks superficially like the cable used to connect and aerial to a television, a higher grade cable is required for satellite reception.

Here is an image of a co-axial cable. This sort of cable is used to connect any type of receiving aerial to the reception equipment.




RG6, PF100 and PH100 are all types of coax cable that are suitable for the very weak signals that are received by a satellite dish. (The power is the same as you would receive from a one-bar electric heater on the moon).

The conductor in the centre passes the signals received from the dish to the set-top box. This is made from steel in RG6 cable, and from copper in the RF100 and PH100 types. This makes RG6 less suitable in the UK where rain can damage the cable.

The shielding is responsible for keeping unwanted external interference from damaging the signal. In the cheaper cable this will be a foil wrap, in better specified cables this is a braid (or mesh) of copper wires. The sheild in the RF100 covers 58% of the cable.

The non-conducting layer between the shield and the conductor is called the dielectric. This can be either a solid (RG6), foam (RF100) or air-spaced (PH100) dielectric. This makes the cables progressively more flexible (ie bendy without damage).
Comments
Monday, 25 March 2013

Hi,
I am trying to install Freesat in my daughters house to replace her current Sky setup. She has 3 HD boxes and her LNB has 6 connections, they all give a perfect picture.
I have swopped each of them for a freesat box, (I have used my two from home to see if it works before cancelling sky). However the picture is very poor, with both boxes, signal is at 97% and all the channels are there. When I swop the sky boxes back the picture is back to being perfect again. I did the install on Freesat boxes from start and put in the postcode but it still does not give an acceptable picture. When I plug the Freesat boxes in back at home the picture is stunning, does anyone know why? The sky installation is only 18 months old and looks fine from the ground. This is driving me nuts, plus my daughter is paying a fortune for sky which she cannot afford. Thanks Barry

Barry Martin's 1 post

Barry Martin: A dish used for Sky reception is technically identical to that required for Freesat and so some other factor has to be involved.

When you say that the picture is inferior, in exactly what way do you mean? are the Freesat boxes HD? and if they are using HDMI connections into their respective TV's.

It would also assist to have knowledge of the Freesat brand models being referred to.

As far as the picture being OK on the Freesat boxes when tested back home is concerned, that has to be connected to the settings on your TV as the quality of a picture does not change by anything connected to the dish its being used on, because any deficiency there results in pixelation, intermittent picture freezing etc.

jb38's 7,179 posts
Tuesday, 26 March 2013

Barry Martin You say that the "signal" is at 97% but what about the quality reading and what figures do you get at home? I was surprised by the difference in reception between my Panasonic free to air receiver which produces better pictures than my old Fortec Star HD receivers on the same dish/LNB. Conversely when I tried a cheap 15 metre HDMI lead it was the Fortec Stars that worked better. My point being that no two receivers are the same and maybe the Sky boxes have more sensitive tuners to enable them to cope with smaller or poorly aligned dishes?

Neil Bell's 106 posts
Friday, 29 March 2013

Add LED signals at the head of Satellite dish so shining reference when the correct position of the satellite (proposed).

abduh haggar's 1 post

Neil Bell: Sky boxes of later manufacture (modern Sky+ HD types) are generally all fitted with sensitive tuners, however this does not necessarily always apply where older Sky+ types are involved, although apart from that aspect all Sky boxes (even the oldest) give a high level of AV output signal for feeding into a TV compared to some set top boxes.

But though if Barry Martin found the Freesat boxes to be "stunning" when plugged in back home then this is a "no iff's or buts" case of the TV they are being connected into either being capable of producing better pictures or alternatively having been more carefully set up, although I will admit that some of the lower end LCD sets are inclined to produce a lifeless wishy washy image that's virtually impossible to improve.

Of course that is on the assumption that the inferior quality referred to is not connected in any way to pixelation or glitching? but just poor picture quality.

jb38's 7,179 posts
Friday, 19 April 2013

I have no or bad freeview signal without a signal booster, will I need a similar booster to go with a dish for freesat or will it be ok without one?

st johns cross's 1 post
Saturday, 20 April 2013

St Johns Cross There is no link between terrestrial and satellite reception and as far as I am aware there is no such thing as a booster for a satellite dish. All you need is direct line of sight to the satellite. So as long as there is nothing high in the sky to the SSE (e.g. trees, tall buildings etc.) of where you want to mount your dish it will work fine. The function of a signal booster for satellite reception is fulfilled by using a larger dish but as you have some sort of freeview signal and you want to receive freesat I am assuming you are in the UK and thus you won't need this.

Neil Bell's 106 posts

St Johns Cross I stand corrected - You can get satellite signal boosters but having a quick look at users reviews it seems they have mixed success with them. They sometimes work where there is a very long cable between the dish and the receiver or where people are using communal satellite systems with very weak signal strength.

Neil Bell's 106 posts
Thursday, 25 April 2013

Hi there
I am keen to receive German free to air TV, ARD, ZDF etc...all stuff i used to watch when i loved there. I know I need a zone 2 dish but do I also need a reciver/box? I have a freeview digital TV already.
Hope you can advise
Matt

Matt's 1 post
Friday, 26 April 2013

I have a portable satellite system for my motorhome, the kit has a small dish about 35cm. My question is, would a larger dish say 75cm be easier to align to the Astra satellite? I have heard that the larger the dish, the more difficult it is to align.

Gordon Brockley's 1 post
Select more comments
Your comment please