New UK after-switchover maps

Brian Butterworth published on UK Free TV
There are three sets of new maps on UK Free TV which show the configuration of terrestrial television after switchover is complete in 2012/2013.

Because Ofcom are withdrawing some of the TV transmission frequencies, namely channels C31, C32, C33, C34, C35, C37, C39, C40, C63, C64, C65, C66, C67 and C68 in some areas new aerials will be mandatory after switchover.

In the rest of the UK, the post-switchover digital transmission frequencies will be in the same aerial group as the analogue transmissions were. These aerial groups are:

Group A (colour code red) is C21 to C37
Group B (colour code yellow) is C35 to C53
Group C/D (colour code green) is C48 to C68
Group E (colour code brown) is C35 to C68
Group K (colour code grey) is C21 to C48
Wideband (colour code black) is C21 to C68






To see the areas which are covered by transmission that will not be of the same group after switchover, please click on the image below. If you live in these areas, as transmitter regions overlap, you may be getting your signal from another transmitter that will stay in group. If you already have a wideband aerial, you will have no problems.




Many areas will only get the Public Service Broadcasting (PBS) multiplexes: multiplexes 1, 2 and B. This will provide all of the BBC TV and radio services, plus itv1, itv2, itv3, itv4, citv, Channel 4, More4, E4, QuizCall and five. It will NOT include the Film4 service or itv Play, and none of the other channels including Sky News, Sky Sports News, UKTV History, The Hits, TMF and so on. If you live in one of these areas, you may be getting (due to the overlapping transmitter areas) your signals from a transmitter with all six multiplexes, or you may need a new aerial to be installed to get the full Freeview service.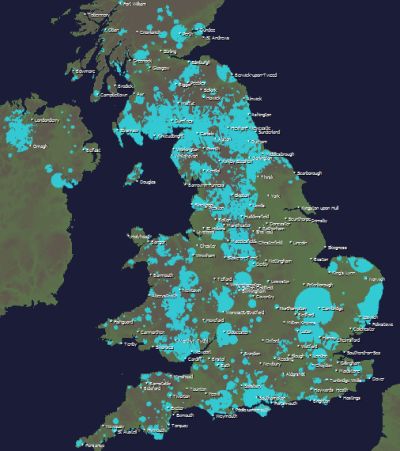 Finally, there are now maps of the frequencies allocated to the transmitters after switchover. You can view the maps of these by clicking here.
Comments
Sunday, 25 November 2012

Hello, I live in South Wales and have line of sight to the Carmel transmitter which is perhaps four miles away across the valley. However my tv reception is not that good - I have a Tesco television with built in Freeview - so I'm wondering whether I have the wrong aerial. The aerial I have has a yellow bung in the end, it's just a cheap basic one. Can you help please?

John Melville's 1 post

John Melville: The aerial sounds like a group "B" type which is intended for use on the frequency range of C37 to C53. That would mean only PSB2 (ITV1/2, Ch4, S4C and Ch5 etc) and possibly SDN (ITV3, QVC) would be expected to give good reception, with the BBC channels possibly giving the most problems. Carmel at present uses group C channels, so a small log periodic would probably be your best bet for reception of present and future frequencies. That advice being given on the basis of you having, as you say, line of sight with Carmel.

KMJ,Derby's 1,811 posts
Your comment please