The new Freeview prediction system - includes Freeview HD

Brian Butterworth published on UK Free TV
The new Freeview prediction system - beta - is here. Finally!

If you visit Freeview reception - UK Free prediction you now get a much more detailed page to help you with any reception issues.

As before you can see this page with a postcode, the system will shortly also allow the input of national grid references, or latitude/longitude references.

Firstly, you can get a prediction for any number of dates by selecting the appropriate tab at the top.


Five different views
There are five different views
By direction: this will show the various directions your aerial might point and the services you can receive from the transmitters in that direction.
Received signal strength: this shows the information ordered by signal strength, to help you find the strongest signals.
By frequency: this lists broadcast frequencies from C21 to C68, showing the services on each. This view can be used to find potential interference or to help with digital region overlap areas.
Service names: this lists the services that you can receive, each ordered by the strongest signal.
Transmitter names: and finally an alphabetical list of the transmitters with the services listed by broadcast frequency.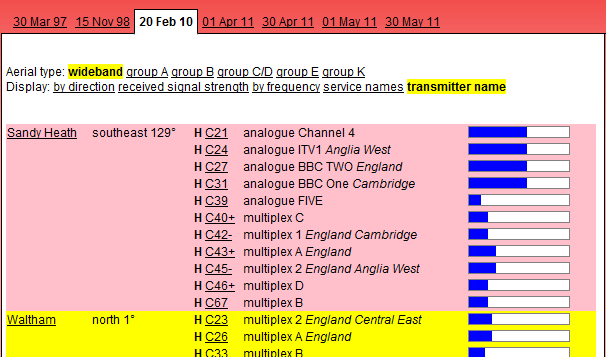 Aerial group choice
When you first visit the page you will see the services received by a "
wideband
" aerial, now you can also select the other aerial groups to see how that will effect reception.
Issues
For the moment it is not possible to resolve postcodes in Northern
Ireland
(BT) or the Isle of Man.
Apologies
for that.
Try it now
Try the new UK Free TV Freeview reception - prediction system now
.
Comments
Wednesday, 16 February 2011

Tony Collins: There is a small problem for areas just by the coast, I am regenerating the database at the moment, however it takes several more days. You can see Freeview on Pontop Pike TV transmitter | ukfree.tv - independent free digital TV advice .

Briantist's 38,908 posts
Wednesday, 23 February 2011
C
chris graves
5:37 PM
Northampton

i need to know if earls barton in northamptonshire is a weak, medium or strong signal area for receiving freeview tv programes

chris graves's 1 post
chris's:
map
C's Freeview map
terrain
C's terrain plot
waves
C's frequency data
C's Freeview Detailed Coverage
M
Mike Dimmick
6:38 PM
Reading

chris graves: good now, very good after switchover. See the 'Digital UK tradeview' link next to your post, or in the top-right corner.

Mike Dimmick's 2,486 posts
Mike's:
map
M's Freeview map
terrain
M's terrain plot
waves
M's frequency data
M's Freeview Detailed Coverage
Thursday, 24 February 2011
M
Mike Gould
4:08 PM
Ashford

Why has my Philips hard drive recorder stopped receiving 'on screen listings' of programs??

Mike Gould's 1 post
Mike's:
map
M's Freeview map
terrain
M's terrain plot
waves
M's frequency data
M's Freeview Detailed Coverage
Thursday, 3 March 2011
W
wendy smith
9:33 AM
Newark

I am in the Belmont area, for the past week I have been unable to receive a signal for channel 36/22, yesterday, 2/3/11, from 7pm we had no signal for any itv stations. is this to do with the weather, work , or what? We are finding this very frustrating and do not know how to rectify the situation. Is this how it's going to be after the changeover?

wendy smith's 1 post
wendy's:
map
W's Freeview map
terrain
W's terrain plot
waves
W's frequency data
W's Freeview Detailed Coverage

wendy smith: Please see What is the Inversion Effect and why does it effect my Freeview TV reception?
| ukfree.tv - independent free digital TV advice - this will not happen as often after switchover is completed in the whole of the UK.

Briantist's 38,908 posts
Wednesday, 9 March 2011

Hi,

About one week ago (beginning of March) all our TV's in the house lost all channels except BBC channels.

Our aerial is in the loft. Its a standard Yagi aerial and is pointing at Ambergate 343 degrees NNW.

I know we should have a roof mounted aerial but it was working and ain't know???

Any ideas


Colin's 1 post
Colin's:
map
C's Freeview map
terrain
C's terrain plot
waves
C's frequency data
C's Freeview Detailed Coverage
Friday, 11 March 2011

I live in portugal and until a few months ago coud get all the free channels without a card. Now I do not get any itv channels after 5pm but can get them in the daytime. Why is this?




(38.7072,-9.1355)

maureen's 1 post
Select more comments
Your comment please