Upgrading from Sky+HD to Freesat+HD

Brian Butterworth published on UK Free TV
You might get a glossy magazine every month, but what do Sky really think of your custom?

"Give me a f**king name on a direct debit and it's mine for life,"
- Sam Chisholm, former boss of BSkyB.

Perhaps you responded to an offer like the one blow that promised a gratis Sky+HD box (for new customers taking their first Sky+HD package) with free standard set-up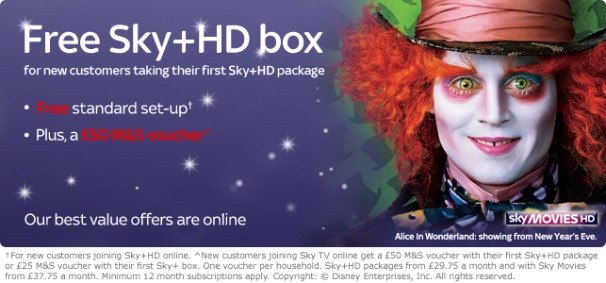 But you were so excited with the thought of a £50 M&S voucher that you didn't think to follow each of the little daggers and little stars to quite read all the terms and conditions:




So, your twelve months of commitment are over and, for reasons of budget (or politics) you have decided you want to keep all the features of Sky+ - live pause, high definition, extended electronic programme guide, series record, and recording two programmes at once whilst you watch another - but don't want to fork out every month on top of your TV Licence - and you still get hundreds of free TV channels

Here's what you can do.

First you need to buy a Freesat+HD box. There are many on the market, and can be bought from Argos, Currys DIGITAL, John Lewis, Comet and online at Amazon, as well as other stores.

When you use a Freesat+HD box NO SUBSCRIPTION HAS TO BE PAID. NONE. NOT A PENNY TO ANYONE.


Installing
This will take no more than ten minutes. First you will need to disconnect the Sky+HD box
mains
from the wall socket.
Then you will need to disconnect the cables from the back of the Sky+HD box.
Pull out the mains
power
connection (1), carefully unscrew the
satellite
dish
links (2) and (3), and then take out the HDMI lead (4) to your HDTV. If you have an "
surround sound
"
amplifier
, you may also have a
digital
audio connection (5).
Remove the Sky+HD box and put the Freesat+HD box back in the same position.
Then reconnect the cables: the mains power
cable
(1) - but not to the wall just yet, screw the two satellite dish links (2) and (3) and connect the HDMI cable (4) to your HDTV. If you had one, reconnect the digital audio connection (5).
If you have an Ethernet router, you can connect it to the Freesat+HD box at this point (5).
With everything in place, turn on the mains power and power up the Freesat+HD box.
The TV screen first displays the box's logo
The first set-up screen allows you to select the TV type, widescreen
mode
and resolution:
Next the box checks for the satellite
signal
:
Then there is a check for updated software:
Then you enter your postcode and the box checks it:
The next step is a
scan
for
channels
. This takes about 30 seconds:
And that's it. You can now view
channels
, like 108 for
BBC HD
:
Or press the GUIDE button for the EPG:
And that's it.
Comments
Saturday, 12 November 2011

Andy: Assuming that you are not a Sky subscriber, then if you purchased a Sky+ box you would not be able to record anything with subscribing to Sky for the dubious privilege of doing so.

If you purchased a Freesat twin tuner PVR then it requires two feeds from the dish for proper operation, but if you updated the LNB to a quad version (under £10.00 from e-bay sources) then two feeds could be used for the PVR, and the other two for Sky boxes in other rooms.

By the way, PVR's are not like Sky boxes insomuch that they do not have RF modulators fitted whereby you can feed a signal to another room and view it on an analogue TV

jb38's 7,179 posts
Thursday, 17 November 2011

Lots of great comments above but I would like to be selfishly specific here:

From Sky I have:
Phone line with something like friends and family call package.
Broadband.
Just off the basic TV package.
An HD box.
and Multiroom.

I am paying circa £65 a month and would like this to reduce.

If I cancel my Sky TV subscription what will this save me?

Also should I replace both boxes with free view boxes or will my HD box act as a free view HD box and my Sky+ as a normal Freeview box?

To muddy the waters further. I have just built a sunroom and am looking to move my current HD box from living room (current residence) to the new sun room. It is cabled - just needing an engineer. Should I pay Sky the £65.00 to come out to do this?


Iain Whittington's 2 posts
Friday, 18 November 2011

Iain Whittington: Please read the article at the top of the page.

Briantist's 38,902 posts
Saturday, 19 November 2011
I
Iain Whittington
10:55 AM

To be fair.

The reference still doesn't answer my questions on:
cash saving?
If I should get an engineer out?

Iain Whittington's 2 posts
Sunday, 20 November 2011
D
Dennis Steven
2:16 PM
St. Helens

I have a sky+ subscription at the moment which I am able to cancel. I would like to change over to freesat+HD, for cost saving.Could you please tell me which is the best freesat+HD box on the market at the moment in terms of performance and reliability.I am hoping to purchase a Samsung 40"LED TV, and I am being pushed in the direction of a Samsung fresat+HD box by the salesman.Can you tell me if a Samsung box is a good unit to buy, or should I purchase a Humax?

Dennis Steven's 1 post
Dennis's:
map
D's Freeview map
terrain
D's terrain plot
waves
D's frequency data
D's Freeview Detailed Coverage

Dennis Steven - I think I would opt for the Humax - The Samsung receiver has similar features but their were some bugs in the software and whilst some of these were resolved in a software update one or two remain. It's really a matter of personal choice, but the Humax DTR reamains currently the market leader.

Les Nicol's 991 posts
Thursday, 24 November 2011

If I buy a freesat hd box do I still only need the one cable coming in from the Satellite dish, which has been up for years and works fine. Also if I have the freesat hd receiver/recorder does that replace the separate dvd recorder. Thanks in advance.

WENDY's 1 post
Friday, 25 November 2011

Wendy - If you are are intending to install the non-recording Humax Foxsat HD receiver then the existing single cable from the dish will suffice. If your opting for the recording Humax Foxsat HDR model then an additional cable and or replacement LNB that's the the item on the end of the dish arm may be required. - Thus said you shouldn't be looking at something that's an expensive upgrade. It's a mater of personal choice between the two receivers but if you can make use of the existing receiver elsewhere at home eg:- a bedroom or kitchen etc, then the latter receiver offers more flexibility and options than your existing box.

Les Nicol's 991 posts

Wendy - Apologies here ---seems I am not yet fully awake this morning! Of course you don't have an existing receiver at the moment. Everything else though in my response to you applies.

Les Nicol's 991 posts
Wednesday, 30 November 2011

Can I install a Freesat+ HD PVR in France?
I currently have a basic Sky box, with a sky viewing card (no subscription) so only get the free HD channels (not channel 4 tho for some reason!) but I want to be able to pause/rewind,play and record.
Above you show the installation process and it asks for a postcode- what will I have to do in that instance and will I get all the free UK channels that Freesat provide?

Hayley's 2 posts
Select more comments
Your comment please