Upgrading from Sky+HD to Freesat+HD

Brian Butterworth published on UK Free TV
You might get a glossy magazine every month, but what do Sky really think of your custom?

"Give me a f**king name on a direct debit and it's mine for life,"
- Sam Chisholm, former boss of BSkyB.

Perhaps you responded to an offer like the one blow that promised a gratis Sky+HD box (for new customers taking their first Sky+HD package) with free standard set-up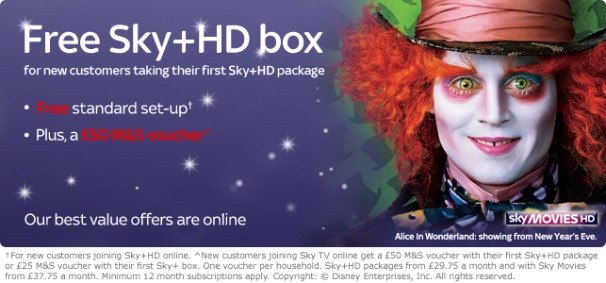 But you were so excited with the thought of a £50 M&S voucher that you didn't think to follow each of the little daggers and little stars to quite read all the terms and conditions:




So, your twelve months of commitment are over and, for reasons of budget (or politics) you have decided you want to keep all the features of Sky+ - live pause, high definition, extended electronic programme guide, series record, and recording two programmes at once whilst you watch another - but don't want to fork out every month on top of your TV Licence - and you still get hundreds of free TV channels

Here's what you can do.

First you need to buy a Freesat+HD box. There are many on the market, and can be bought from Argos, Currys DIGITAL, John Lewis, Comet and online at Amazon, as well as other stores.

When you use a Freesat+HD box NO SUBSCRIPTION HAS TO BE PAID. NONE. NOT A PENNY TO ANYONE.


Installing
This will take no more than ten minutes. First you will need to disconnect the Sky+HD box
mains
from the wall socket.
Then you will need to disconnect the cables from the back of the Sky+HD box.
Pull out the mains
power
connection (1), carefully unscrew the
satellite
dish
links (2) and (3), and then take out the HDMI lead (4) to your HDTV. If you have an "
surround sound
"
amplifier
, you may also have a
digital
audio connection (5).
Remove the Sky+HD box and put the Freesat+HD box back in the same position.
Then reconnect the cables: the mains power
cable
(1) - but not to the wall just yet, screw the two satellite dish links (2) and (3) and connect the HDMI cable (4) to your HDTV. If you had one, reconnect the digital audio connection (5).
If you have an Ethernet router, you can connect it to the Freesat+HD box at this point (5).
With everything in place, turn on the mains power and power up the Freesat+HD box.
The TV screen first displays the box's logo
The first set-up screen allows you to select the TV type, widescreen
mode
and resolution:
Next the box checks for the satellite
signal
:
Then there is a check for updated software:
Then you enter your postcode and the box checks it:
The next step is a
scan
for
channels
. This takes about 30 seconds:
And that's it. You can now view
channels
, like 108 for
BBC HD
:
Or press the GUIDE button for the EPG:
And that's it.
Comments
Tuesday, 21 August 2012

I currently pay for multiroom with my Sky subscription allowing me to view a different channel in a second room (ie -the kids can watch a movie in one room whilst I watch the news at the same time in another room). I intend buying a Sky Freeview card from Sky and ending my subscription. This means I will also lose multiroom. My TVs in the house all have built-in Freeview. With Sky Freeview, will I be able to view different channels on different TVs at the same time? Thanks

Rob's 1 post

Rob: Nothing will really change in that respect, as all that will happen is that the Sky boxes in the other rooms will stop being able to receive the programmes that are dedicated to the Sky package, or recording anything or playing back same "if" a Sky+ box is involved in any of the other rooms.

You can check what you will be able to view by simply removing the Sky card from the boxes in the other rooms and running through the EPG list.

jb38's 7,179 posts
Thursday, 6 September 2012

Excellent advice on a number of questions i had, thank you

Ray Perry's 1 post
Monday, 17 December 2012

I have a Sky+HD STB and want to switch to Freesat from Sky using their box. Can you tell me what the monthly costs would be and do they include recording and watching HD channels?

Mark's 2 posts

Mark: The only advantage of having a Sky free to view card is that it enables viewing of the correct regional news channels for a persons location, as otherwise apart from being able to view an odd channel here and there you are just as well not having a card installed in an old Sky box.

By the way, its to my belief that the latest price for the card in question is £25.00, and with the card lasting for an indeterminable period of time as renewal times are decided by Sky, my own one being in use for nearly four years now.

The only thing is that if anyone uses a Sky+ box then it will revert to being a standard non-recordable (or play back) box when the contract is cancelled with Sky, as they retain access control to this side of the box on a permanent basis and will only release it upon payment of the appropriate subscription fee, which I believe was in the region of approximately £12.00 per month, although this well have altered by now.

As far as being able to view HD channels is concerned this is the info concerning this.

Free to view "without" a Sky card being used. (none inserted into slot)

BBC1 HD - BBC HD - NHK World HD
------------------------------
Free to view "with" a Sky viewing card.

BBC1 HD - BBC HD - ITV1 HD (England and Wales only) Ch4 HD - Ch5 HD - NHK
World HD.


jb38's 7,179 posts
Wednesday, 16 January 2013

Hi I have a TV Co delivering and setting up a HUMAX HDR1000S for freesat on Thursday to replace my SKY+ HD box as I have now cancelled my sky subscription. My question please, currently we have a spider box in the loft which connects all the tv's to the sky box enabling me to watch the same sky programme in any room. Can I do the same with the Humax box or will they also have to leave the existing sky box connection. This also powers the tv in the bedroom when I want to watch freeviww on that set so the old sky box sends the signal to that tv when its off. Very many thanks.

Anne's 5 posts

Anne: When you watch the Sky box on other TVs, the Sky box puts out a signal on the aerial lead. The part inside it that does this is known as a modulator.

The specification sheet for the HDR1000S is here:

http://humaxdirect.co.uk/….pdf

The spec doesn't say that it has a modulator, and indeed, there is a shot of its rear and it doesn't have standard aerial connections (one in and one out) which it would need if it had a modulator.

So, in answer to your question, no you will not be able to view the output of the Humax on other TVs, without the use of a separate plug-in modulator.

Separate modulators are available and you would probably feed the output from the scart, or possibly phono connections (those three above the scart in the photo). You then feed the terrestrial aerial into it and out again, as you did with the Sky box.

It is important to point out that any other TVs that you wish to view a modulated signal on must have an analogue tuner in-built. Analogue is the system we had before digital (Freeview) and as a result, at the moment, TVs tend to have them in, although this will probably change over time. So if you replace the TV, it must have an analogue tuner in it if you are to watch any modulated signal.


An old video recorder may be able to be used as a modulator (providing it has a modulator in-built!). I'm not sure how you would change channels remotely as, of course, the Magic Eye you probably use at present only works with the Sky box. You may need to get some sort of infra-red (remote control) sender.

Dave Lindsay's 5,724 posts

Anne: With regards to using your Humax Freesat box to feed the programmes being viewed into other rooms on either an old analogue TV or alternatively a Freeview TV but with it set on analogue, then the only way to do this is by using an RF modulator such as shown in the undermentioned link.

However, unfortunately your magic eyes will become redundant as they will only work with an actual Sky box and nothing else, this is because that the circuitry involved with switching the channels is associated with the Sky boxes tuners circuitry.

By the way the price mentioned on the link is a bit out of date and may actually be lower that this.


Programmable Universal Modulator : Video Switches : Maplin Electronics



jb38's 7,179 posts
Thursday, 17 January 2013

Thank you for the information, you are an absolute 'star' as nobody else was able to answer my questions. So basically, then will the sky box run alongside the Humax to act as the modultor. Thanks Again. Anne

Anne's 5 posts

Anne: I really am sorry to somewhat complicate what up to now may have appeared as being a relatively straightforward task, but unfortunately what you are suggesting brings certain complications into being, because "if" you have your normal (roof or loft mounted) aerial connected into the Sky boxes aerial socket for the purpose of passing a Freeview signal through the Sky box, picking up the Sky boxes analogue RF signal in the process, and then feeding "both" to your other TV's than that can be a bit of a problem with what you are suggesting.

The first problem being that your dish will have to be fitted with a quad LNB as the Humax box being a twin tuner device will require two coax connections from the dish, and with another single feed being necessary for the Sky box, the single feed being suffice as no recording will be involved, and so does your dish only have the two output connection facilities, or can another two unused output ports be seen if you look up at where the coax cables enter the dishes LNB? which of course might well apply as the cost difference is minimal between the two and four output types and Sky engineers frequently just installed quad blocks as standard, quad kits being available for only around £10.00 or so from various e-bay suppliers although obviously another coax cable would required from the dish to the Sky box.

The second problem is concerning the Freeview signal passing through the Sky box, the problem there being that the RF analogue output from the Humax's additional modulator will have to be combined with the Sky boxes similar output to enable the signals from both devices to be fed to the other rooms, and although as far as the RF side of the equation is concerned this is relatively easy to arrange, BUT because you are understandably wishing to retain the magic eye facility on the Sky box the RF coupler used to combine the signals from both devices might either block the eyes 9 volt supply from the Sky boxes RF2 output or alternatively short circuit it, and so the device used to combine the signals would have to be carefully chosen.

By the way, the only reason that a combiner has to be used is because that neither the Humax box nor the RF modulator has an RF loop through facility.

Maybe you could give an update on the subject of your dish, and confirm (or not) that you are passing a normal aerial through the Sky box for Freeview purposes, further info / advice dependant on reply.





jb38's 7,179 posts
Select more comments
Your comment please