2011 switch-overs start today at Sandy Heath, Nottingham

Brian Butterworth published on UK Free TV
Hardly a Wednesday from today until Wednesday 23rd November 2011 will not involve a step in the UK digital switchover.

From today. You will need to retune your Freeview box if you use the Sandy Heath or Nottingham transmitter. You MAY find that old equipment will no longer work - TVs and boxes that do not support the 8k-mode.

If you use the Dallington Park, Kimpton or Luton relay transmitters, you will no longer be able to watch BBC TWO on analogue from today, but you should be able now to use a Freeview box to watch ALL BBC services (apart from the two HD channels).

If you use Sandy Heath don't forget that you will need use a wideband aerial after switchover is complete on Wednesday, 13th April 2011 if you want to watch the commercial multiplexes. Sandy Heath is unusual in this respect.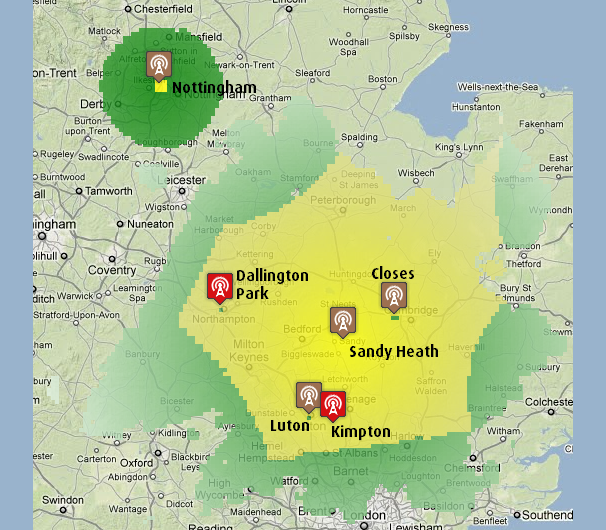 Comments
Wednesday, 30 March 2011

My power strength as also dropped (52.9643,-1.3007)

Tracey Notts's 3 posts

I have a elderly nieghbour but he has lost quite a few Freeview channels,like itv3 film4 but picks up shopping channel it seems no reason for it, is it anything to do with this change over or arieal problems can anybody advise, postcode is le-leicesterhope someone can help with thanks people..............

R,GRAHAM's 3 posts

I live in NN3, I thought analogue was being switched off today, but its still on?
I also thought the digital signal was being increased in power, but it seems no change there either?

SteveM's 3 posts
Thursday, 31 March 2011

ive just retuned my freeview tv by following the instructions and i have now lost itv 1+2, channel 4, channel 5 and many more, how do i get these back?? Very annoyed

jodie's 1 post
K
k.hinshelwood
11:04 AM
Spalding

Icant reset TV.
help

k.hinshelwood's 1 post
k.hinshelwood's: ...

Lee: check for an indication of the radio channel or frequency that is being used. It should be C27, 522 MHz for the BBC channels.

If it isn't, your box has stored a signal from somewhere else. Try another retune. If that doesn't help, check whether the box is on the list of 2k-only equipment at http://www.digitaluk.co.uk/2kequipment . If it is, it is not compatible with the 8K mode being used after switchover and I'm afraid you'll need to replace it.

The same screen might also show the other parameters. They should be: 64QAM modulation, 2/3 Forward Error Correction (FEC), and 8K carriers or 8K mode.

Otherwise, can you let us know the frequencies used by this multiplex, and the other multiplexes, so we can figure out where your aerial might be pointing. (RG47SH)

Mike Dimmick's 2,486 posts
M
Mike Dimmick
1:15 PM
Reading

Tracey Notts: Same advice as for Lee.

Mike Dimmick's 2,486 posts
Mike's:
map
M's Freeview map
terrain
M's terrain plot
waves
M's frequency data
M's Freeview Detailed Coverage
M
Mike Dimmick
1:19 PM
Reading

SteveM: If you're using the Sandy Heath transmitter, BBC Two analogue was switched off.

However, you could be using the Waltham transmitter, which does not complete switchover until August - all analogue channels continue to work until then. Yesterday's retune was simply to move Multiplex A to a different channel, so that you don't have problems after The Wrekin begins switchover next week. You will need to retune again in two weeks so that Multiplex 2 can get out of the way of The Wrekin (again).

Mike Dimmick's 2,486 posts
Mike's:
map
M's Freeview map
terrain
M's terrain plot
waves
M's frequency data
M's Freeview Detailed Coverage
M
Mike Dimmick
1:25 PM
Reading

jodie: Can you provide a full postcode please? Were these channels normally reliable before you retuned, or did you occasional picture break-up? If there was a reception problem at the time you retuned, you can lose channels - try retuning again.

I'm not aware of Multiplex 2 moving channels at any transmitter yesterday.

If signal strength on the BBC channels is shown as very high - over 80% - the new signal levels may be too strong. If you have an amplifier, try removing it and see if you get better results.

Mike Dimmick's 2,486 posts
Mike's:
map
M's Freeview map
terrain
M's terrain plot
waves
M's frequency data
M's Freeview Detailed Coverage

k.hinshelwood: for retuning advice see TV Re-tune . They have one-sheet guides for most manufacturers. (RG47SH)

Mike Dimmick's 2,486 posts
Select more comments
Your comment please