C61, C62 clearange and the 4G broadband sale

Brian Butterworth published on UK Free TV
One of these ranges, the "800 MHz band" has been reclaimed from analogue television use, and will become available over the next few years.

The original plan envisaged by Ofcom had two blocks of channels, one of C31-C40 and the other of C63-C68, and the digital switchover frequencies have were all planned on this basis.

However, digital switchover in other European countries have left an extended upper band of 72 MHz at 790 to 862 MHz, which has extended the channels here from C61-C69. C69, which was used for programme-making and special events has been allocated C38 from the lower block.

The result is that due to this Ofcom decision, some of the public will now have to another round of switchovers to remove the digital multiplexes that use C61 and C62. Ofcom say

"The DTT clearance programme is in an advanced state of development but we are not yet able to publish a final plan showing when the band will be cleared in specific areas.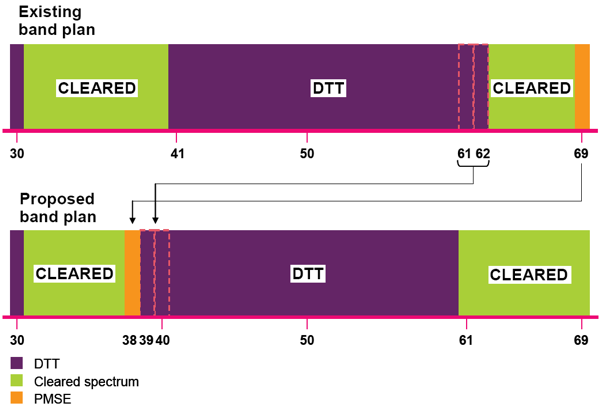 Clearing channels 61 and 62 impacts on the DSO programme and we have proceeded with its implementation by integrating it, where practicable, with DSO. Our target has been to complete the clearance so that the 800 MHz band is available across the UK for new services as early as possible. In our June 2009 statement we suggested clearance by the end of 2013 was an achievable though challenging target. Our current expectation is that all of the UK apart from Scotland will be cleared by that date: Northern Ireland by the end of 2012, Wales by October 2013, England by the end of 2013 and Scotland by October 2014.

We will provide further information as the position becomes clearer. We expect to be able to provide a firmer timetable later in spring 2011. "


Proposed "4G" usage of C61-C69
Cable TV - use of the 800 MHz band
Ofcom testing has shown that most existing
cable
TV equipment should be unaffected by "4G" equipment using the
800MHz
band, as long as it not located within 2 meters of the oldest type of set-top box.
Analogue RF - use of 800MHz band
Anyone using legacy RF equipment, such as
Sky
/Sky+/Sky+HD box "RF out" devices will need to ensure they are not using C61-C68 from 2012 as this will then interfere with 4G devices using the same frequencies.
Lower band - C31 to C40
It is not know what Ofcom now plans for the "lower cleared band", which is now only seven UHF channels, C31 to
C37
. C38 is now used for PMSE, with C38 and
C39
being for the reallocation of C61 and C62 in the upper band.
Due to the need to leave "guard bands" between digital TV and other usages, the small size of the lower cleared band may means that the most practicable use for this it to provide additional
Freeview
capacity on some transmitters.
This may be used to provide an "
upgrade
path" for the commercial multiplexes to the DVB-T2, perhaps using single
frequency
networks, but without specific proposals from Ofcom this is speculative.
Comments
Friday, 1 April 2011

Jeff Eastmond: At least it is just the one transmitter for the region, it's a total nightmare in Scotland and Wales...

Briantist's 38,899 posts
Monday, 4 April 2011
M
Michelle
2:21 PM
Burgess Hill

Is there a problem with the Midhurst or Heathfield transmitter? I have lost all of my ITV channels but still have the BBC ones. Also, I have tried retuning one of my freeview boxes and it has moved some of the BBC channels to 700 / 800 channel. Can somebody please help.

Michelle's 13 posts
Michelle's:
map
M's Freeview map
terrain
M's terrain plot
waves
M's frequency data
M's Freeview Detailed Coverage

Michelle: Please do this My Freeview box has no EPG, is blank on FIVE, ITV3, ITV4, ITV2+1, has no sound or the channel line up is wrong | ukfree.tv - independent free digital TV advice - there are no transmitter faults reported.

Briantist's 38,899 posts
Saturday, 30 April 2011

More disruption for the public, a lot of people will have to have their aeriels changed or a least re-aligned when Mendip changes. As a retailer I have had a couple of years of aggro, with unhappy customers since digital arrived. Surely the powers that be could have planned the frequencies from day one, rather than keep changing. Especially the main channels, these should have been kept on one mux and set in stone. It appears to me that whoever is running the show has never been in the field.

Trevor's 2 posts

Trevor:There should be no problem for the vast majority of viewers when C61 is cleared for the digital dividend as the new frequency will still be in group C/D. If C49 is chosen at Mendip, Mux ArqB at Wenvoe would have to change first (to C39?). There could be problems however for viewers who have aerials on both Wenvoe and Mendip linked with a diplexer. I do agree with you that the switchover at Mendip was planned badly and running the COM muxes at low power alongside high power PSB muxes has led to many unhappy people.The suggestion that the main channels should be together on one mux was made before switchover began, BBC2 analogue would have been replaced with a mux carrying the PSB channels giving all viewers a basic digital service until switchover.

KMJ,Derby's 1,811 posts
Sunday, 1 May 2011
T
Trevor
12:34 AM
Cheltenham

KMJ: One issue we have in Cirencester is that when muxes are moved, some customer's have had to get their aerial tweaked as the signals can be borderline. The only way they can received an adaquate picture is for the aerial installers to hone in the range of muxes required. This dose not always optimise the full range of the aerial's grouping.

Trevor's 2 posts
Trevor's:
map
T's Freeview map
terrain
T's terrain plot
waves
T's frequency data
T's Freeview Detailed Coverage

Trevor: As you say it does make life difficult in locations where a compromise position has to be found for the aerial to receive signals on all muxes, or when there are too many transmitters just in range and a null has to be found for unwanted signals. I note that for viewers to the Cirencester relay a frequency change is due to take place on 28th September 2011 when MuxD3+4 is to change to C29.

KMJ,Derby's 1,811 posts
Thursday, 9 June 2011

For my location after 2013 the forecast for Mendip Mux 1 and 2 on he DTG predictor reduce from good to variable. Presumably they are assuming that existing viewers will have C/D aerials and the retune will require ?E?

In actual use will a change of aerial be essential except perhaps in fringe locations?

Gordon's 1 post
Gordon's:
map
G's Freeview map
terrain
G's terrain plot
waves
G's frequency data
G's Freeview Detailed Coverage
Monday, 13 June 2011

Gordon: In theory, the reassigned frequencies will be in the C/D range.

Briantist's 38,899 posts

Gordon: Note that the allocation for ArqB has now changed from the original C62 to C52, which is still in group.

The 'normal' change is for uses of C61 to move to C49, but that's not possible here because Wenvoe uses that frequency for ArqB. C62 would normally move to C50, but a number of Mendip's relays already broadcast on that frequency and it's hard to avoid picking up the broadcast signal.

There may have to be a chain of changes, with Wenvoe ArqB moving to C39 to allow Mendip BBC A to move to C49. A couple of Mendip relays (Bristol Warmley, Coleford and Redbrook) also broadcast on C49, so again there would have to be a change at these sites or a different channel. Bristol Ilchester Crescent uses C49 for ArqB as well, but this is fed independently as it was a pre-switchover Freeview transmitter. These are all Group B transmitters so a move to C39 is possible.

Mike Dimmick's 2,486 posts
Select more comments
Your comment please