Ofcom moves to protect Freeview interference from 4G mobile devices

Brian Butterworth published on UK Free TV
Ofcom has estimated it will cost £100m to deal with Freeview users who are located near to the transmitters for the next generation of mobile broadband services, which will use the frequencies (791 to 862 MHz) previously used for analogue television.

Once switchover is complete, over 10 million homes in the UK will use Freeview for their only television reception, and almost all of the remaining 17 million homes will use the terrestrial digital television service on their secondary TV sets.

The signals are provided from two types of transmitter. First there are around 80 high power transmitters located on hills that serve very large areas, such as the Crystal Palace transmitter (4.5 million homes in London), Winter Hill (2.7 million homes in the North West of England) and Sutton Coldfield (1.8 million homes in Birmingham). In addition there will be over 1,000 fill-in Freeview light transmitters, such as Boddam, which serves just 600 homes.

In contrast, the new 4G mobile services will use around 9,000 smaller transmitters located near where the services are required, which follows the current model for mobile phone networks.


4G transmitter interference location
In places where the 4G transmitter is located close to homes receiving Freeview, it is likely that Freeview viewers will experience to forms of
interference
:
Signal overload
- when a Freeview
receiver
is overloaded because the total input
signal
level is more than a certain level, the whole receiver will stop working and all television services will be lost.
Signal-Interference Noise Ratio degradation
: this is where reception breaks down because the receiver can no longer decode the digital information in the transmission. This could affect a single
multiplex
or could take out all services.
The "overload zone" will occur for Freeview viewers located close to the 4G transmitter, with the "degradation zone" will affect those slightly further from the 4G transmitter: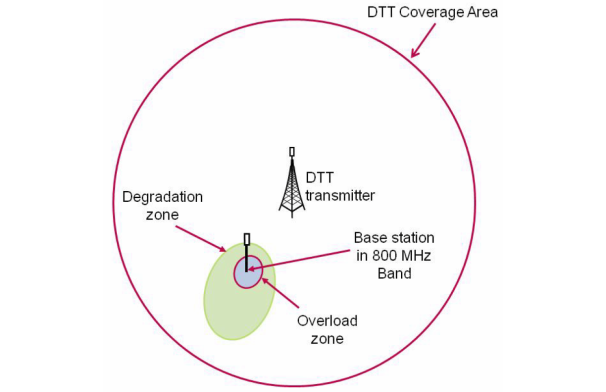 Interference factors
Not all 4G transmitters will cause problems for Freeview reception, the other factors are:
The types of Freeview installation, with single unamplified aerials to a single set have the best resilience, with communal and systems with amplifiers more likely to suffer. The 4G transmissions are capable of overloading most types of TV
amplifier
.
The frequencies used for the DTT services being received, with those on the adjacent
C60
being worst,
C52
to
C59
second worst and those on lower frequencies having the best chance of avoiding interference.
The strength of the Freeview signal received is another factor, with those with weaker signals due to being distant from the Freeview transmitter, having the most potential for 4G interference.
Not all 4G transmitters will use the same
frequency
, those that happen to use the lower frequency allocation having the most potential to cause Freeview interference, and those that transmit at higher power levels having more effect than low power 4G transmitters.
Homes affected by 4G interference without intervention
Ofcom calculate that:
Of the 16.3 million UK homes with a
standard
(unamplified, unshared) Freeview reception, 110,000 (0.67%) would be effected.
Of the 5.2 million homes using communal aerials systems, 550,000 (10.6%) will have problems.
Of the 5.6 million homes using amplified Freeview reception, 100,000 (1.8%) will experience problems.
Prevention and mitigation
There are several ways to deal with these 760,000 homes that will have problems.
Signal filters
Use of signal filters for the Freeview reception combined with Fitting of filters at 4G transmitters.
Ofcom's modelling finds that this is the most effective way of dealing with the 4G interference problems. Of the 110,000 standard Freeview installation homes, 87,000 will have their reception restored this way, almost 100% of the 550,000 homes with communal systems will be mitigated with filtering and 93% of the 100,000 domestic installations with amplifiers.
The total cost will be £20m for the Freeview filters and £33m for fitting of the filters in homes. Also, for the domestic filtering to be effective, the 4G providers will also have to spend around £11 fitting filters at the 4G transmitters when they are being installed.
Freeview equipment adjustment
After the provision of filters, there will still be 23,000 homes with unamplified and 7,000 homes with amplified Freeview reception equipment that are unable to receive their services.
Some of these homes will simply need a new Freeview box for each TV set. Whilst these boxes cost around £15, the requirement to fit these and provide for each set could come to as much as £200.
Another option, for at least 20% of homes, is to receive the Freeview services from an alternative transmitter. However, this could lead to the provision of the 'wrong' version of BBC One,
BBC Two
, ITV1 and
Channel 4
/S4C to the home. Ofcom is unsure if this will be an effective mitigation.
On Channel Repeaters
The use of On Channel Repeters (OCR) to rebroadcast the Freeview signals at higher power levels in the interference area was considered by Ofcom, but the high cost and unknown effectiveness has caused them to be distrgarded as a viable option.
Ensure 4G polarization is opposite to Freeview polarization
Because of several factors, Ofcom does not consider that this will
help
prevent 4G interference of Freeview reception.
4G transmitter power reduction
Ofcom have concluded that causing service reception problems for the new 4G mobile services is undesirable for the services to be successful.
Provision of Freesat or free Virgin Media services for affected homes
This leaves providing a replacement
Freesat
installation (including multiple sets and Freesat+ boxes) for the 30,000 homes with their Freeview reception disabled, or the funding of a basic Virgin Media package. The total cost for this is £10m.
Comments
Friday, 3 June 2011

Seems like planned interference problems to me. Who ever thought this up of having these mobile phones on old TV frequencies wants their heads looking into. Would have better for us to have more TV progams in digital from them on Freeview.

David's 306 posts

Is this the same Ofcom that seems totally incapable of applying CE Marking EMC legislation to Powerline Ethernet Comms Equipment?

Next time I'm required by law to EMC test and approve a piece of equipment to place it on the market I won't bother and claim ignorance of the law line like Comtrend, Belkin etc.

Or I could claim its a 13 Amp Plug and not a leaky feeder radio transmitter.

Mike's 4 posts

Mike: Personally, I can't recall the actual point that powerline devices went from being utter illegal to tested-and-approved.

I can't for the life of me see why people can't run in a cat5e cable, if the don't like wifi.

Briantist's 38,902 posts

David: Yes, more Freeview might suit viewers, but it won't bring in the revenue that 4G mobile licenses will.

To be fair to Ofcom, there is no form of radio transmission that is immune from interference, thus the need for extensive FEC (forward error correction) in all digital broadcast systems.

At least the lower cleared band hasn't been used yet, that would cause problems in London!

Briantist's 38,902 posts

Will this protection extend to narrowboats cruising the UK's inland waterways - canals, rivers etc? Will OFCOM ofer boaters free satellite systems which are as easy to operate as Freeview??? With aerials at typically 8ft above the towpath and buildings, hedges etc in the way, reception on a boat is challenging enough without added interference!!

Robin Richards's 7 posts
N
nickwilcock
9:32 PM
Witney

So, having decided to transmit Oxford D3+4 on Ch 60, as well as moving Oxford SDN from Ch to 62 to Ch 50, we're now likely to suffer interference from whatever 4G is?

Ofcon strike again.....

nickwilcock's 44 posts
nickwilcock's:
map
N's Freeview map
terrain
N's terrain plot
waves
N's frequency data
N's Freeview Detailed Coverage

Robin, if yes I bet you have to have a TV liecence for the boat as well as home.
I wonder if boaters and caravaners do?

David's 306 posts

Caravaner's do not need a TV licence to operate a set in their van as long as they have a current licence for there set at home. I should imagine its the same for boaters. I'm glad I use satellite in the van.

Ian's 497 posts
Ian's:
map
I's Freeview map
terrain
I's terrain plot
waves
I's frequency data
I's Freeview Detailed Coverage
Sunday, 5 June 2011

A small point - when you refer to transmission "polarity", I assume you mean "polarisation". Perhaps it was just a typing error!

Richard Davis's 26 posts

Richard Davis: Yes, you're right. I think I must have had "reverse the polarity of the neutron flow" on my mind...

Briantist's 38,902 posts
Select more comments
Your comment please