Ofcom moves to protect Freeview interference from 4G mobile devices

Brian Butterworth published on UK Free TV
Ofcom has estimated it will cost £100m to deal with Freeview users who are located near to the transmitters for the next generation of mobile broadband services, which will use the frequencies (791 to 862 MHz) previously used for analogue television.

Once switchover is complete, over 10 million homes in the UK will use Freeview for their only television reception, and almost all of the remaining 17 million homes will use the terrestrial digital television service on their secondary TV sets.

The signals are provided from two types of transmitter. First there are around 80 high power transmitters located on hills that serve very large areas, such as the Crystal Palace transmitter (4.5 million homes in London), Winter Hill (2.7 million homes in the North West of England) and Sutton Coldfield (1.8 million homes in Birmingham). In addition there will be over 1,000 fill-in Freeview light transmitters, such as Boddam, which serves just 600 homes.

In contrast, the new 4G mobile services will use around 9,000 smaller transmitters located near where the services are required, which follows the current model for mobile phone networks.


4G transmitter interference location
In places where the 4G transmitter is located close to homes receiving Freeview, it is likely that Freeview viewers will experience to forms of
interference
:
Signal overload
- when a Freeview
receiver
is overloaded because the total input
signal
level is more than a certain level, the whole receiver will stop working and all television services will be lost.
Signal-Interference Noise Ratio degradation
: this is where reception breaks down because the receiver can no longer decode the digital information in the transmission. This could affect a single
multiplex
or could take out all services.
The "overload zone" will occur for Freeview viewers located close to the 4G transmitter, with the "degradation zone" will affect those slightly further from the 4G transmitter: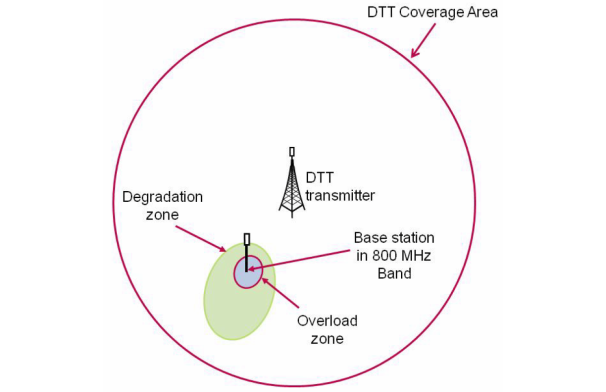 Interference factors
Not all 4G transmitters will cause problems for Freeview reception, the other factors are:
The types of Freeview installation, with single unamplified aerials to a single set have the best resilience, with communal and systems with amplifiers more likely to suffer. The 4G transmissions are capable of overloading most types of TV
amplifier
.
The frequencies used for the DTT services being received, with those on the adjacent
C60
being worst,
C52
to
C59
second worst and those on lower frequencies having the best chance of avoiding interference.
The strength of the Freeview signal received is another factor, with those with weaker signals due to being distant from the Freeview transmitter, having the most potential for 4G interference.
Not all 4G transmitters will use the same
frequency
, those that happen to use the lower frequency allocation having the most potential to cause Freeview interference, and those that transmit at higher power levels having more effect than low power 4G transmitters.
Homes affected by 4G interference without intervention
Ofcom calculate that:
Of the 16.3 million UK homes with a
standard
(unamplified, unshared) Freeview reception, 110,000 (0.67%) would be effected.
Of the 5.2 million homes using communal aerials systems, 550,000 (10.6%) will have problems.
Of the 5.6 million homes using amplified Freeview reception, 100,000 (1.8%) will experience problems.
Prevention and mitigation
There are several ways to deal with these 760,000 homes that will have problems.
Signal filters
Use of signal filters for the Freeview reception combined with Fitting of filters at 4G transmitters.
Ofcom's modelling finds that this is the most effective way of dealing with the 4G interference problems. Of the 110,000 standard Freeview installation homes, 87,000 will have their reception restored this way, almost 100% of the 550,000 homes with communal systems will be mitigated with filtering and 93% of the 100,000 domestic installations with amplifiers.
The total cost will be £20m for the Freeview filters and £33m for fitting of the filters in homes. Also, for the domestic filtering to be effective, the 4G providers will also have to spend around £11 fitting filters at the 4G transmitters when they are being installed.
Freeview equipment adjustment
After the provision of filters, there will still be 23,000 homes with unamplified and 7,000 homes with amplified Freeview reception equipment that are unable to receive their services.
Some of these homes will simply need a new Freeview box for each TV set. Whilst these boxes cost around £15, the requirement to fit these and provide for each set could come to as much as £200.
Another option, for at least 20% of homes, is to receive the Freeview services from an alternative transmitter. However, this could lead to the provision of the 'wrong' version of BBC One,
BBC Two
, ITV1 and
Channel 4
/S4C to the home. Ofcom is unsure if this will be an effective mitigation.
On Channel Repeaters
The use of On Channel Repeters (OCR) to rebroadcast the Freeview signals at higher power levels in the interference area was considered by Ofcom, but the high cost and unknown effectiveness has caused them to be distrgarded as a viable option.
Ensure 4G polarization is opposite to Freeview polarization
Because of several factors, Ofcom does not consider that this will
help
prevent 4G interference of Freeview reception.
4G transmitter power reduction
Ofcom have concluded that causing service reception problems for the new 4G mobile services is undesirable for the services to be successful.
Provision of Freesat or free Virgin Media services for affected homes
This leaves providing a replacement
Freesat
installation (including multiple sets and Freesat+ boxes) for the 30,000 homes with their Freeview reception disabled, or the funding of a basic Virgin Media package. The total cost for this is £10m.
Comments
Monday, 11 February 2013

Lesley: No because there is no 4G signal broadcasting in the frequency range that is likely to affect some TV receivers. This is because the spectrum has not been auctioned off yet.

Dave Lindsay's 5,724 posts

Lesley: You should carry out a "factory reset" on your TV or box, this also being called "default setting" or "first time installation" dependant on the brand of device, as even if there was a fault on your communal aerial system its nearly impossible not to be able to view the ITV channel, the Poplar relay being located at only a few hundred yards away from you and with Crystal Palace being at just under 7 miles.

It would though be prudent to check with a neighbour to find out if they are having any problems with reception.

jb38's 7,179 posts
Tuesday, 12 February 2013

Hello,
I live in a small block of flats which has Vodaphone, o2 and Orange equipment. They are about to upgrade equipment for 4G. Does anyone know if we are about have serious reception problems due to this ?

Many thanks

Mark

Mark's 1 post

Mark: Such questions are like asking how long is a piece of string? It is quite impossible to give any exact answer.

If any network operator is about to upgrade to add 4G to one of its base stations, then it will not be doing so in the 800MHz frequency band as it would be breaking the law.

It is 800MHz signals that may interfere with TV reception as they are just above the frequencies used for TV. The licences for such services have not been granted yet.

However, if a 800MHz base station were to operate on the roof then it would seem a likely bet that it might cause issues with the TV reception, particularly as the TV aerial is probably not too far away.

But as you are using a communal aerial system it will be down to whoever maintains it to have a filter fitted. Indeed, it may be the case now that the system is filtered to only let through channels (frequencies) used by your transmitter hence it may be OK.

Dave Lindsay's 5,724 posts
Sunday, 17 February 2013
E
emma
3:19 PM
Sutton Coldfield

jb38 The TV is fed by a communal aerial, but i have tried an indoor aerial as well as trying different cables. I think it is the communal lighting though that may be affecting my signal as the bulbs were recently changed (around about the time my TV started playing up, going to ask them to have a look again at the lighting.
My TV does pick up some signal now with an indoor aerial booster - enough for an interrupted picture, so the signal is still there.
Learned my lesson first time from the retuning and have not done it since.
Thank you for your helpful suggestions

emma's 2 posts

emma: Thanks for the update and with the content of being very informative, insomuch that as you are now able to receive Freeview via your indoor aerial then this makes it much easier for you to verify if your problem is indeed being caused by the communal aerial feed cutting out, because as soon as your TV cuts out just swap its input connection from the communal aerial over with the jumper lead that comes from your indoor aerials booster and the picture should return.

If the aforementioned is found to be the case then you should contact the people involved as ask if they have "accidentally" connected the TV distribution amplifier used by the flats into a timed circuit, because everything you have said suggests that this is what has happened.

Of course another other angle is, that unless whoever owns the flats has thought up a good way of saving a little money by killing the lighting circuit during the early hours of the morning (some places do!) but forgetting, or maybe not being aware of the fact that the communal amp used to supply a TV signal to the flats is on the same circuit.

Maybe you could give another update on how you get on.

jb38's 7,179 posts
Saturday, 6 April 2013

I live near Leatherhead, Surrey & over recent days have noticed apparent interference with my Freeview signal. I have noticed it after 10pm and it causes fluctuations in volume, ie the sound goes quiet for 5-10 seconds and then restores. We are right on the edge of EE's map for 4G reception. Could this be caused by 4G interference and if so how can I get it fixed?

David Preedy's 1 post

David Preedy: No because EE's current 4G network uses some of its 1,800MHz frequency allocation which is what it uses for GSM (2G).

It is only 4G services that will operate at 800MHz that are likely to affect some TV receivers due to TV signals being just below that band of frequencies. So it isn't the case that 4G services will interfere over that of any other service, but the fact that the frequencies used are at the top end of the TV spectrum.

Dave Lindsay's 5,724 posts
Monday, 8 April 2013

We have bt vision as well as other tv's in our house. I haven't watched much tv lately but when I tried to watch programmes I had recorded last week they are breaking up due to poor signal. we also cannot get signal on most tv sets in the house, will this improve with retune on April 10th

Pauline's 1 post

Pauline: Its impossible for anyone to advise as to what might have been (and still is) the cause of your problem when you have not given any indication of where you reside, this in the form of a post code or one from somewhere nearby, such as a shop or post office.

jb38's 7,179 posts
Select more comments
Your comment please