Switchover starts in the East Midlands

Brian Butterworth published on UK Free TV
This week sees the first stage of the digital television switchover for 813,298 homes in the East Midlands.

From 6am Wednesday 17 August 2011, you must to a perform a "first time installation" retune (sometimes "Factory Reset" or "Shipping Condition") on your Freeview box or television set if you use the Waltham full service Freeview transmitters. This is because the old "multiplex 1" BBC service will be replaced by the BBCA multiplex on the old analogue ITV-1 frequency, C61. Analogue ITV-1 moves to to C64 for two weeks.

If you use the Ambergate, Ashbourne, Ashford in the Water, Belper, Birchover, Bolehill, Darley Dale, Eastwood, Leicester, Little Eaton, Matlock, Parwich, Stamford, or Stanton Moor relay transmitters from mid-morning on Wednesday 17th August 2011 you will be able to receive the BBC Freeview services (with the exception of HD) for the first time, and you will no longer be able to view BBC TWO on analogue.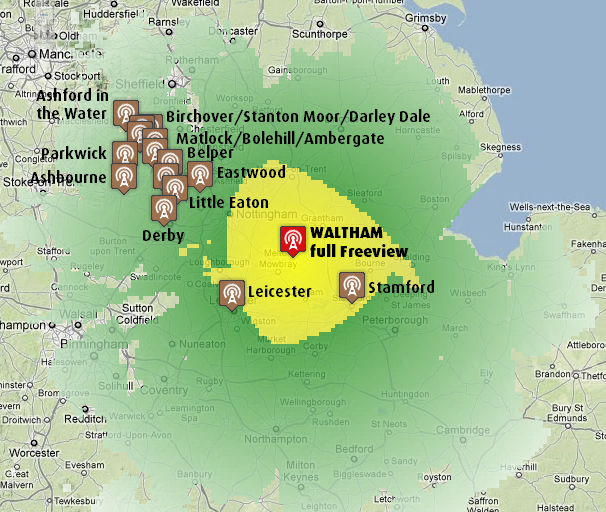 You MAY find that old equipment will no longer work - see TVs and boxes that do not support the 8k-mode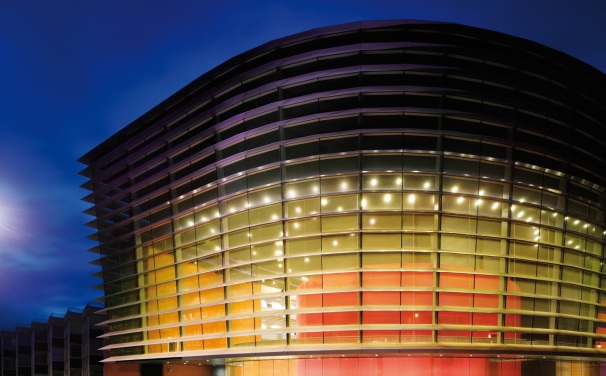 On Wednesday 31th August 2011 will see the second stage of switchover, which provides the final Freeview configuration, including Freeview HD for all transmitters in this region.

On this date, you will need, once again, to do a "first time installation" as indicated above. If you are over 75, you should aleady have been supplied new equipment by the Switchover Help Scheme.
Comments
Wednesday, 31 August 2011

I'm well confused! I live in part of Derby that traditionally could not receive Waltham signal so used to get [West] Midlands Today etc., from Sutton Coldfield.

However, my Freeview HD tv this afternoon somehow retuned itself and this evening I'm receiving EAST Midlands Today! (with [West] Midlands Today now on Ch800).

Has the Waltham signal been boosted so that I can now receive it? And can I get BBC HD broadcasts? (I have a Freeview HD DVB-T2 tv). If so, where can I find them?

As I said, I'm well confused (of Derby!!)

Many thanks,

David

David's 13 posts
kB Aerials Sheffield
7:27 PM

HD channels should be from 50 upwards

Yes Waltham has had a power increase - judging by the signal strength increases on Belmont Sheffield and chesterfield (area I work in ) the signals are PHENOMENALLY stronger
Im seeing signals where I would never anticipate receiving for instance I can now get a signal with an aerial stood on the ground where previously 15' to 20' masts were needed

kB Aerials Sheffield's 274 posts

No sign of HD channels, maybe I'll have to wait until Sutton Coldfield switches at end of September. But if Waltham is now strong enough for me to get that for BBC1, etc., not sure why I can't get HD channels?

David's 13 posts
kB Aerials Sheffield
10:13 PM

David

you say there is no sign of the HD channels can I ask is your equipment HD READY or definatley has a HD tuner built in as in my experience there is a very limited number of people who have the equipment to decode HD

On the other hand a HIGH percentage of people have equipment that is HD ready and they think it will automatically give them High Def

Sorry if this is teaching granny to suck eggs but I have to ask

Regards

Keith

kB Aerials Sheffield's 274 posts

David: Is the BBC East Midlands service you are receiving on C61 from Waltham or on C48 from the Derby relay? If it is the latter, there is no HD service from the Derby relay until October as the frequency it has been allocated is still in use for the low power Freeview service from Sutton Coldfield.

KMJ,Derby's 1,811 posts
Thursday, 1 September 2011

kB Aerials Sheffield : I would venture that it isn't just that the digital signals are stronger, but the presence of no analogue to act as interference considerably improves the signal-to-noise ratio.

Briantist's 38,899 posts

David: If you are sure you have DVB-T2 equipment (see What does "Full HD Ready" actually mean? | ukfree.tv - independent free digital TV advice ) - I would have a look for Single frequency interference | ukfree.tv - independent free digital TV advice .

Briantist's 38,899 posts

Ah ha!! Thank you KMJ, my BBC East Midlands is on C48 and hence no HD yet. You're all very clever, thank your for your help! (and btw yes, I've definitely got a DVB-T2 tuner!)

David's 13 posts

PS And yes, I've definitely got a DVB-T2 tuner!!

David's 13 posts
kB Aerials Sheffield
2:12 PM

David
I had to ask as ive had dozens of people expect the new HD signal which we have had off Emley moor from about april last year (sure someone will correct me with the exact date :-) )

So ive had 16 months of - "but we thought we would get High def pictures"
Then explaining the TV is HD ready and doesn't actually have an HD tuner !

Keith KB Aerials Sheffield 07946481125

kB Aerials Sheffield's 274 posts
Select more comments
Your comment please