Switchover starts in the East Midlands

Brian Butterworth published on UK Free TV
This week sees the first stage of the digital television switchover for 813,298 homes in the East Midlands.

From 6am Wednesday 17 August 2011, you must to a perform a "first time installation" retune (sometimes "Factory Reset" or "Shipping Condition") on your Freeview box or television set if you use the Waltham full service Freeview transmitters. This is because the old "multiplex 1" BBC service will be replaced by the BBCA multiplex on the old analogue ITV-1 frequency, C61. Analogue ITV-1 moves to to C64 for two weeks.

If you use the Ambergate, Ashbourne, Ashford in the Water, Belper, Birchover, Bolehill, Darley Dale, Eastwood, Leicester, Little Eaton, Matlock, Parwich, Stamford, or Stanton Moor relay transmitters from mid-morning on Wednesday 17th August 2011 you will be able to receive the BBC Freeview services (with the exception of HD) for the first time, and you will no longer be able to view BBC TWO on analogue.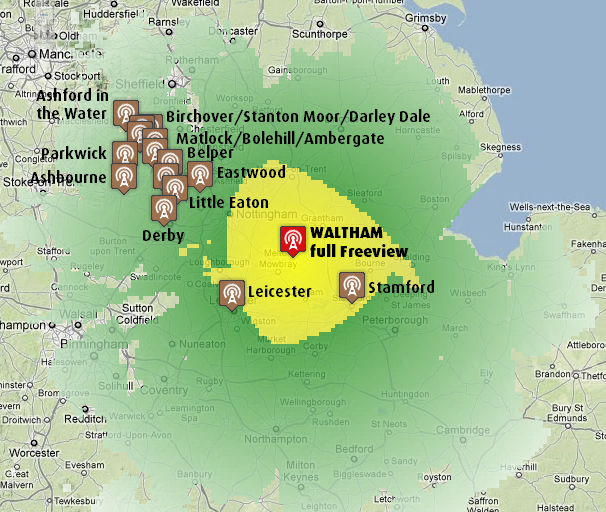 You MAY find that old equipment will no longer work - see TVs and boxes that do not support the 8k-mode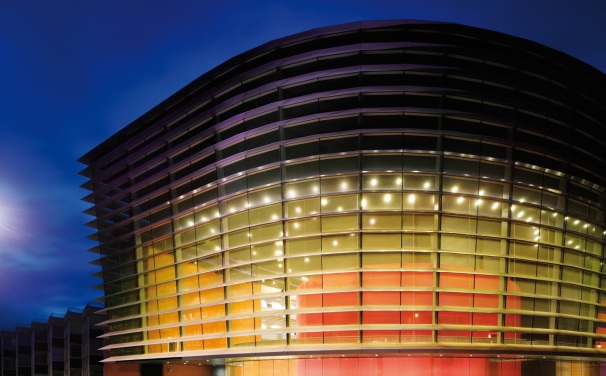 On Wednesday 31th August 2011 will see the second stage of switchover, which provides the final Freeview configuration, including Freeview HD for all transmitters in this region.

On this date, you will need, once again, to do a "first time installation" as indicated above. If you are over 75, you should aleady have been supplied new equipment by the Switchover Help Scheme.
Comments
Wednesday, 17 August 2011
P
Peter Farnworth
4:35 PM
Derby

Hi
I too live in Castle Donington (Postcode DE74 2LY) and struggled this morning. The rogue BBCA programmes are on Channel 22 so it is Belmont which has just gone onto high power.

By repeated resets I managed to get the rogues onto the 800 channels and just deleted them.

All these comments are about my Humax 9300, my Samsung telly was fine. I am finding that even now the Humax's EPG is very slow to load.

Peter Farnworth's 1 post
Peter's:
map
P's Freeview map
terrain
P's terrain plot
waves
P's frequency data
P's Freeview Detailed Coverage
T
Tony Broadgate
5:15 PM
Derby

Have retuned digital channels on both my TVs , which are digital ready. Most channels seem to be ok but cannot get either East Midlands BBC1 or BBC2, the programmes we watch most. Any explanation? We live in Darley Abbey, Derby, Post Code DE22 1DL.
Our neighbours two doors away can receive both channels.

Tony Broadgate's 1 post
Tony's:
map
T's Freeview map
terrain
T's terrain plot
waves
T's frequency data
T's Freeview Detailed Coverage

Tony Broadgate's problem may be the same as mine - the advice is to do a full autotune but what happens is the tuner scans probably upwards in frequency and finds other transmitters and stores their version of BBC1 and 2 first . Thus at EVERY retune I finish up getting Look North instead of East Midlands Today and spending the entire evening trying to remember how to get it back. The "second" instance of BBC 1 and 2 is usually stored around Channel 800 -802.

Clive Avery's 3 posts

Clive Avery/Tony Broadgate: Can you please see Digital Region Overlap | ukfree.tv - independent free digital TV advice ?

Briantist's 38,899 posts

I too was having problems after receiving the wrong local news for the past couple of days - i.e. getting Look North instead of East Midlands Today - but bizarrely only on 1 tv in the house. The other one seemed to be fine!

Found that if you can do a manual search for channels instead of an automatic, then searching on channel 27 picked up the right transmitter for me in relation to BBC1 and BBC2. Or at least I think - can't fully check until local news is on later but the signal seems much stronger (Yorkshire transmitter was a much choppier signal on channel 1 for me) so fingers crossed that seems to have sorted it. Full list of manual searches needed is on the Digitaluk.co.uk website for the Nottingham region.

Becca's 1 post

Had no problems whatsoever with my DVB-T cards in the PC. At 05:45 this morning, was able to retune straight away into new location at C61, and found all BBC's output there (except HD),as Mike told me yesterday. Thank you for letting us know, Mike about a further retune later, to move BBC A yet again! - It all seems a bit of a mess alround!

Later Came to retune Mum's TV, and at first appeared to work (had manually just retuned in C61). Then, stepping throught the channels, the TV's software suddenly 'crashed' at trying Channel 4, and after that, could only receive sound, and Text, but no pictures, including the AOL Welcome screen. Despite two complete retunes for all frequancies, the picture has not returned, but just decodes the sound packets. It is a new TV (AOL 2290Fwt), and is Full Freeview (less than a year old). Any ideas? Do you think the signal strength is now just too much for it to cope with? There is an Amp. connected, but the lead has to cover a fair distance from source.

I have had to resort to reusing an old CRT TV type, plus STB. However, the STB had no problems in decoding the signals. I am at a complete loss, and thouroughly fed up!

Regards,

Tim.

timonthenet's 38 posts

timonthenet: The first thing to suspect is any amplifier, they usually are worse than unnecessary, they just destroy reception by distorting the signal and amplifying the interference over the signal. Long runs of cable should be no problem, but of course it depends on the exact location as to the signal received by the aerial.

Briantist's 38,899 posts

I will try the TV with other input types (such as a PC through the VGA D-sub) and see if a picture appears then. If it does, I guess signal strenth is suspect.

Since I have multiple tuner cards, a distributor is essential. With Waltham being so low in power, sometimes two levels of amplification was needed. This I have realised was too much for more sensative receivers, and I inserted an Attenuator before the Amp., to reduce the strength. I did wonder how everything would cope when the power was increased by 5 times! The distance the cable to upstairs, and Mum's TV is probably some 10-15 metres of cable, but as you say, this shouldn,t pose a problem now the signal strengths are due to increase.

timonthenet's 38 posts
Thursday, 18 August 2011

timonthenet: You really don't need amplifier for 15 meters of cable, unless it is very poor quality cable.

Briantist's 38,899 posts
Saturday, 20 August 2011

I cannot get ITV1,ITV2, Channel 4 or Channel 5. I have auto-tuned and manual tuned. Digital UK say we live between two transmitters (Waltham and Belmont) and the signal is too weak from both - we can aith until 31st August and if still no joy get a new aerial. But we have a wide-band aerial. My dad, who lives less than a mile away, receives all channels via his 1966 aerial which is in the roofspace!

jackie's 1 post
Select more comments
Your comment please