Switchover starts in the East Midlands

Brian Butterworth published on UK Free TV
This week sees the first stage of the digital television switchover for 813,298 homes in the East Midlands.

From 6am Wednesday 17 August 2011, you must to a perform a "first time installation" retune (sometimes "Factory Reset" or "Shipping Condition") on your Freeview box or television set if you use the Waltham full service Freeview transmitters. This is because the old "multiplex 1" BBC service will be replaced by the BBCA multiplex on the old analogue ITV-1 frequency, C61. Analogue ITV-1 moves to to C64 for two weeks.

If you use the Ambergate, Ashbourne, Ashford in the Water, Belper, Birchover, Bolehill, Darley Dale, Eastwood, Leicester, Little Eaton, Matlock, Parwich, Stamford, or Stanton Moor relay transmitters from mid-morning on Wednesday 17th August 2011 you will be able to receive the BBC Freeview services (with the exception of HD) for the first time, and you will no longer be able to view BBC TWO on analogue.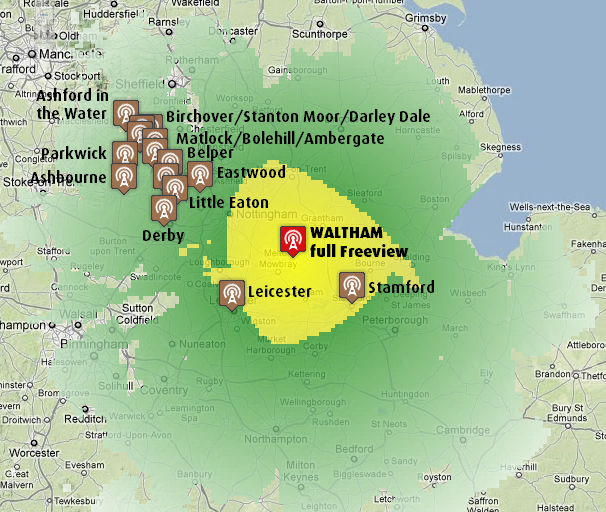 You MAY find that old equipment will no longer work - see TVs and boxes that do not support the 8k-mode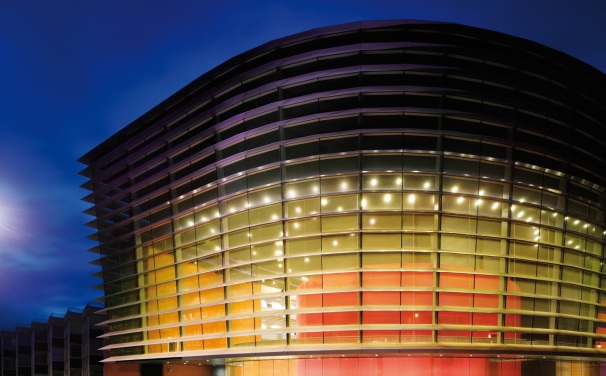 On Wednesday 31th August 2011 will see the second stage of switchover, which provides the final Freeview configuration, including Freeview HD for all transmitters in this region.

On this date, you will need, once again, to do a "first time installation" as indicated above. If you are over 75, you should aleady have been supplied new equipment by the Switchover Help Scheme.
Comments
Friday, 2 September 2011

jb38/KB Aerials: Since the receiver should *already* have Automatic Gain Control, I don't see what switching in an additional amplifier really provides. I don't see why you wouldn't just increase the gain range on the AGC!

Signals would have to be phenomenally weak, but with no interference, for that to be helpful - and given the re-use of frequencies across the country, that just isn't going to happen, especially before DSO, there are always interferers. Sutton Coldfield and Emley Moor are doing DSO on the same day, along with over 100 relays, because each is using the other's analogue channels for low-power digital!


As KB Aerials said, C48 is BBC A from the Derby relay, which started up on the 31st. This was because Derby only carried BBC One and ITV1 before switchover, in order to provide East Midlands services to people in David's situation - covered well by Sutton Coldfield, but the wrong news service. With no BBC Two to turn off, there was no free channel for BBC A to start up on on the 17th.

Derby uses *horizontal* polarization, and so finding a third channel for HD was also difficult in this transition period. D3&4 is still on ITV1's old channel, not on the final channel - it will move to the final location, and HD will start up, on the 5th of October. The allocated channels for Derby are currently being used by Sutton Coldfield low-power multiplexes.

Mike Dimmick's 2,486 posts

Mike Dimmick: Well I just look at that facility being offered on a household TV as a fancy form of built in booster and as such an unnecessary expense, as far more people do not require the use of one than those in difficult reception areas that does, although admittedly by it being built in the noise level etc is liable to be more controlled than from an external device.

What I do wish though is, that more sets were fitted with switchable aerial powering facilities, as this would eliminate the necessity of an aerial amplifiers (masthead or otherwise) power supply unit using up a power socket as well intercepting an otherwise tidy downlead, this facility being considerably less technical or as expensive to build in over that of a low noise RF amp, something more associated with a communications receiver anyway rather than a Freeview device, although obviously being given the title of an LNA by this manufacturer.

jb38's 7,179 posts

Am I correct in thinking the Derby relay transmitter is near the Fire Service headquarters on Burton Rd? In which case I can see that from my house in Allestree.

Was that previously (ie last week) transmitting BBC East Midlands digital or just analogue? I'm just wondering why I couldn't receive BBC East Midlands before on anything but fuzzy analogue?

David's 1 post

David: The location is shown on the Derby digital TV transmitter | ukfree.tv - independent free digital TV advice page.

Like all relay transmitters before switchover, it was carrying only analogue channels, and in this very unusual case, only two of them.

Briantist's 38,899 posts

Briantist - well I never knew that was a tv transmitter, always thought it was just something to do with the Fire Service HQ communications! I'm learning so much on this page, chuckle!

David's 13 posts
kB Aerials Sheffield
8:08 PM

David
Been doing this job in one way other since I left school 22 years ago

Im still learning and coming across new stuff

its all good fun and very interesting

Only problem is trying to stop buying my self a Flask an anorak and some binoculars


Ooops --- errrrr urrrrmmm got the flask and the binoculars

Note to self

DO NOT BUY ANARAK !

Keith

KB Aerials Sheffield

kB Aerials Sheffield's 274 posts

Keith - And I'm thinking of quitting my job and training to be an aerial engineer, big chuckle!!

David's 13 posts
kb Aerials Sheffield
9:54 PM

David
Huge mistake please don't concider it

now signal strengths have increased im going to be looking for a new job!

any offers?

How have other riggers found their region after switchover?

kb Aerials Sheffield's 274 posts
Sunday, 4 September 2011

How come, in Wellingborough after (and for some days before) the 30th August, the digital radio reception is now useless?

Myrvin's 7 posts
Thursday, 8 September 2011

Why are some freeview boxes not
Showing subtitles on bbc when they
Do on other channels ? A seperate
Box does bring up subtitles !

ian from notts's 253 posts
Select more comments
Your comment please