Will there ever be more services on the Freeview Light transmitters?

Brian Butterworth published on UK Free TV
The digital terrestrial service that is known today as Freeview, started life in Parliament as the Broadcasting Act 1996.

Part I act gave the regulator, then the Independent Television Commission, the authority to establish digital terrestrial television services in the UK, and paved the way for a "six multiplex" service. One multiplex was reserved for the BBC, a second jointly between the "Channel 3 licence holder", Channel 4, Gaelic programming in Scotland plus Teletext UK as the "national teletext provider"

One half of the third multiplex was passed to Channel 5 and the S4C Corporation, with the remaining three and a half being put up for a public auction. The ITC duly awarded the remaining three multiplexes to "British Digital Broadcasting" in 1997, which was a combination of two big ITV companies at the time, Carlton and Granada.





On Sunday 15th November 1998, the services was launched under the name "ONdigital", a mixture of free-to-air and pay services, and rather dwarfed by the launch six weeks earlier of the much superior Sky Digital service.

ONdigital renamed itself ITVdigital on 11th July 2001, but the woollen monkey toy in the adverts proved more popular than the service, and the service closed on 1st May 2002.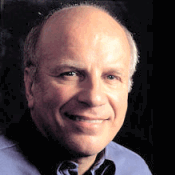 It became clear (especially to BBC director-general Greg Dyke, pictured right) that the digital terrestrial service was popular with viewers, but it was unsuitable as a pay-TV platform.



ITVdigital handed back three multiplex licences to the ITC, and the ITC then re-awarded one to the BBC and the other two to Crown Castle International, a company formed when the BBC's engineering division was sold off.

A company, DTV Services, formed to publicise the new service, which was now called Freeview.

Sky joined in, and purchased slots on the new service (from CCI) for Sky News, Sky Sports News and Sky Travel. Also there from the start of Freeview was Flextech Television "ftn", music channel TMF, UKTV's UK History and UK Bright Ideas, and shopping channel, QVC


Digital switchover process
When it was decided that the
analogue
television signals would be turned off, the BBC, as it funded by a universal fee decided that it must provide the two multiplexes of services to all homes.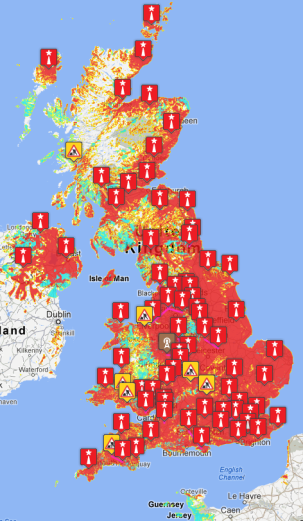 Ofcom
, now the regulator, decreed that the multiplex shared by Channel 3 and Channel 4 (called "Digital 3 and 4 Ltd") must also provide service to all homes that had analogue. This was because Channel 4 already provided this level of coverage, and as the licence holder for Channel 3 has "public service obligations", the broadcasting of multiplex 2 should also extend to all existing TV masts.
However, for the commercial multiplexes, Ofcom simply invited Crown Castle Ltd and S4C Digital Networks (SDN) to apply to extend their networks. Ofcom, having granted the multiplex licences already, felt it had no legal
power
of compulsion to insist more homes were served, and in
December 2006 announced that no application had been received
- at this point Ofcom no longer planned for additional frequencies for the commercial multiplexes.
Both commercial operators decided that the cost of providing the equipment, installation and ongoing operation of services from the 1,000 smaller transmitters would cost more than any additional revenue they could get from the TV
channels
that rent their broadcast capacity, as the work would only expand the actual number of homes broadcast to by 9%.
Since this time, S4C Digital Networks multiplex was bought by ITV plc, and Arqiva acquired the CCI multiplexes. For this reason the commercial multiplexes are known as SDN, ArqA and ArqB.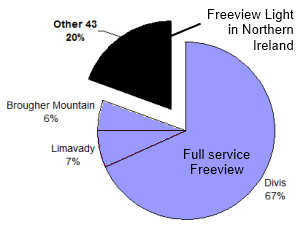 The map shows the locations where Freeview Light service is generally the only Freeview
reception
option.
See also:
Where are the public service (Freeview Light) transmitters?
Comments
Friday, 27 November 2015

Gary:
We need some clear idea of where you live, best found by giving a post code on this website. Then we contributors would be able to see which transmitter you ought to be using and hence find out whether is transmits the multiplex carrying Motors TV.

MikeP's 215 posts
MikeP's:
map
M's Freeview map
terrain
M's terrain plot
waves
M's frequency data
M's Freeview Detailed Coverage
Sunday, 20 December 2015

So why should my TV licence cost the same as someone getting the full service?

Why is Sky allowed to prent UKTV broadcasting on freesat (which dies have full UK coverage)

Both of these seem rather like the consumer is getting a raw deal

Mark gillespie's 1 post
Monday, 21 December 2015

Mark Gillespie:

For the simple reason that the TV Licence is to authorise your use of a TV to receive and watch TV programmes from any source available. The number of services provided in any particular locality is quite irrelevant to the need to have a licence for the TV.


MikeP's 3,056 posts
Monday, 28 December 2015

Will we ever get full coverage in Ogmore Vale CF32 7DS because of the mountains around the valley we have a sub transmitter and can't get a direct signal from Wenvoe

Mark's 1 post
Mark's:
map
M's Freeview map
terrain
M's terrain plot
waves
M's frequency data
M's Freeview Detailed Coverage
Wednesday, 30 December 2015

Freeview Light National service.
Will there be more services on Freeview Light? Yes.

Some more channels have been added over the years,
when space is made by old channels closing down
or new technology using less bandwidth with the DVB-T2 system.

Film 4 on channel 15 (Added in August 2013)
Film 4 +1 (SD, if you have a DVB-T2 HD receiver) on channel 45 (Added in November 2014)
ITV 4 on channel 24 (Added in August 2015)
Freeview information page * on channel 100 (Started on December 2015)
* This is not a proper TV channel, just a caption with Freeview information.

Some more channels may be added when BBC 3 SD, BBC 3 HD and the Red Button channels close down next year.
This will depend on what the BBC do after the channels close.


Mark A's 374 posts
Friday, 12 February 2016
V
Victor M
3:56 PM
Newton Abbot

Will I ever get full coverage in Kingskerswell TQ12 5DW because I live in a low point so cannot access the beacon hill transmitter but have a good signal from the local Kingskerswell transmitter

Victor M's 1 post
Victor's:
map
V's Freeview map
terrain
V's terrain plot
waves
V's frequency data
V's Freeview Detailed Coverage
Thursday, 3 March 2016

will we ever get more channels in Llandrindod wells as i find the channels provided are not to my taste

wendy morrison's 1 post
Sunday, 27 March 2016
J
Jacqueline Saunders
2:40 PM

This system of some areas not receiving full coverage is unjust . I still have to pay the same ,albeit to the license or any other organisation involved . Please can this be sorted out for the people affected by this.

Jacqueline Saunders's 1 post

Jacqueline Saunders: there will never be universal coverage of all services on all platforms. Contrast a group of cottages in a remote part of Scotland with a road in central London. How could there ever be the same number of radio and tv stations broadcasting to both locations. Satellite services are the closest you will get to near universal coverage as the same signal is able to cover both areas without additional expense, even then however, the footprint concentrates the strongest signal over the area with the bulk of the population. Mobile phone companies and broadband providers too aim to have a monopoly over remote areas in order to reduce costs, whilst they queue up to compete in populous areas. Some observers would argue that providing Freeview light transmitters to serve small numbers of viewers is a waste of licence payers money, suggesting that it makes more sense for affected viewers to use satellite, the monopoly broadband provider or purchase a larger aerial pointing to a Freeview main station where signals are available. The growth of on demand viewing is already leading to some broadcasters with the smallest audiences deciding to transfer to cheaper multiplexes, such as COM7, or change completely to online delivery.

KMJ,Derby's 1,811 posts
Sunday, 24 April 2016

Could you please tell me when we will be able to receive ITV 4 from the Austwick transmitor
as we seem to be missing out on such a lot, now the tour de Yorkshire is to be shown on
to be shown on this channel and local people are unable to watch

Michael Towler's 1 post
Select more comments
Your comment please