Will there ever be more services on the Freeview Light transmitters?

Brian Butterworth published on UK Free TV
The digital terrestrial service that is known today as Freeview, started life in Parliament as the Broadcasting Act 1996.

Part I act gave the regulator, then the Independent Television Commission, the authority to establish digital terrestrial television services in the UK, and paved the way for a "six multiplex" service. One multiplex was reserved for the BBC, a second jointly between the "Channel 3 licence holder", Channel 4, Gaelic programming in Scotland plus Teletext UK as the "national teletext provider"

One half of the third multiplex was passed to Channel 5 and the S4C Corporation, with the remaining three and a half being put up for a public auction. The ITC duly awarded the remaining three multiplexes to "British Digital Broadcasting" in 1997, which was a combination of two big ITV companies at the time, Carlton and Granada.





On Sunday 15th November 1998, the services was launched under the name "ONdigital", a mixture of free-to-air and pay services, and rather dwarfed by the launch six weeks earlier of the much superior Sky Digital service.

ONdigital renamed itself ITVdigital on 11th July 2001, but the woollen monkey toy in the adverts proved more popular than the service, and the service closed on 1st May 2002.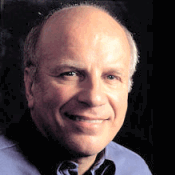 It became clear (especially to BBC director-general Greg Dyke, pictured right) that the digital terrestrial service was popular with viewers, but it was unsuitable as a pay-TV platform.



ITVdigital handed back three multiplex licences to the ITC, and the ITC then re-awarded one to the BBC and the other two to Crown Castle International, a company formed when the BBC's engineering division was sold off.

A company, DTV Services, formed to publicise the new service, which was now called Freeview.

Sky joined in, and purchased slots on the new service (from CCI) for Sky News, Sky Sports News and Sky Travel. Also there from the start of Freeview was Flextech Television "ftn", music channel TMF, UKTV's UK History and UK Bright Ideas, and shopping channel, QVC


Digital switchover process
When it was decided that the
analogue
television signals would be turned off, the BBC, as it funded by a universal fee decided that it must provide the two multiplexes of services to all homes.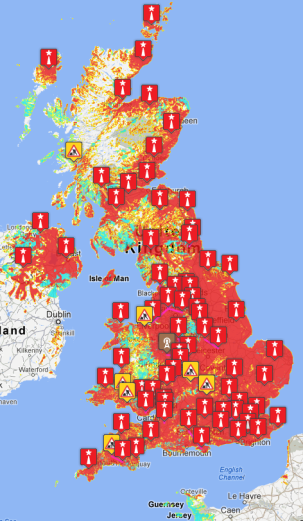 Ofcom
, now the regulator, decreed that the multiplex shared by Channel 3 and Channel 4 (called "Digital 3 and 4 Ltd") must also provide service to all homes that had analogue. This was because Channel 4 already provided this level of coverage, and as the licence holder for Channel 3 has "public service obligations", the broadcasting of multiplex 2 should also extend to all existing TV masts.
However, for the commercial multiplexes, Ofcom simply invited Crown Castle Ltd and S4C Digital Networks (SDN) to apply to extend their networks. Ofcom, having granted the multiplex licences already, felt it had no legal
power
of compulsion to insist more homes were served, and in
December 2006 announced that no application had been received
- at this point Ofcom no longer planned for additional frequencies for the commercial multiplexes.
Both commercial operators decided that the cost of providing the equipment, installation and ongoing operation of services from the 1,000 smaller transmitters would cost more than any additional revenue they could get from the TV
channels
that rent their broadcast capacity, as the work would only expand the actual number of homes broadcast to by 9%.
Since this time, S4C Digital Networks multiplex was bought by ITV plc, and Arqiva acquired the CCI multiplexes. For this reason the commercial multiplexes are known as SDN, ArqA and ArqB.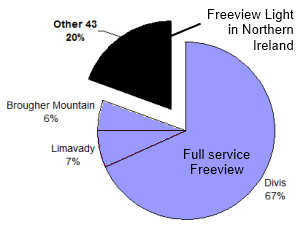 The map shows the locations where Freeview Light service is generally the only Freeview
reception
option.
See also:
Where are the public service (Freeview Light) transmitters?
Comments
Friday, 6 July 2012

Linda Dale: If you only have Freeview Light, then no, you won't get 4seven; it is available on Freesat though.

The Digital UK predictor suggests that reception of all channels from The Wrekin "may" be a possibility. What can and can't be picked up may vary by house. Trees in the way could prevent reception from a particular transmitter. The predictor should be treated as a guide; only an installer on-site can say what can and can't be received.

Dave Lindsay's 5,724 posts
Tuesday, 17 July 2012

Hi, I'm in Dumbarton and my aerial is pointed at Darvel, don't want the service from Milburn Muir(relay)so using a signal booster we receive every Mux from Darvel except the one with Yesterday,Film4 etc ch29 i believe. My question is would we be better having our aerial moved to receive Transmissions from Roseneath? Many thanks in advance. Bob

Bob's 5 posts
Bob's:
map
B's Freeview map
terrain
B's terrain plot
waves
B's frequency data
B's Freeview Detailed Coverage

Bob: I think that it is doubtful. Your best bet is probably to focus on reception from Darvel.

** After writing the text below, I looked at Ofcom's multiplex licences document and each of Darvel's COMs have a note by them saying that they are using the reserve antenna until 24th October 2012, which is when Northern Ireland switches to digital. This will be to protect against interference there and suggests that reception of Darvel COMs may improve on that date. **

-----

The Digital UK predictor suggests that reception of the PSBs from Rosneath are "good", but it is all "poor" for the COMs. Also, Rosneath uses Group C/D channels whereas Darvel's are all Group A. This is likely to require a different aerial (see below).

The Commercial multiplexes (COM) don't have as good a coverage as the Public Service Broadcaster (PSB) ones. C29 from Darvel is COM6 (or "ArqB") multiplex.

This difference in coverage is due to the small relay transmitters such as Milburn Muir not carrying the COMs, and due to some which do radiating them at lower powers than their PSBs.

The COMs from Darvel and Rosneath are at half the transmission power of respective PSBs. So this probably accounts for the marked difference of Rosneath PSBs vs COMs in the prediction by Digital UK. This doesn't mean that you will definately not pick them up, but as a gauge of "likelihood of success" would tend to suggest that it is unlikely.

The difficulty with reception from Rosneath is due to the high ground somewhere in the area of High Milndovan.


As I say, Darvel uses exclusively channels within Group A and Rosneath uses only Group C/D ones. Wideband yagi aerials are a compromise. There is a sacrifice of gain on individual channels for the benefit of being more sensitive over the whole band. For this reason, it is best to use a Group aerial for the respective transmitter. This is particularly so for Darvel as the gain of yagi aerials is lower at lower channels. So a wideband yagi has less gain on Group A channels. Manufacturers tend to quote gain figures on channels where their products are most sensitive, which is likely to be channels above Group A.


For an explanation of Groups, see:

Aerials, TV Aerial and Digital Aerial

Then refer to this page for some example gain curves:

Gain (curves), Again

If you look at the curves in the bottom-most graph on that page (Wideband curves), you will see that sensitivity of wideband yagis is lower on Group A channels.

Dave Lindsay's 5,724 posts

Thanks so much for your prompt and detailed reply Dave Lindsay, We'll stick to Darvel for now then, hopefully like you say towards the end of October the Transmission may get stronger. I may well have to raise my aerial i feel due to tree growth at the back of my property. It may help for now? Thanks again, much appreciated Dave. Yours Bob.

Bob's 5 posts
Bob's:
map
B's Freeview map
terrain
B's terrain plot
waves
B's frequency data
B's Freeview Detailed Coverage

Bob: If you need any parts or information on doing the job yourself, then you might like to take a look at www.aerialsandtv.com

Dave Lindsay's 5,724 posts
Wednesday, 18 July 2012

Great advice thanks Dave. I just need ladders big enough to reach my aerial!

Bob's 5 posts
Bob's:
map
B's Freeview map
terrain
B's terrain plot
waves
B's frequency data
B's Freeview Detailed Coverage
Wednesday, 7 November 2012
A
Andrew Meyrick
6:17 PM
Milford Haven

Would anyone know if the Freeview light transmitter at Greenhill near Pembroke and a repeater of the Carmel transmitter near Carmarthen will be upgrade to a full Freeview transmitter in the near future

Andrew Meyrick's 1 post
Andrew's:
map
A's Freeview map
terrain
A's terrain plot
waves
A's frequency data
A's Freeview Detailed Coverage

Andrew Meyrick: Not likely! The answer is given at the top of this page!

Dave Lindsay's 5,724 posts

Will these Smart Freeview HD TV sets get the missing programs through the Internet connection on them?
I ask as I notice on my TV there are extra programs I could get if it were an HD one, these are in addition to my full Freeview transmissions.

David's 306 posts
Saturday, 10 November 2012

Hi Dave Lindsay, just to say, we stuck with using a booster and signals from Darvel have improved (late October/early November)as you suggested. Thanks again. Bob, Dumbarton

bob's 5 posts
Select more comments
Your comment please