Last switchover dates for England confirmed - Tyne and Tees, 26 September 2012

Brian Butterworth published on UK Free TV
Today Digital UK priovided the final switchover dates for England - all of the transmitters in the North East of England will switch to high-power, digital-only transmissions on the 26th September 2012.

Two weeks before, on the 12th September 2012, the first stage of switchover will see the closing of BBC TWO analogue and the low power digital multiplex 1 service on the Pontop Pike, Bilsdale, Chatton and Fenham transmitters and the start of the BBCA high power transmissions.

Also on 12th September 2012, BBC TWO analogue will close on Aislaby, Allenheads, Alston, Bainbridge, Bellingham, Berwick, Blaydon Burn, Burnhope, Byrness,Castleton, Catton Beacon, Durham, Esh, Eston Nab, Falstone, Felling, Fenham, Grinton Lodge,Guisborough, Haydon Bridge, Hedleyhope, Humshaugh, Ireshopeburn, Kielder, Limber Hill, Morpeth,Newton, Peterlee, Ravenscar, Romaldkirk, Rookhope, Rosedale Abbey, Rothbury, Seaham, Shotleyfield, Skinningrove, Staithes, Sunderland, Wall, Weardale, West Burton, Whitaside, Whitby and Wooler to be replaced with the BBCA digital service for the first time.




At Bainbridge, Catton Beacon, Esh, Guisborough, Humshaugh, Ireshopeburn, Morpeth, Peterlee, Pontop Pike, Rothbury, Seaham, Shotleyfield, Weardale and Whitby viewers will find ITV1 analogue on the BBC TWO analogue frequency for the two switchover weeks.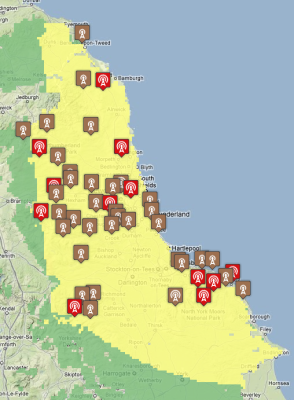 In addition, the Burnhope transmitter will stop television services on 26th September 2012.
Comments
Tuesday, 13 September 2011

Are you sure Berwick-upon-Tweed can't receive Freeview now? We certainly can from the Chatton relay transmitter which is in the middle of nowhere between Alnwick and Berwick and we have been able to for years.

GS's 2 posts

David: Your wife's point regarding the sound level on some HD broadcasts is a valid one. Does anyone know why the sound level sometimes drops out? It's not consistent and varies between different programmes. It happens on both Freesat and Freeview and BBC seems to be more affected than ITV or C4. Is it to do with the switching between 1080i and 1080p?

Steve's 59 posts

GS: That will teach me to copy and paste from the Digital UK announcement.

Briantist's 38,899 posts

Steve: It has nothing at all to do with "switching between 1080i and 1080p".

The sound on BBC HD and BBC One HD does NOT go though an audio-compression system, which is the case for all SD BBC channels.

Analogue systems do not like a lot of contrast between "loud" and "quiet" so they use "compression" (in the sense of audio-compress, and not lossless-data-compression or lossy-data-compression) to make the sound "always loud".

Because HD channels ONLY have digital distribution, the BBC feels that it can provide more contrast between the loud and quiet bits - so the volume is not always "ramped up".

This isn't a fault, it is actual quality.

Briantist's 38,899 posts

Steven Oliver: Again, it was Digital UK's claim not mine. They have picked the names of several relay transmitters.

Briantist's 38,899 posts

Briantist: I'm familiar with Dynamic Range Compression but I thought it was applied to all broadcasts, especially TV commercials. I didn't know that BBC HD sound had less compression, so thanks for that. It's a bit like the old "why are tv adverts louder than the programmes?" argument in reverse.

Steve's 59 posts

Steve: Yes, that's true. I don't know if the normal BBC channels will continue to use compression once everything is digital by the end of next year.

Briantist's 38,899 posts
Wednesday, 14 September 2011

Briantist - I should add that our house is halfway between Alnwick and Berwick too, quite near Chatton, so I suppose it IS possible that Berwick itself doesn't have Freeview yet. Not sure which transmitter that would come from?

Certainly we never got Channel 5 terrestrial from the Chatton transmitter and I don't think NICAM until the late 1990's or early 2000's.

It's aood reception from Chatton for us currently though. We can get many Freeview channels perfectly with just a set-top aerial plugged into the box.

GS's 2 posts

GS: Berwick has, as per the above article, a relay transmitter.

Briantist's 38,899 posts
Monday, 19 September 2011

My mother-in-law lives in Harrogate (Yorkshire) and apparently receives her TV programmes from the Bilsdale transmitter....? She receives 'Tyne Tees' regional news programmes, as opposed to the 'Yorkshire' ones which she would prefer. As she is over 80, she has had a 'digi-box' installed by the 'switchover help scheme' people. She was advised by the guy who installed it for her, that when 'Yorkshire' switches to digital on Sep 21st, she may be able to get the 'Yorkshire' news programmes after she re-tunes the digi-box. Can anyone clarify or otherwise?

Super Saint's 5 posts
Select more comments
Your comment please