Last switchover dates for England confirmed - Tyne and Tees, 26 September 2012

Brian Butterworth published on UK Free TV
Today Digital UK priovided the final switchover dates for England - all of the transmitters in the North East of England will switch to high-power, digital-only transmissions on the 26th September 2012.

Two weeks before, on the 12th September 2012, the first stage of switchover will see the closing of BBC TWO analogue and the low power digital multiplex 1 service on the Pontop Pike, Bilsdale, Chatton and Fenham transmitters and the start of the BBCA high power transmissions.

Also on 12th September 2012, BBC TWO analogue will close on Aislaby, Allenheads, Alston, Bainbridge, Bellingham, Berwick, Blaydon Burn, Burnhope, Byrness,Castleton, Catton Beacon, Durham, Esh, Eston Nab, Falstone, Felling, Fenham, Grinton Lodge,Guisborough, Haydon Bridge, Hedleyhope, Humshaugh, Ireshopeburn, Kielder, Limber Hill, Morpeth,Newton, Peterlee, Ravenscar, Romaldkirk, Rookhope, Rosedale Abbey, Rothbury, Seaham, Shotleyfield, Skinningrove, Staithes, Sunderland, Wall, Weardale, West Burton, Whitaside, Whitby and Wooler to be replaced with the BBCA digital service for the first time.




At Bainbridge, Catton Beacon, Esh, Guisborough, Humshaugh, Ireshopeburn, Morpeth, Peterlee, Pontop Pike, Rothbury, Seaham, Shotleyfield, Weardale and Whitby viewers will find ITV1 analogue on the BBC TWO analogue frequency for the two switchover weeks.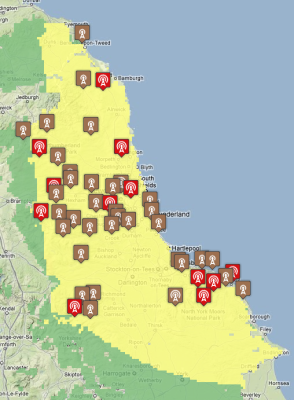 In addition, the Burnhope transmitter will stop television services on 26th September 2012.
Comments
Thursday, 22 September 2011

Christine Garrett: Ridge Hill has been digital only since Wednesday 20th April 2011.

Briantist's 38,844 posts
Friday, 23 September 2011

Absolutely excellent site this for answers - and I haven't had the need to ask a question yet!

RB's 1 post
Thursday, 29 September 2011

RB: Thanks.

Briantist's 38,844 posts
Tuesday, 11 October 2011
J
Jon_D
10:26 AM
Barnard Castle

I have obviously missed something but please bear with me. I live in Barnard Castle. FREEVIEW is fine here so no complaints. But when will this area be able to receive HD digital? Will it be in time for Wimbledon next years, my lady wife asks>

Jon_D's 1 post
Friday, 14 October 2011

Jon_D: 26th September 2012, or you can have HD today if you fit Freesat HD.

Briantist's 38,844 posts
Select more comments
Your comment please