Switchover starts in the Oxford area

Brian Butterworth published on UK Free TV
This week sees the first stage of the digital television switchover for 415,700 homes in the Oxford area - one year after the only true problem during the whole of the UK pre-switchover process, the Oxford transmitter fire.

From 6am Wednesday 14th September 2011, you must to a perform a "first time installation" retune (sometimes "Factory Reset" or "Shipping Condition") on your Freeview box or television set if you use the Oxford full service Freeview transmitter.

This is because the old low power "multiplex 1" BBC service (on C34) will be replaced by the high power BBCA multiplex on the old analogue Channel 4 frequency, C53. Analogue Channel 4 moves to C63 for two weeks. Also multiplex C will move from C48 to C34 for two weeks as well.

If you use the Ascott under Wychwood (3pm), Charlbury (noon), Guiting Power (9am), Icomb Hill (9am) or Over Norton (9am) relay transmitters from mid-morning on Wednesday 14th September 2011 you will be able to receive the BBC Freeview services (with the exception of HD) for the first time, and you will no longer be able to view BBC TWO on analogue.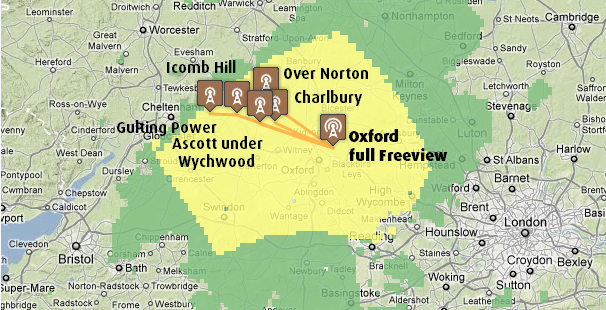 You MAY find that old equipment will no longer work - see TVs and boxes that do not support the 8k-mode

Another common problem at switchover is the ten-fold increase in signal from 10kW to 100kW will overload amplifiers and over-the-top aerial installations. If this is the case you will have to remove the booster or amplifier from the system, or perhaps fit an attenuator if you have no amplification.




On Wednesday 28th September 2011 will see the second stage of switchover, which provides the final Freeview configuration, including Freeview HD for all transmitters in this region.

On this date, you will need, once again, to do a "first time installation" as indicated above.

If you are over 75, you should already have been supplied new equipment by the Switchover Help Scheme.
Comments
Wednesday, 14 September 2011

Julie H: Probably, but you might have an overload problem - see Freeview signals: too much of a good thing is bad for you | ukfree.tv - independent free digital TV advice . The best thing to do is wait two weeks and see what happens.

Briantist's 38,907 posts

Tigminor: Can't be sure without a full postcode, but if you can get the BBC services today you will get everything else OK in a couple of weeks.

Briantist's 38,907 posts

Alan: You need to retune with Freeview due to the switchover, it can hardly be avoided!

Briantist's 38,907 posts
Stuart O.
10:04 PM
Wrexham

Hi Brian, Thanks for changing the name.
It won't affect me but I'm sure it will make things easier for all those who do receive Oxford and its relays.
Hope you agree with me that it does make more sense and easier to understand for the name of the ITV1 region to match the name of the regional news programme.
Now if only Sky could do the same!
I also noticed flicking around the regions previously that Border and Tyne Tees seems to have merged also and Sky has the wrong name for one of those.

Stuart O.'s 156 posts
Stuart's:
map
S's Freeview map
terrain
S's terrain plot
waves
S's frequency data
S's Freeview Detailed Coverage

Stuart O.: ITV still broadcast adverts in smaller regions than they provide news for, and therefore these regions still persist.

I think I left Thames Valley as it was because it wasn't clear for a while if the region would switch together or in two halves. It was the latter.

I have also merged Tyne-Tees back together, and removed the YTV South region that never really existed.

Briantist's 38,907 posts
A
Alex Cranswick
10:52 PM
Swindon

Thank you the note on too much of a good thing can be bad for you. I am on Oxford and have been having trouble with the digital side over the past week or two with messages of no signal although all the channels were tuned. When switching to a channel I would get a picture for less than a second before the no signal message. I have just read your note and taken out the amplifier and all is well. I had not seen this caution for signal boosters anywhere else.

Alex Cranswick's 3 posts
Alex's:
map
A's Freeview map
terrain
A's terrain plot
waves
A's frequency data
A's Freeview Detailed Coverage
Thursday, 15 September 2011

Alan is your Humax box seeing Hannington signals their channels are before Oxford this a problem in a lot of cases if you live in the Bicester area reduce your signal by fitting a temporary atttenuator about 18db remove after tuning... not sure but Maplin might sell a varible one
Paul

Paul Ewers, Brill's 2 posts
B
Barry
10:41 AM
Wallingford

OX10 9NZ

Retuned JLP-Model No JL26 yesterday. No signal on BBC1, 2 etc. Channel 53 - no signal.
Called Digital UK but could not sort out - said go to manufacturer... still waiting for reply.
Neighbours on modern, communal aerial OK.
Any suggestions?

Barry's 8 posts
Barry's:
map
B's Freeview map
terrain
B's terrain plot
waves
B's frequency data
B's Freeview Detailed Coverage

When are you correcting the transmitter power for ITV CHANNEL4 & FIVE as the signal is power is Very Low

John's 1 post

John: The other multiplexes and analogue are torn down on Wednesday 28th September 2011 and replaced with high power services at around 6am.

Briantist's 38,907 posts
Select more comments
Your comment please