Switchover starts in the Oxford area

Brian Butterworth published on UK Free TV
This week sees the first stage of the digital television switchover for 415,700 homes in the Oxford area - one year after the only true problem during the whole of the UK pre-switchover process, the Oxford transmitter fire.

From 6am Wednesday 14th September 2011, you must to a perform a "first time installation" retune (sometimes "Factory Reset" or "Shipping Condition") on your Freeview box or television set if you use the Oxford full service Freeview transmitter.

This is because the old low power "multiplex 1" BBC service (on C34) will be replaced by the high power BBCA multiplex on the old analogue Channel 4 frequency, C53. Analogue Channel 4 moves to C63 for two weeks. Also multiplex C will move from C48 to C34 for two weeks as well.

If you use the Ascott under Wychwood (3pm), Charlbury (noon), Guiting Power (9am), Icomb Hill (9am) or Over Norton (9am) relay transmitters from mid-morning on Wednesday 14th September 2011 you will be able to receive the BBC Freeview services (with the exception of HD) for the first time, and you will no longer be able to view BBC TWO on analogue.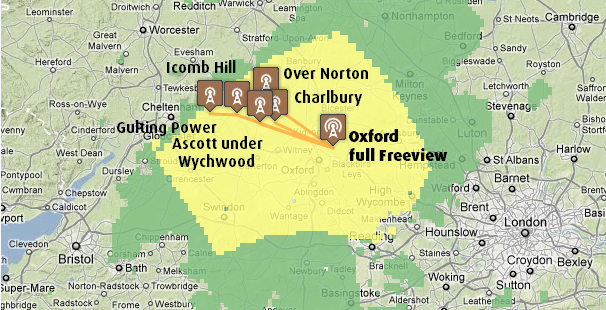 You MAY find that old equipment will no longer work - see TVs and boxes that do not support the 8k-mode

Another common problem at switchover is the ten-fold increase in signal from 10kW to 100kW will overload amplifiers and over-the-top aerial installations. If this is the case you will have to remove the booster or amplifier from the system, or perhaps fit an attenuator if you have no amplification.




On Wednesday 28th September 2011 will see the second stage of switchover, which provides the final Freeview configuration, including Freeview HD for all transmitters in this region.

On this date, you will need, once again, to do a "first time installation" as indicated above.

If you are over 75, you should already have been supplied new equipment by the Switchover Help Scheme.
Comments
Saturday, 17 September 2011

Yes you guessed it! The other (oldish) TV tuned all the channels. So, the John Lewis (Linsar) has a problem...

Barry's 8 posts

Sorry if this is covered elsewhere, but I have lost 5* and 5USA. Can I get these back on Freesat?

Arnie's 1 post
J
JB
4:59 PM
Chipping Norton

I had a new box fitted. And now I get Channel 5 which I never got before.
I cannot get BBC2 however. The technician tuned it to channel 53 and I retuned it and only Channel 33 has a faint signal. What can I do?

JB's 1 post
JB's:
map
J's Freeview map
terrain
J's terrain plot
waves
J's frequency data
J's Freeview Detailed Coverage

JB: indications are that you should only be able to receive a signal from either Oxford or Charlbury, however if its Charlbury then you aren't forecast as being able to receive ITV1 / Ch5 etc (even although you say you are) but you should be able to receive BBC1 / 2 on Mux Ch44.

If however its Oxford you are receiving from, then BBC1 / 2 is on Mux Ch53, but like Charlbury you are not forecast as being able to receive ITV1 / Ch5 etc until the 28th, although the fact that you are presently doing indicates that you are in a reception area where local conditions play a big part in what's actually received.

Have a look at your aerial mounting, if the elements are horizontal then it should be Oxford, whereas if they are vertical (up and down) then that's Charlbury.




jb38's 7,179 posts
Monday, 19 September 2011

We have a cottage in Bourton-on-the-Water, never been able to get Freeview before, today I went over and Freeview is now working for BBC1, BBC2/3 BBC News etc. Signal strength is showing about 80%. I cannot get ITV or channel 4 or 5 on Freeview. Can I safely assume that as the Freeview is now working fine with BBC channels that on 28th Sep ITV, Channel 4 etc. will be working ???, just worried that I may need new aerial or something, signal was never that great in Bourton and I could never get channel 5, but the channels I'm now getting from BBC on Freeview are coming through load and clear.

Gavin Atkinson's 1 post

Attenuator didn't work. C53 still gives a 'no signal' indication. Assume it is the (nearly new) Freeview TV set at fault.
Could the high signal strength have 'blown' the TV amplifier?

Barry's 8 posts

Gavin Atkinson: The reception predictor for your area (using a test post code) certainly doesn't appear to offer many choices as far as Freeview reception is concerned, the local Icomb Hill station being the only one, Oxford and Hannington being either poor or non existent, however, on the 28th of this month ITV1 / Ch4 / Ch5 etc as well as the HD service should become available.

It should be pointed out though that Icomb Hill is a Freeview light PSB only station, and as such you will not be able to view the full range of channels as would be obtainable from a main station.

jb38's 7,179 posts

Barry: An over powerful signal cannot blow a tuner on one channel, and so if it is the TV then there is liable to be a fault in the tuners pre-installed channel selector.

You could try a long shot by carrying out a "manual" tune test on Hannington's BBC multiplex Ch50, as Oxford is roughly North @ 15 miles away, whereas Hannington is @ 19 miles slightly to the West of South, so you "might" get Hannington on the reverse of your aerial as its reception is indicated as being possible at your post code. (with the usual pinch of salt!)

(Use the "aerial out" memory blanking scan before trying!).

jb38's 7,179 posts

JB38: Thanks, I will give that a try before I chuck the TV out of the (upstairs) window!

Barry's 8 posts
Tuesday, 20 September 2011
G
Gavin Atkinson
6:46 AM
Cheltenham

Thanks I suppose me real question is that, as the Freeview is working well with the BBC channels on stage 1 and showing good signal strength then is there any reason when the final switch goes that I wouldn't get ITV/Channel 4 and the rest, will the strength of signal be the same etc. or is there a reaasonable risk I may need new aerial etc. ?

Gavin Atkinson's 2 posts
Gavin's:
map
G's Freeview map
terrain
G's terrain plot
waves
G's frequency data
G's Freeview Detailed Coverage
Select more comments
Your comment please