Switchover starts in the Oxford area

Brian Butterworth published on UK Free TV
This week sees the first stage of the digital television switchover for 415,700 homes in the Oxford area - one year after the only true problem during the whole of the UK pre-switchover process, the Oxford transmitter fire.

From 6am Wednesday 14th September 2011, you must to a perform a "first time installation" retune (sometimes "Factory Reset" or "Shipping Condition") on your Freeview box or television set if you use the Oxford full service Freeview transmitter.

This is because the old low power "multiplex 1" BBC service (on C34) will be replaced by the high power BBCA multiplex on the old analogue Channel 4 frequency, C53. Analogue Channel 4 moves to C63 for two weeks. Also multiplex C will move from C48 to C34 for two weeks as well.

If you use the Ascott under Wychwood (3pm), Charlbury (noon), Guiting Power (9am), Icomb Hill (9am) or Over Norton (9am) relay transmitters from mid-morning on Wednesday 14th September 2011 you will be able to receive the BBC Freeview services (with the exception of HD) for the first time, and you will no longer be able to view BBC TWO on analogue.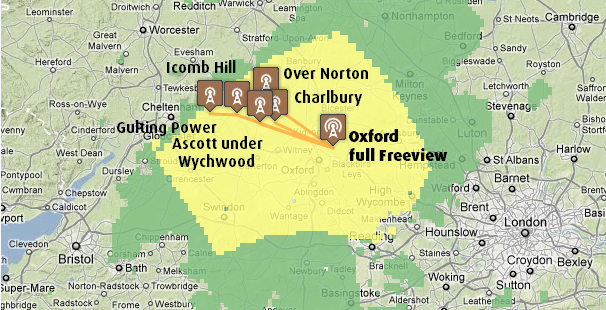 You MAY find that old equipment will no longer work - see TVs and boxes that do not support the 8k-mode

Another common problem at switchover is the ten-fold increase in signal from 10kW to 100kW will overload amplifiers and over-the-top aerial installations. If this is the case you will have to remove the booster or amplifier from the system, or perhaps fit an attenuator if you have no amplification.




On Wednesday 28th September 2011 will see the second stage of switchover, which provides the final Freeview configuration, including Freeview HD for all transmitters in this region.

On this date, you will need, once again, to do a "first time installation" as indicated above.

If you are over 75, you should already have been supplied new equipment by the Switchover Help Scheme.
Comments
Thursday, 15 September 2011

Dawn: For other suggestions, see Digital Region Overlap. The only real solution is a new box that tunes in best quality signals and/or asks you which region to use if it picks up more than one.

Mike Dimmick's 2,486 posts

Just noticed that another Freeview channel we used to regularly watch PICK TV that was on Channel 11 in this area is also now missing from the new Channel List. Any ideas from you knowledgeable people ?

Stan Ball's 2 posts

Got one tv with no freeview box that is still displaying BBC1 BBC2 ITV and Channel 5 but no Channel 4 - is this now gone forever, or is it there somewhere?

Karen's 1 post
Friday, 16 September 2011

Karen: You've got 12 days left before analogue television is "gone forever". Channel 4 is showing on the BBC TWO position until then.

Briantist's 38,906 posts

My TV retune worked perfectly, but I also have a set top box (Thomson DTI2300) which feeds an old non-Virgin Tivo. Post retune all BBC TV & radio has moved from channels 0001 upwards to channels 0109 upwards where Tivo cannot "see" them. All other channels are fine although the picture is a bit bleached. Channels 0001 upwards are now inhabited by clicks and pops which sound like very poor reception of the original BBC channels. How can I move the working BBC channels to their old location? Thomson no longer support STBs.

DavidX's 1 post

DavidX: you need to do My Freeview box has no EPG, is blank on FIVE, ITV3, ITV4, ITV2+1, has no sound or the channel line up is wrong | ukfree.tv - independent free digital TV advice to the box to clear out all the old channel allocations from the box

Briantist's 38,906 posts

Thanks Brian.
I was beginning to come to the same conclusion...
Now, I am wondering how much attenuation I need?

Barry's 8 posts

Barry: If you're sure it's not the box, then a variable attenuator is probably the best thing to get,
Variable Aerial Attenuator : Aerial Adaptors : Maplin
for example.

Briantist's 38,906 posts
Saturday, 17 September 2011

Brian, thanks again.
I ordered variable attenuator, as recommended.
Of course, this will pull down all the channels, so C68 may be weak for a while... We will see!
As an aside, shops are full of amplifiers but no attenuators - yet!
Today I will try another TV on the same aerial.

Barry's 8 posts
Select more comments
Your comment please