Switchover starts in Norfolk

Brian Butterworth published on UK Free TV
This week sees the first stage of the digital television switchover for 387,500 homes in Norfolk.

From 6am Wednesday 9th November 2011, you must perform a "first time installation" retune (sometimes "Factory Reset" or "Shipping Condition") on your Freeview box or television set if you use the Tacolneston full service Freeview transmitter.

This is because the old low power "multiplex 1" BBC service (on C63) will be replaced by the high power BBCA multiplex on the old analogue BBC TWO frequency, C55.

On Wednesday 9th November 2011 if you use the Aldeburgh at 10am, Bramford at 6am, Burnham noon, Bury St Edmunds at 6am, Creake at 3pm, Gorleston on Sea at 6am, Great Yarmouth (new transmitter) noon, Kings Lynn at 9am, Linnet Valley at 6am, Little Walsingham at 6am, Lowestoft (new transmitter) at 8am, Norwich Central at 9am, Overstrand noon, Thetford at 6am, Wells next the Sea at 3pm or West Runton at 9am relay transmitters you will be able to receive the BBC Freeview services (with the exception of HD) for the first time, and you will no longer be able to view BBC TWO on analogue.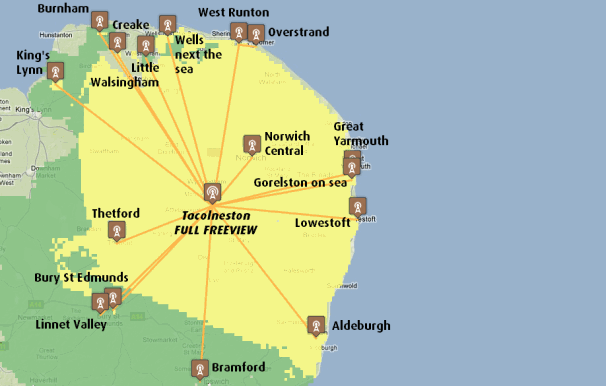 You MAY find that old equipment will no longer work - see TVs and boxes that do not support the 8k-mode

Another common problem at switchover is the ten-fold increase in signal from 10kW to 100kW will overload amplifiers and over-the-top aerial installations. If this is the case you will have to remove the booster or amplifier from the system, or perhaps fit an attenuator if you have no amplification. - see Freeview signals: too much of a good thing is bad for you.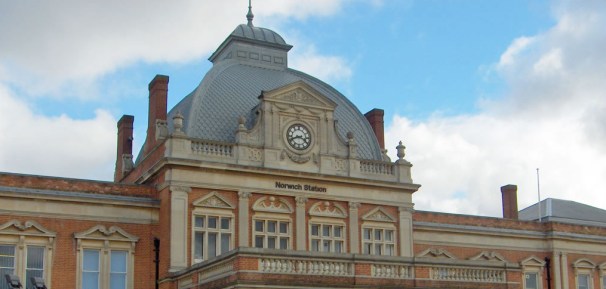 On Wednesday 23rd November 2011 will see the second stage of switchover, which provides the final Freeview configuration, including Freeview HD for all transmitters in this region.

On this date, you will need, once again, to do a "first time installation" as indicated above.

If you are over 75, you should already have been supplied new equipment by the Switchover Help Scheme.
Comments
Tuesday, 22 November 2011

Brian: The SDN/Mux A multiplex remains on C31 until 9 May 2012.

C51 is the final location but it is currently in use at Hemel Hempstead and can't be used until after the London switchover is completed on 18 April. I'm not sure what the reason for the three-week delay is. Possibly the programme of Olympic test events between 18 April and 8 May (the broadcasters are likely to need a degree of stability to test their equipment before the Olympics proper start at the end of July).

Mike Dimmick's 2,486 posts
Wednesday, 23 November 2011

02.05 all muxes up and running at Tacolneston

Mike Smith's 19 posts

Adam, thanks for pointing that out (I was aware just copied the wrong channel from my spreadsheet, which shows the mux channels and the change over dates) SDN ch 51 18th April 2012. Thanks for keeping an eye out though.
Best regards to all
Brian

brian's 17 posts

Everything retuned and all working great. the 2 PCTV 290e dvb-t2 couldn't handle the signal increase needing the use of an attenuator and mythtv timers adjusted to make use of the HD channels. o/

Lee Donaghy's 14 posts
Friday, 25 November 2011
J
J Dagless
10:50 AM
Norwich

Centre of Norwich here. Aerial pointing to Talconeston.

Looks like everything okay apart from the mux running Film4/Viva/Yesterday etc.

Film4 etc. are just breakup and pops and clicks. Have done three factory resets and scans over the past three days. Downstairs neighbour is the same. This mux was fine a week ago.

So disappointing to finally get here and its still not right.

Did the Three Stooges manage this rollout?

J Dagless's 13 posts
J's:
map
J's Freeview map
terrain
J's terrain plot
waves
J's frequency data
J's Freeview Detailed Coverage
Saturday, 26 November 2011

J Dagless It cannot be nothing wrong with the roll-out as it is a steady stable signal here just outside Norwich.

I have had the TV on for over an hour now testing on Ch50 Mux D AqivaB there is 100% signal strength and quality with no error correction showing it is rock steady.

Did you get all the muxes before switchover and are your other muxes OK at the moment?

Could it be some nearby electrical interference causing problems on that frequency like a mobile phone nearby.

Mike Smith's 19 posts

Mike Smith: J Dagless made a duplicate posting and follow-ups here:

Norfolk sees the end of analogue TV as high power digital starts | ukfree.tv - independent free digital TV advice

Dave Lindsay's 5,724 posts
Monday, 28 November 2011

Brian(tist) - FYI, so far all is OK out here in the sticks near N Walsham. Mildly odd is that the BBC TV mux (C55) is at a slightly lower (displayed) signal strength than the others. Propagation quirk maybe. Still, it works fine at c.60% strength 100% quality.

Richard Baguley's 85 posts
Wednesday, 14 December 2011

Richard Baguley: Thanks.

Briantist's 38,908 posts
Select more comments
Your comment please