Sudbury Arqiva multiplex B changes 16 November - retune required

Brian Butterworth published on UK Free TV
After 6am 16th November 2011, viewers in Suffolk and Essex who receive the full Freeview service from the Sudbury transmitter will need to do a full retune of their Freeview boxes - you must perform a "first time installation" retune (sometimes "Factory Reset" or "Shipping Condition") to ensure you can watch the all the available Freeview channels on the correct channel numbers.

The ArqB multiplex is moving from C50 to C63 for seven months. There will be no changes to the power level or transmission mode parameters of the service. C50 is required for the ArqB at the Tacolneston transmitter digital switchover next wednesday.

Sudbury not see the commercial multiplexes operating at their final power levels until 27th June 2012. On this date SDN will move to C58, ArqA to C60 and ArqB to C56. Until this time some viewers on the edges of the service area for the transmitter will be unable to receive the commercial services.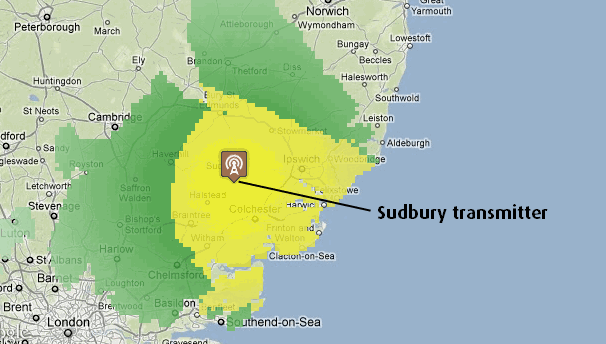 Comments
Wednesday, 16 November 2011

I am in Sudbury, right under the transmitter.
We have 3 set top boxes in this house,(all running from the same aerial) have done a factory reset on one and lost 5 channels-yesterday/film4/4music/itv4/RT (they dont even list on the menu). On one of the others I have sound but no pictures on some channels(no reset done), and I'm not even gonna turn on the third cos yesterday it was working just fine!. I understand the whole process of why we're changing over but why do we keep getting this constant requirement to retune every 6 months and then loose channels etc. It's all well and good getting a new aerial etc etc but we are in hard times at the moment and people cant go out and just fork out for a new aerial or have a specialist installer come and sort out their problem just because someone has decided to change freeview channels around. Come on guys....there are a lot of people out here who use their tv to relax and get away from the daily grind and dont need this.

james's 1 post

james: I suggest that you take a look at this page:

Freeview signals: too much of a good thing is bad for you | ukfree.tv - independent free digital TV advice (DN31NJ)

Dave Lindsay's 5,724 posts
A
Adrian Pease
12:02 PM
Haverhill

I am new to this,live in Haverhill ,but had 81 channels yesterday when I ran the scan,did a first time installation just now and have now only got 53 channels. Any help greatly appreciated.

Adrian Pease's 2 posts
Adrian's:
map
A's Freeview map
terrain
A's terrain plot
waves
A's frequency data
A's Freeview Detailed Coverage

I have the same problem - I could get this mux fine until today when it shifted from ch50 to ch63.

I have an old aerial but I believe it to be a wideband one, but I did wonder if its age was an issue. However I don't think it can be, seeing as people with new aerials can't receive this mux now either!

It looks like there's a transmitter fault.

yes's 13 posts

Another Wivenhoe household here. Channels from 50 were perfect. Channels on 63 break up about as often as the old low power ITV mux from Sudbury B. Wideband aerial and all that.

The power is meant to have doubled compared to channel 50 as well.

As this appears to be fairly widespread, I wonder if something is not right with the new setup.

Delenn's 5 posts

Russ: The reason ArqB stopped for you is definately because its frequency was changed then (as explained at the top of this page).

If I were you, I would try manually tuning to Ch63 (if it will let you do it).

If you cannot get it, then it might be that you had a marginal signal before. That is, before it was "only just" strong enough for you to pick it up.

It will not be raised to full transmission power until 27th June 2012.

Dave Lindsay's 5,724 posts
Dave's:
map
D's Freeview map
terrain
D's terrain plot
waves
D's frequency data
D's Freeview Detailed Coverage

Delenn: There was no power increase, just a channel change. It will not be increased in power until 27th June 2012 (when there will be another change of UHF channel/frequency).

Dave Lindsay's 5,724 posts
Dave's:
map
D's Freeview map
terrain
D's terrain plot
waves
D's frequency data
D's Freeview Detailed Coverage

Adrian Pease: Try doing this:

My Freeview box has no EPG, is blank on FIVE, ITV3, ITV4, ITV2+1, has no sound or the channel line up is wrong | ukfree.tv - independent free digital TV advice

If it doesn't work, I'd try adding the missing channels manually (if your receiver will let you do it). If you would like some help with it, post the make and model number of the device. (DN31NJ)

Dave Lindsay's 5,724 posts

I tried manually searching for channels on ch63 and it found nothing.

yes's 13 posts

Ah, another website suggested a power increase from 1.1kW to 2.2kW. Was ArqB running at 64 QAM before last night? Can't find anywhere that confirms.

Either way, an awful lot of people are having trouble with channel 63 that were ok at channel 50.

Delenn's 5 posts
Select more comments
Your comment please