Sudbury Arqiva multiplex B changes 16 November - retune required

Brian Butterworth published on UK Free TV
After 6am 16th November 2011, viewers in Suffolk and Essex who receive the full Freeview service from the Sudbury transmitter will need to do a full retune of their Freeview boxes - you must perform a "first time installation" retune (sometimes "Factory Reset" or "Shipping Condition") to ensure you can watch the all the available Freeview channels on the correct channel numbers.

The ArqB multiplex is moving from C50 to C63 for seven months. There will be no changes to the power level or transmission mode parameters of the service. C50 is required for the ArqB at the Tacolneston transmitter digital switchover next wednesday.

Sudbury not see the commercial multiplexes operating at their final power levels until 27th June 2012. On this date SDN will move to C58, ArqA to C60 and ArqB to C56. Until this time some viewers on the edges of the service area for the transmitter will be unable to receive the commercial services.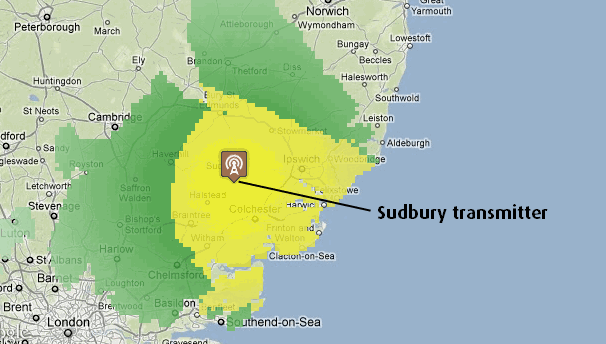 Comments
Wednesday, 16 November 2011

Digital UK has published an industry update here:

http://www.digitaluk.co.u….pdf

It states "Arqiva B, still at low-power , moves to a temporary parking channel to release its previous one for use at Tacolneston". It doesn't say whether the "low-power" is higher than the previous low power.


However, the Ofcom information is more helpful and confirm's what Delenn says:
http://stakeholders.ofcom….pdf

Footnote for Sudbury COMs "Arqiva B will remain on its pre-switchover channel (50+) until late 2011, and then temporarily move to channel 63 (at 2.2kW ERP), before adopting its final allocation of channel 56 during mid-2012."

Perhaps one of the pros could shed some light on this. (DN31NJ)

Dave Lindsay's 5,724 posts

I'm a bit concerned what will happen to Arqiva A next June. It's currently on ch54 but will have a permanent home of ch60 from next June. Will we all have the same problems with ch60 that we're currently having with ch63? :S

yes's 13 posts

To those with issues picking up ArqB from Sudbury (who received it prior to 16th) try carrying out the procedure outlined here:

My Freeview box has no EPG, is blank on FIVE, ITV3, ITV4, ITV2+1, has no sound or the channel line up is wrong | ukfree.tv - independent free digital TV advice (DN31NJ)

Dave Lindsay's 5,724 posts

Ive got the same problem, I live 6 miles or so from the Sudbury transmitter, co10 9dz, this morning I could not get film 4, so I retuned my digi box and did a first time instalation like it suggests above.
Now I realise I can't get film 4, yesterday, itv 4 etc they don't even show up at all. I got all these channels yesterday, when I retune I pick nothing up on 63 at all, I realise arqb is changing from channel 50 to 63 but is this the reason for losing the channels and is there a way of getting them back? Especially as I live so close to the aerial?

Hollzjw's 3 posts
Hollzjw's: ...

yes: Remember that the COM muxes will be transmitted at 100kW from 27th June 2012, when the frequency of Mux ArqA changes to C60-, SDN to C58 and ArqB to C56. Group "E" or wideband aerials will be required to receive all the frequencies in use from that date. Problems will mostly be caused by old group "B" aerials still being in use, or boosters delivering too much signal when all muxes are at full power.

KMJ,Derby's 1,811 posts

KMJ,
You are correct about the 100kW, which should fix a lot of issues, but in the meantime, plenty of people with wideband aerials that could pick up ch50 yesterday, and the ultra low power mux from Sudbury B until DSO2 (ch 68) now can't pick up 63 very well. All very strange, but I can't find a way to raise the issue with Arqiva.

Delenn's 5 posts

Delenn: ArqB was 64QAM, 8k mode from switchover in order to carry Sky Sports. One factor that we do not know is whether the radiation pattern is identical to that on C50, or if in fact a different antenna is now in use.

KMJ,Derby's 1,811 posts

KMJ,
Very good points. A lot of the places mentioned are south & south east of Sudbury. I wonder if there is a null in that direction on this interim frequency, maybe to protect the continent.

Delenn's 5 posts

I live in Ipswich, IP3, also lost channels mentioned above, ITV4, Yesterday(12), etc. I had them yesterday, good signal.
??????

Brian's 2 posts

Same problem here in IP7 (Hadleigh) 7 miles approx from Sudbury. Ch50(Itv4 Film4 Yesterday Viva etc) was all working well until the re-tune today (16th Nov). Now I've lost approx 30 or so channels, hopefully they'll have it sorted quickly.

TB's 1 post
Select more comments
Your comment please