Major update to UK Free TV Freeview reception prediction system

Brian Butterworth published on UK Free TV
UK Free TV will celebrate ten years of helping people with their television reception this summer, and today's changes to the reception prediction system is the third major change to the system in that time.

As before, you can still enter a UK postcode, national grid reference or a pair of latitude and longitude co-ordinates into the box at the top right corner of every page here on UK Free TV to ask for a reception prediction.

The reception information page is now divided into three sections, with a toolbar to select the three ways of viewing the information:


Mapping
The mapping page shows the transmitters that you can receive a
signal
from, assuming that your TV
aerial
is mounted 20 meters above ground level.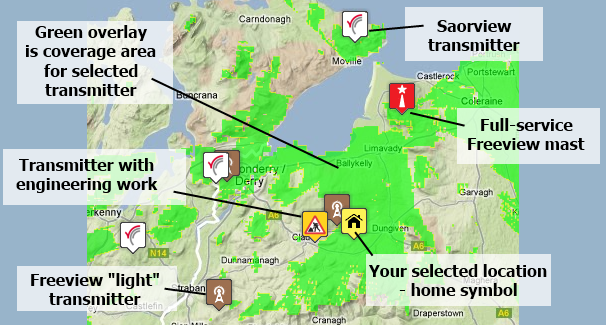 The coverage area for the
transmitter
that provides the strongest signal for the location is shown, and you can single-click on transmitters to show other coverage areas.
Terrain plot
The terrain plot shows each of the masts that a signal can be received from, with the most powerful signal (from
Multiplex
1, PSB1 or
Saorview
1) shown first, with the rest in order.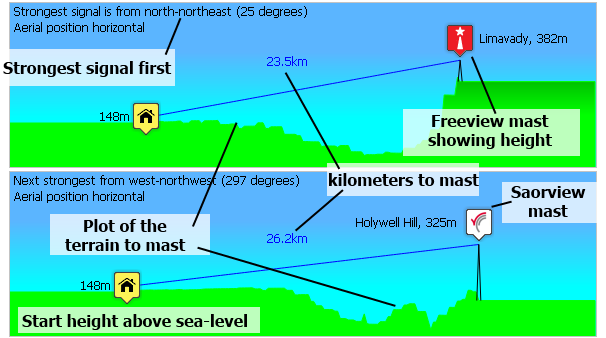 You can click on the plots to see full details for the transmitter. The baring and aerial position is shown in the top right hand cover of each plot. See
Transmitter symbol improvements on UK Free TV
for full details of all the transmitter symbols used.
These graphics are using HTML5 canvas and will not display in very old web browsers.
Full details
As before, you can also view the technical information about reception in one of five ways: by direction, by signal strength (again, strongest first), by transmission
frequency
(lowest first), alphabetically by the service names or the alphabetically by transmitter names.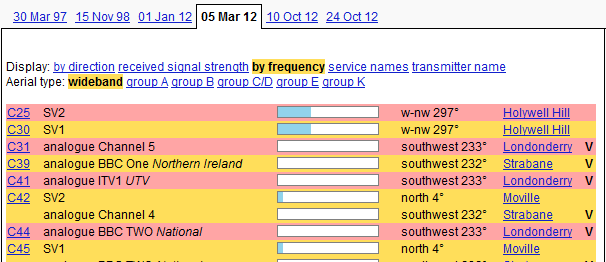 As before, you can click the "Aerial type" selections on the page to see the effect of using different aerial of different group types on your reception, and the date tabs to see past and future changes to reception.
Comments
Tuesday, 6 March 2012

john pateman: What was your reason for retuning? Rowridge does not switchover until tomorrow.

However, the first stage of switchover at Midhurst was 29th February. From your location Rowridge and Midhurst are in the same direction. The distance to the former is for times that of the latter which is 21km or 13 miles.

Are you sure that you are not receiving from Midhurst instead?

Perhaps your receiver has tuned to the wrong transmitter for BBC (and maybe others even though they seem stable or maybe not).

The predictor suggests that you will get a good signal from Hannington which switched over in February (and is therefore on full power).

Go to the signal strength screen whilst BBC One is on and check that the UHF channel is 55 for Midhurst. For Hannington it will be 45 and Rowridge is 24.

Do the same for ITV1. For Midhurst it is C65 to change to C61 on 14th March. Hannington's is on C42 and Rowridge's is C44.

Dave Lindsay's 5,724 posts

I have read that some people will have their FREEVIEW digital terrestial television reception disrupted after the introduction of new 4G mobile telephone services. It seems that some will be compelled to fit filters to their television aerials, some will have to switch to either cable or satellite services, and some will have severe difficulty in obtaining any form of television provision. Is there any way that I can find out if I and my local area will be affected by these developments?

Howard Moore's 4 posts

Howard Moore: Please see Ofcom moves to protect Freeview interference from 4G mobile devices | ukfree.tv - independent free digital TV advice .

At the moment it is impossible to know who will be effected as the allocations for the 4G base station are unknown.

Briantist's 38,906 posts
Saturday, 10 March 2012
K
Keith Mardell
11:26 PM
St. Albans

I want to buy a new portable TV to use in different parts of the UK. Should I buy a digital only set or should I buy a digital/analogue set .
I would appreciate your comments please.

Keith Mardell's 1 post
Keith's:
map
K's Freeview map
terrain
K's terrain plot
waves
K's frequency data
K's Freeview Detailed Coverage

Keith Mardell: Analogue will completely vanish from the UK in the very near future and so I would not even consider it as being a necessity, most (but not all) TV's being dual standard anyway.

jb38's 7,179 posts
Thursday, 15 March 2012

The new reception checker sounds useful. How do I get access to it? I cant find a link on your site.

Paul's 1 post
Monday, 26 March 2012
T
terry white
10:05 AM
Chislehurst

please help, the tvs in the kids rooms are on freeview but picture constantly breaking up. is this due to high pressure over the uk. i am at a loss. many thks. post code br7

terry white's 1 post
terry's:
map
T's Freeview map
terrain
T's terrain plot
waves
T's frequency data
T's Freeview Detailed Coverage

I live in Brighton and hove and after the switchover I( lost BBC SOUTH and have BBC SOUTH EAST. I prefer the old BBC SOUTH> How can I adjust the receiver for this?

Yakoob's 2 posts
Yakoob's:
map
Y's Freeview map
terrain
Y's terrain plot
waves
Y's frequency data
Y's Freeview Detailed Coverage

Yakoob: BBC South is transmitted from Rowridge and BBC Southeast from Whitehawk Hill. Look in the 800s of your channel list to see if your receiver has already found and stored the signal from Rowridge. If it is not there, try doing a manual tune on C24. It might be necessary to install a second aerial pointing at Rowridge to receive this service, assuming that there are no local obstructions in the signal path preventing reception of it. The two aerials would then be linked together using a diplexer to give reception of all the available muxes.

KMJ,Derby's 1,811 posts
Monday, 9 April 2012

Yakoob: BBC South will no longer be covering Brighton and Hove, so you will be "preferring" a local news with no local news.

Briantist's 38,906 posts
Select more comments
Your comment please