Switchover "completes" for Southampton, Portsmouth and Brighton

Brian Butterworth published on UK Free TV
Tonight, 21st March 2012, the next
switchover
of 2012 will see the number of homes with digital-only
terrestrial
reception
in the UK goes up by 1,872,594 from 67.8% to 71.0%.
Viewers in the Hampshire, the
West
Sussex coast and
Salisbury
who use the
Rowridge
ortransmitter (and 24
relay
transmitters) plus those in the city of Brighton and Hove (using theWhitehawk Hill and 8 relays) will have no
analogue
television from Wednesday 21st March 2012. Unless you use
cable
or
satellite
to watch television, if you don't use aFreeview box or set, your screen will be blank.
Do not expect ANY FREEVIEW television service from midnight until 6am - or a late as 3pm on some relay transmitters (see below for timetable)
.
Most people need only perform a "full retune" on their
Freeview
box or TV, but it would be impossible with 1,872,594 homes covered by the transmitters, for no-one to have a problem.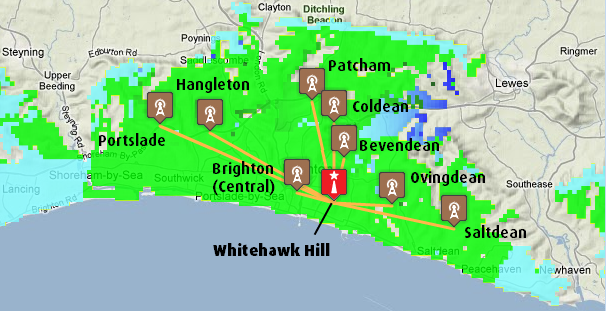 From Wednesday 21st March 2012 you MUST have a digital television device to watch TV. If you do not have a digital receiver, from Wednesday will have a blank screen.
From switchover, viewers in Brighton and Hove will no longer be part of the BBC "South Today"
region
, as the transmitters will now move to the BBC "South East Today" region (as they are already on
Sky
andFreesat) - see
Are you really watching free TV in high definition?
Brighton and Hove move to BBC South East region
From switchover, viewers in Brighton and Hove will no longer be part of the BBC "South Today" region, as the transmitters will now move to the BBC "South East Today" region (as they are already on Sky andFreesat) - see
Brighton transmitters will be in BBC South East from March 2012
.
Because of the location of the transmitters, some viewers will find that they can
pick
up the
signal
from Rowridge from the "back" of their
aerial
and
Whitehawk Hill
from the front.
Those viewers will "
Freeview HD
" (or other so called D-Book 7) receivers will find they are presented with a menu to allow them to pick which BBC One region is shown on "button 1".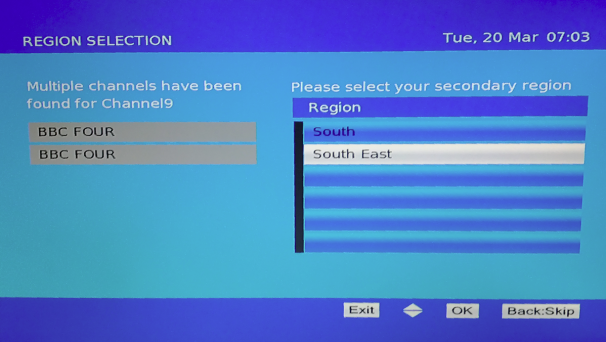 Viewers with older equipment may have to resort to doing a manual
scan
on
C48
,
C51
,
C53
,
C56
,
C57
,
C60
- to get the correct signal for Whitehawk Hill.
All Freeview boxes automatically scan the available broadcast frequencies looking for
channels
, and they do this from
C21
to C69. Older Freeview boxes will, if a duplicate version of a channel is found whilst scanning, such as another BBC One region, placed it in the 800-899 channel range. With older boxes, a good technique is to do a "automatic scan" with the aerial disconnected from the television set or set-top box until it reaches the 50% mark.
Some Freeview boxes will pick the strongest signals for the "primary" number positions, and some will detect the different regions providing a choice when you perform a "scan for channels".
For more details, see
Digital Region Overlap
Special arrangements at Rowridge (with some service on low power on the commercial multiplexes until 18th April 2012)
The commercial multiplexes at Rowridge do not, in effect, switchover for another month.
SDN remains on
C30
- until 18th April 2012, when it moves to
C25
.
ArqB remains on
C33
+ until 18th April 2012, when it moves to
C28
.
ArqA remains on
C37
until 18th April 2012, when it moves to
C22
+.
Rowridge will transmit both horizontally and vertically polarised signals for all six multiplexes after switchover
Rowridge's Vertical polarity commercial multiplexes (SDN, ArqA and ArqB) will come on-air on 18 April 2012 when the commercial multiplexes at Rowridge's Horizontal polarity emissions also adopt their final channel allocations. This does not affect Rowridge Vertical polarity other multiplexes, which will come on-air at switchover.
Switchover help scheme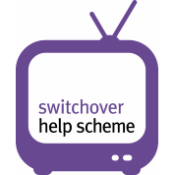 If you are over 75, get (or could get) Disability Living Allowance, Attendance Allowance, Constant Attendance Allowance or mobility supplement; or have lived in a care home for six months or more; or are registered blind or partially sighted and need assistance, please see
The Switchover Help Scheme
.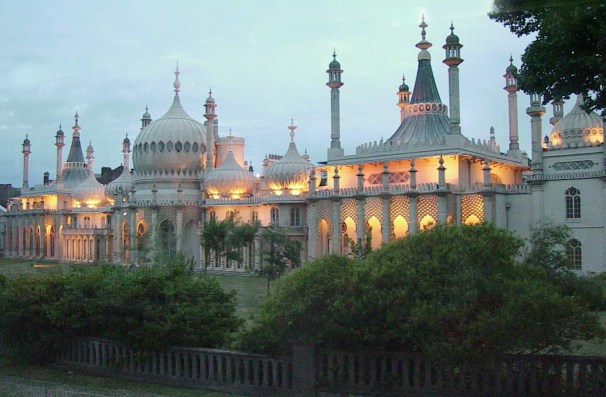 Cable and satellite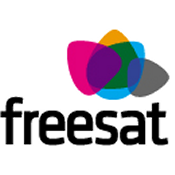 Cable (Virgin Media) and satellite (Sky,
Freesat
,
fSfS
) viewers are not affected by the changes. Remember, however, that you may be using analogue TV to watch on a second or third set and it might need a Freeview box.
Existing "full" Freeview users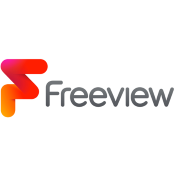 If you already use Freeview, and can receive all the channels now, check your TV or box is not listed here -
TVs and boxes that do not support the 8k-mode
. If it is, you will need a new Freeview box.
If you are not on the list, you should scan your box from around 6am.
When you now rescan, you MUST do a "first time installation" or "factory reset" scan (sometimes called "shipping state"), not a simple "add channels"
. Do the procedure you did on "national retune day", September 30th 2009, see
Freeview Retune - list of manuals
.
If you can't recall the procedure or find the manual, please see
generic clear and rescan procedure
.
If you scanned during the first phase of switchover on Wednesday 7th March 2012 - you will have to do it again on Wednesday 21st March 2012.
Using Freeview with Windows Vista
Please see
Switch over and PC-based systems
because you need some
updates
for your system to work.
Boosters and amplifiers
If you live close to the
transmitter
, you may have to disconnect any "boosters" from your aerial system.The new, more powerful digital signals may overload any amplifiers and result in no reception! When looking for them include a check for distribution amplifiers,
loft
boxes, set back amplifiers, bypass Amplifiers, hidden
masthead
amps in a loft space and any dodgy active splitters.
For full details, see
Freeview signals: too much of a good thing is bad for you
.
Homes without Freeview now have Freeview Light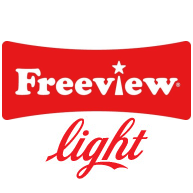 If you had no Freeview service before, you will have the BBC channels digitally from Wednesday 7th March 2012. This is a single
multiplex
of the BBC channels (radio, television and text) for most people.
However, if you were on the fringes of reception from one of the main
Freeview transmitters
, you will now get all the Freeview channels.
If you didn't get this limited Freeview service on Wednesday 7th March 2012 then you may need a new aerial.
If you are served by a public service (relay) transmitter, which are:
Bevendean
(noon),
Bovington
(noon),
Brading
(noon),
Brighstone
(noon), Brighton (Central) (noon),
Canford Heath
(1pm),
Cheselbourne
(noon),
Coldean
(3pm),
Corfe Castle
(12:30pm),
Donhead
(3pm),
Findon
(9am),
Hangleton
(noon),
Horndean
(9am),
Luccombe
(9am),
Lulworth
(3pm),
Luscombe Valley
(9am),
Millbrook
(noon),
Ovingdean
(3pm),
Patcham
(9am),
Piddletrenthide
(3pm), Poole (6am),
Portslade
(9am),
Poulner
(3pm),
Saltdean
(9am),
Shrewton
(9am),
Singleton
(3pm),
Sutton Row
(9am),
Till Valley
(noon),
Ventnor
,
Westbourne
(3pm),
Winterbourne Steepleton
(9am), Winterbourne Stickland(9am), Ventnor (9am)
...you now need, from around from 6am (unless shown otherwise) on 21st March 2012 to rescan, and you will get a second Multiplex with ITV 1,
ITV 2
, ITV 1 +1,
Channel 4
,
Channel 5
, Channel 4+1, E4 and
More4
.
And that's your lot if you have a
standard
Freeview
receiver
, see
Freeview retune - poor public service transmitters
.
You may wish to
install
Freesat for more channels, ses
Compare Freeview Light and Freesat TV
.
Comments
Tuesday, 20 March 2012
N
Nicholas Willmott
10:36 AM

Your reference to Rowridge should also include east Dorset. Rowridge extends as far west as Dorchester, and even a bit further west of that. Winterbourne Steepleton relay is actually west of Dorchester.

Nicholas Willmott's 80 posts

Nicholas Wilmott: I have included the whole coverage area on the maps in the article.

Briantist's 38,899 posts

So will we need to retune again, on 18th April?

Which commercial channels are on SDN, ArqA and ArqB? Are all of them on low power until 18th April?

How does that low power level compare to pre-21st March, and post 18th April?

Sally's 7 posts

Sally: Yes, that is correct you will have to retune again on 18th April.

The commercial multiplexes are:

SDN: 10 ITV 3, 16 QVC, 23 Bid TV, 27 ITV 2 +1, 30 5*, 31 5USA, 38 Quest, 39 The Zone, 44 Channel 5 +1, 60 The Jewellery Channel, 72 CITV, 92 ADULT Section, 93 Television X, 101 Teletext Hols, 104 1-2-1 Dating, 113 CONNECT 1, 114 CONNECT 2, 115 CONNECT 3, 189 ADULT Section, 724 Capital FM, 727 Absolute Radio, 728 Heart

ArqA: 11 PICK TV, 19 Dave, 20 Really, 29 E4+1, 32 Big Deal, 36 Create and Craft, 37 Price Drop TV, 43 Gems TV 1, 46 Challenge, 49 Food Network, 82 Sky News, 87 Community Channel, 95 ADULT smileTV3, 97 ADULT PARTY, 98 ADULT Blue, 190 ADULT Bluekiss, 193 Babestation 2, 723 talkSPORT,

ArqB: 12 Yesterday, 15 Film 4, 18 4Music, 21 VIVA, 22 Ideal World, 24 ITV 4, 40 Rocks and Co 1, 48 QVC Beauty, 85 Russia Today English, 89 Al Jazeera English, 94 ADULT smileTV2, 96 Babestation, 99 ADULT Section, 108 SkyText, 110 VISION, 111 CCTV, 112 Sports, 116 Racing TV, 199 ADULT Section, 306 Channel Zero, 711 The Hits radio, 712 Smash Hits!, 713 Kiss, 714 heat, 715 Magic, 716 Q, 718 Smooth radio, 722 Kerrang!, 725 Premier Radio

The "low power levels" are the pre-switchover levels, but multiplex ArqA and ArqB changes mode at switchover will actually reduce the reception level for some homes for a month.

Briantist's 38,899 posts
Wednesday, 21 March 2012

The end...





Briantist's 38,899 posts

That's bad news, both yet another retune, and the lower reception, but thanks for it anyway, Brian. I hadn't heard about either issue anywhere else at all.

I see ArqA and ArqB are switching to 64QAM mode. I've read your terrific technical details about the different modes. But what is the governing factor(s) which make that "slightly harder to receive"? Geography? Type/location/orientation of aerial? Freeview receiver's handling? I'm trying to see if there's anything I can do, if the month of under-powered 64QAM proves to be a problem.

Thanks again for this astonishing site. Wishlist item: a bare-bones RSS feed for (just) the faults or engineering work (per postcode/transmitter).

Sally's 7 posts

Hi

I've just retuned to rowridge, and the sound is missing the bass - its very tinny.

It was ok yesterday. I'm 3 miles from rowridge.

Stan King's 2 posts

Reception report BN18 0EQ.

Sig strength 81% 100% quality on Humax for all muxes - Rowridge horiz polarised.

Also receiving muxes on channels 41 44 48 - 68-72% strength and 70-100% quality - are these Whitehawk/Findon?



Tim H's 22 posts
Tim's:
map
T's Freeview map
terrain
T's terrain plot
waves
T's frequency data
T's Freeview Detailed Coverage

Called to digital UK, and on their suggestion, powered off the TV, unplugged the aerial, powered it up and tuned it with no aerial connection. Then I plugged in the Ariel, retuned, and its all OK.

stan king's 2 posts

Hello viewers
Is anyone getting ch 21 MUX from Rowridge? In my corner of Poole I am only getting 24 and 27...

Mike's 3 posts
Mike's:
map
M's Freeview map
terrain
M's terrain plot
waves
M's frequency data
M's Freeview Detailed Coverage
Select more comments
Your comment please