Welcome to the new-look UK Free TV

Brian Butterworth published on UK Free TV
It has been a few years since we changed how UK Free TV looked back in October 2008, and with the continuous additions since then, it had become apparent that some changes were needed to bring the site up to date again.

There have been a few different improvements.

Firstly, the design has changed to a look based around photography. Each section now has, rather than the poorly-understood colour coding, a large background photo to illustrate the section: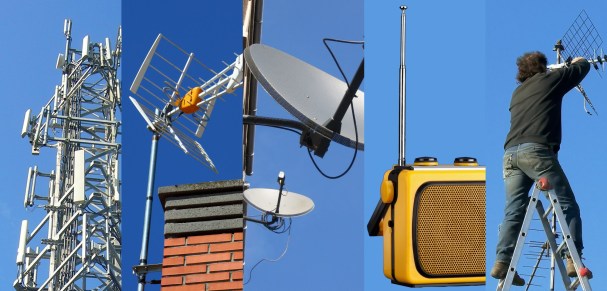 The sections are now shown at the very top of the page, with a site search box to the top right, and a clickable logo to the top left.

As more people now access UK Free TV on devices such as tablets and phones, the page design has been updated to make the site work for touch. For this reason links are now shown with larger target areas. Here is how the site now looks on the iPad and a Google Nexus Prime mobile phone:




One change that I know many people will find useful, is that all text is now shown as black-on white: all the coloured background boxes have been removed.

Using the right-hand column on the site has been improved. You can still find the site settings box there, with the useful quick links to UK Free TV maps and terrain plots as well Digital UK, BBC Engineering, and Freeview HD as before.

The many other boxes have now been condensed down to two. The first, "Most popular", shows you four options: the latest news, the latest comments, the most popular pages, and most popular questions.

The second box "On other sites" shows you news pages on other sites you should read ("Zeitgeist"), the Twitter feed and the Box updates.

For both of these boxes, clicking on the header changes the information displayed immediately.

To help you find your way around, the main sections have been reordered. They are now News, TV, Freeview, Freesat, Online, Radio and Help.

Each of these sections now starts with the most poplar page.

The new "News" section contains the headlines, the "Zeitgeist", plus your comments (as lists and maps), "History" which covers old news.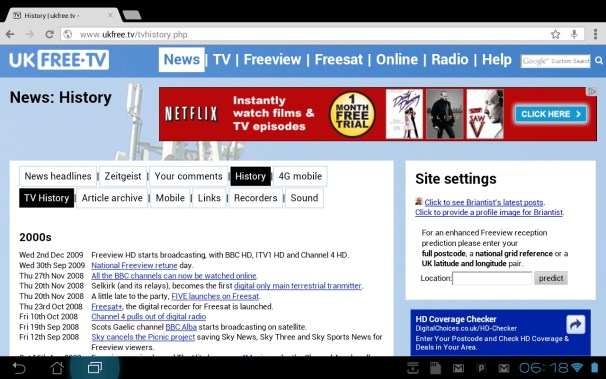 The "TV" section has the all free TV channels page, the Freeview/Freesat/Freesat from Sky/Freeview Light compare pages plus the local TV and HDTV secrions.

The "Freeview" section has the "My Freeview" mapping, terrain plot and details service, plus Transmitters (including Full Service, all transmitters, faults and engineering), Freeview and switchover news, the multiplex maps, "Installing" covering Setting up, Interference, the Rigger's zone, current box updates and the "Maps" of regions and frequencies.

"Freesat" has pages for general, Freesat and Freesat from Sky information.

"Online" has on-click access to online TV and radio, in addition to news about online TV.

"Radio" covers Digital Radio: radio on TV and DAB, and analogue radio on FM, MW and LW.

Finally "Help" has not just the frequently asked questions, but the UK Free TV blog, a glossary, the old diagnostics system and a list of every last mast.

In addition, the site has been made to operate much more quickly. Most of this has been done by upgrading all the PHP3 and PHP4 code to PHP5 classes, which I know you can't see directly, but I am confident will make your visits here more useful.
Comments
Wednesday, 13 June 2012

Mike Dimmick: I have removed the DTD from the two (of four) feeds that had it in. It's been so long since I looked that that file, I can't recall putting it in there in the first place...

Briantist's 38,907 posts
Monday, 25 June 2012

Hi Brian,

Nice looking update mate !

Mark Aberfan Aerials

Mark Aberfan Aerials's 1,059 posts
Friday, 29 June 2012

Brian,

on 12th June, Stuart O. commented on links not working. There is still a problem with the transmitter links for Tyne Tees and UTV (26th September and 24th October) on the "closedown" page. I get a similar message - "Call to undefined function", but this time on shutdowndetail.php, line 529 or 557.

Paul Hardcastle's 1 post
Paul's:
map
P's Freeview map
terrain
P's terrain plot
waves
P's frequency data
P's Freeview Detailed Coverage
Friday, 6 July 2012

Briantist: I would appreciate if you could have a check the facility for accessing ukfree.tv comments via Twitter, as it appears to have failed as no access has been possible since the 5th.

jb38's 7,179 posts

Briantist: Or to be more accurate, the site hasnt been refreshed since the 5th.

jb38's 7,179 posts
Saturday, 7 July 2012

Brian: The links to all UTV transmitters still aren't working, as Paul Hardcastle has also commented.

Any chance of these being fixed ?

I also miss the links to online live TV which were very useful.

Peter Henderson's 240 posts
Monday, 9 July 2012

Hi Brian,

My Postcode now only shows the local Relay (Bath) not the further away Main TX (Mendip) that I actually use.

I used to get 4 or 5 TX - While this may have been confusing for some, it better showed the possible availability and also where problems could come from more distant TX that were normally not available but could cause issues in odd atmospheric conditions !

An option to filter or not filter the results by whatever method is now being used would be useful. I need to be able to see all the possible TX and compare their terrain and distance/direction details.

Pete

Pete's 1 post
Pete's:
map
P's Freeview map
terrain
P's terrain plot
waves
P's frequency data
P's Freeview Detailed Coverage

Until a couple of weeks or so I have been very happy user of my little over 3 years old, HUMAX Freesat HD box. When I tried to power up as usual, all I got was the start-up rectangle, and all the buttons had locked up.
I phoned the HUMAX help line and was informed that a replacement box could be supplied for £58.50, to which I agreed. My details were taken. I was informed that they could not accept cash at present, but I wwould be called very shortly since when I have heard nothing more.. I am concerned that the firm may be in financial trouble. I should be grateful for helpful advice.

Sid Feldman's 1 post
Select more comments
Your comment please