Switchover starts in North and East Kent on Wednesday 13th June 2012

Brian Butterworth published on UK Free TV
This week sees the first stage of the digital television switchover 446,200 homes in North and West Kent.

From 6am Wednesday 13th June 2012, you must perform a "first time installation" retune (sometimes "Factory Reset" or "Shipping Condition") on your Freeview box or television set if you use the Bluebell Hill or Dover full service Freeview transmitters.

This is because the old low power "multiplex 1" BBC service will be replaced by the high power BBCA multiplex on the old analogue BBC TWO frequency:


Dover (6am) - BBC TWO analogue closes on C56, BBC One analogue moves to C56 from C50, Mux 1 closes on C68, BBCA starts on C50.
On Wednesday 13th June 2012 if you use the
Chartham
(6am),
Chatham Town
(9am),
Dover Town
(9am),
Elham
(noon),
Farleigh
(noon),
Faversham
(9am),
Folkestone
(11am),
Horn Street
(2pm),
Hythe Marina
(noon),
Lydden
(9am),
Lyminge
(6am),
Margate
(1pm),
Newnham
(6am),
Ramsgate
(noon),
Turnpike Hill
(9am)
relay
transmitters you will be able to receive the BBC Freeview
services
(with the exception of HD) for the first time, and you will no longer be able to view BBC TWO on analogue.
Coverage Maps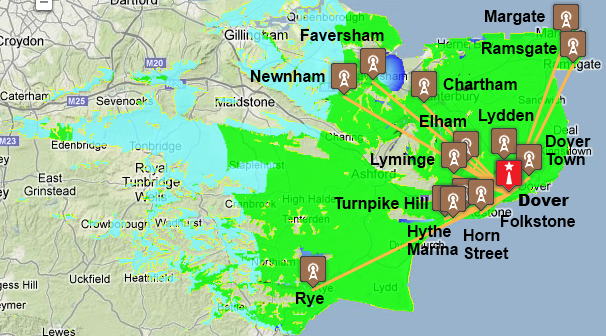 On these maps, the full-service six-multiplex transmitters are shown with the "red star" Freeview logo. The public service three-multiplex masts are shown with a brown indicator. The green areas on the maps, are the areas where the strongest
signal
is from the shown transmitter
region
, with the light blue showing overlap areas where signals from other regions are stronger.
You MAY find that old equipment will no longer work - see
TVs and boxes that do not support the 8k-mode
Another common problem at switchover is the increase in signal will overload amplifiers and over-the-top
aerial
installations. If this is the case you will have to remove the
booster
or
amplifier
from the system, or perhaps fit an attenuator if you have no amplification. - see
Freeview signals: too much of a good thing is bad for you
.

On
Wednesday 27th June 2012
will see the second stage of switchover, which provides the final Freeview configuration, including
Freeview HD
for all transmitters in this region - see UK Free TV soon for full details.
On this date, you will need, once again, to do a "first time installation" as indicated above.
If you are over 75, you should already have been supplied new equipment by the
Switchover Help Scheme
.
Comments
Tuesday, 12 June 2012

I wonder if people in the North of France will now be able to receive Freeview from the South of England more easily?

Josh's 97 posts
Wednesday, 13 June 2012

We are in Maidstone, but the retune 13/6 has resulted in us losing BBC South East as the signal from Crystal Palace (200000 Watts) is stronger than than from Bluebell Hill (20000 watts). We are getting 99% strength/quality on Mux C23 (Crystal Palace), but only 82% on C46 (Bluebell Hill). Not all receivers allow a manual tune to C46. Will the Bluebell Hill power be increased further after the 2nd retune 27th June?

Liz English's 1 post

Liz English: No, Bluebell Hill's output is the maximum that is permitted. The frequency plan is very complex, with the same frequencies being used repeatedly all over the country, and increasing power at one site would cause problems at the other sites using the same frequencies.

The majority of equipment seems to just use the first version of the channels that it finds, not the strongest or best quality. They may tune in Crystal Palace even if Bluebell Hill provides a better signal. See Digital Region Overlap for ideas on how to solve this problem.

Newer equipment should offer you a choice of which region to store at the preferred channel numbers if it picks up more than one region. It's supposed to be part of the Freeview HD spec, but I know of some HD boxes that still get it wrong.

Mike Dimmick's 2,486 posts

Liz English: All receivers should have to allow manual tuning. It is bad designers that are responsible.

What should happen is that they are locked in a room with 100 of the things and told to tune them all in correctly with the "real world" problem that you are experiencing. Then they should only be allowed once all that is done.

Are you sure that it doesn't have manual tuning?

My Sony RDR-HXD870 does but it's a bit hidden. Having tuned to programme channel, e.g. ITV1, you bring up the signal strength screen and that allows selection of UHF channel. The receiver having "looked" at that channel then allows the user to add any services that may have been found.

The tricky thing here is that Bluebell's pre-switchover ITV1, C4, C5 etc is in the 20s which is where all of Crystal Palace's are. You should be able to remove the aerial lead for the first 30% of the scan to miss out Crystal Palace. However, in so doing you will miss out Bluebell ITV1. If you can put up with that or if you have manual tuning hidden somewhere, then you may be able to add it using that.

The only thing I will say about manual tuning is what it does may vary from device to device. Because receivers usually put duplicates in the 800s, other transmitters within range are often tuned in. In some cases manually tuning then achieves nothing because as far as the receiver is concerned it is tuned (albeit in the 800s). Obviously the user wants the manually tuned channel to be the main one and not thrown in the 800s.

The trick may be to get it so that it doesn't store the mux from the wrong transmitter during the automatic tuning scan, perhaps by removing the aerial for all or part.


Failing that, you may find that BBC One from Bluebell is in your 800s. There may be a facility to swap services. I will be a pain to swap all the BBC ones, so you may just have to hope that you don't get much break-up because the wretched thing has tuned to CP.


The thing is that BBC from Bluebell is now on its final power. Crystal Palace switched in April, so you probably have never tuned since CP switched over which is why you've never had this problem before.

If you find that this is still a problem after 27th, then run the automatic tuning scan with the aerial unplugged until 30% and this will miss out CP. All of Bluebell's channels will be above CP's at that time, so this should sort it.

*Unless* perhaps it is one of those pesky pieces of junk that take it upon themselves to do a full retune at some point when unattended and therefore revert to CP. If there is an option to turn this "function" off (which there isn't forced to be) then it should be turned off. If this turns out to be a problem, then you will have to cross that bridge when you get to it.

Dave Lindsay's 5,724 posts

Josh: Should be equivalent to how well they could receive analogue yesterday. The high-power digital services use the main transmitting antennas that analogue formerly used.

There has been a wide-ranging programme of antenna replacement - the main antennas have been replaced at nearly all main transmitter sites, only Sudbury's dates from before 2000 as far as I'm aware. This has been done to improve the coverage possible from each antenna but also because the previous antennas were approaching end of service life. A few had been replaced less than 10 years before DSO. Most were serviceable for digital, but at least one was replaced again (Tacolneston, for example, got a new taller mast for DSO, with a new aerial on top of it).

Dover's new main antenna is on a pentagonal form - five faces pointing in different directions - but it only has panels fitted on three of the faces, the ones pointing north-east, north-west, and south-west. There are no panels firing toward France or Belgium. You can see this being lifted into place at mb21 - The Transmission Gallery . This new antenna should send far less power into France, and we've already had reports, at the time the new antenna was fitted, that this is the case.

Mike Dimmick's 2,486 posts
Saturday, 16 June 2012

Mike Dimmick: Thanks for the technical details and link for the helicopter installation.

It only shows how far the UK has fallen behind in engineering skills when Arqiva (majority owned by the Canada Pension Plan, followed by the Australian bank McQuarrie) has to use a Swiss company to do the heavy lifting.

Corin's 91 posts
Wednesday, 27 June 2012
J
john stead
3:04 PM
Margate

no bbc or 2 onany of my 5 tvs all other channels okay will this recify in time. thanks

john stead's 1 post
john's:
map
J's Freeview map
terrain
J's terrain plot
waves
J's frequency data
J's Freeview Detailed Coverage
M
Mark Fletcher
3:10 PM
Lytham St. Annes

John Stead,Margate.Try rescanning the affected multiplex as such or there is the possibility of a short term atmospheric or inversion effect in your locality right now.

Mark Fletcher's 673 posts
Mark's:
map
M's Freeview map
terrain
M's terrain plot
waves
M's frequency data
M's Freeview Detailed Coverage

There is still DSO work taking place at both Dover and Margate transmitters

John 46's 2 posts
John's:
map
J's Freeview map
terrain
J's terrain plot
waves
J's frequency data
J's Freeview Detailed Coverage

John 46: We are aware that some viewers in the Margate area reporting problems receiving BBC services. Arqiva, the network operator, is investigating.

John 46's 2 posts
John's:
map
J's Freeview map
terrain
J's terrain plot
waves
J's frequency data
J's Freeview Detailed Coverage
Select more comments
Your comment please