Switchover starts in North East England on Wednesday 12 September 2012

Brian Butterworth published on UK Free TV
This 12th September the first stage of the digital television switchover 1,420,000 homes in the North East of England.

From 6am Wednesday 12th September 2012, you must perform a "first time installation" retune (sometimes "Factory Reset" or "Shipping Condition") on your Freeview box or television set if you use the Bilsdale, Chatton, Pontop Pike or Fenham full service Freeview transmitters.

This is because the old low power "multiplex 1" BBC service will be replaced by the high power BBCA multiplex on the old analogue BBC TWO frequency:


Bilsdale (6am) - BBC TWO analogue closes on C26, Mux 1 closes on C34+, BBCA starts on C26. (MuxC from 12 to 26 September 2012, services will be provided on C34 at 6,000 Watt)
On Wednesday 12th September 2012 if you use
Aislaby
(3pm),
Allenheads
(noon), Alston (9am),
Bainbridge
(9am),
Bellingham
(9am),
Berwick
(6am),
Blaydon Burn
(6am),
Byrness
(noon),
Castleton
(9am),
Catton Beacon
(6am),
Durham
(3pm), Esh (6am),
Eston Nab
(3pm),
Falstone
(noon),
Felling
(noon),
Grinton Lodge
(9am),
Guisborough
(9am),
Haydon Bridge
(3pm),
Hedleyhope
(noon),
Humshaugh
(6am),
Ireshopeburn
(6am),
Kielder
(3pm),
Limber Hill
(noon),
Morpeth
(6am),
Newton
(9am),
Peterlee
(noon),
Ravenscar
(noon),
Romaldkirk
(6am),
Rookhope
(3pm),
Rosedale Abbey
(3pm),
Rothbury
(9am),
Seaham
(9am),
Shotleyfield
(6am),
Skinningrove
(noon),
Staithes
(3pm),
Sunderland
(9am),
Wall
(noon),
Weardale
(9am),
West Burton
(noon),
Whitaside
(noon),
Whitby
(9am),
Wooler
(6am)
relay
transmitters you will be able to receive the BBC Freeview services (with the exception of HD) for the first time, and you will no longer be able to view BBC TWO on analogue.
Coverage Maps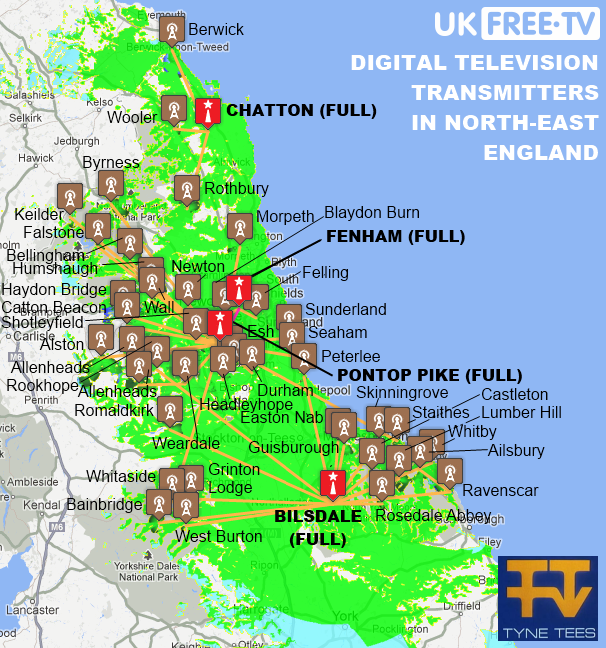 On these maps, the full-service six-multiplex transmitters are shown with the "red star" Freeview logo. The public service three-multiplex masts are shown with a brown indicator. The green areas on the maps, are the areas where the strongest
signal
is from the shown transmitter
region
, with the light blue showing overlap areas where signals from other regions are stronger.
You MAY find that old equipment will no longer work - see
TVs and boxes that do not support the 8k-mode
Another common problem at switchover is the increase in signal will overload amplifiers and over-the-top
aerial
installations. If this is the case you will have to remove the
booster
or
amplifier
from the system, or perhaps fit an attenuator if you have no amplification. - see
Freeview signals: too much of a good thing is bad for you
.

On
Wednesday 26th September 2012
will see the second stage of switchover, which provides the final Freeview configuration, including
Freeview HD
for all transmitters in this region - see UK Free TV soon for full details.
On this date, you will need, once again, to do a "first time installation" as indicated above.
If you are over 75, you should already have been supplied new equipment by the
Switchover Help Scheme
.
Comments
Friday, 31 August 2012

Heading on this and the 2nd-stage pages have wrong date (June instead of September).

Dale's 78 posts
Saturday, 1 September 2012

Title reads 'Switchover starts June 2012'
First line reads 'Switchover starts September 2012'
June 2012 has come and gone.
Think title is wrong.

MCMLXII man's 12 posts
M
Mark Fletcher
9:36 PM
Halifax

Although living in Halifax,HX2 9JY/3 locality i can still receive snowy analogue reception on a separate analogue TV,old analogue VCR using a loaned larger than usual group W wideband aerial sited in my bedroom,often with/without signal amplification from the main Bilsdale transmitter but no lower powered pre-digital switched digital signals obviously.
It will be very interesting if come DSO1 in the early hours of Wednesday 12 September 2012 after BBC2 analogue is forever switched off the higher powered 100kw BBCA multiplex on frequency 26 is attained in my locality.
Bearing in mind a few miles away from my locality,western suburbs of Bradford have horizontally polarized external aerials facing Bilsdale itself.

Mark Fletcher's 673 posts
Mark's:
map
M's Freeview map
terrain
M's terrain plot
waves
M's frequency data
M's Freeview Detailed Coverage
Tuesday, 11 September 2012
D
David Parker
8:52 AM
Rotherham

Mark Fletcher
Mark I too get all the analogue signals from Bilsdale here at s63 7ae. I cannot wait to see if I get there signals
all the best
Dave p

David Parker's 86 posts
David's: ...

Will HD be now available to receive following the change over? Provided of course that one has a HD Ready TV.

Jon May's 4 posts

Jon May: HD will be broadcast from Bilsdale for the first time in the early hours of 26th September.

A so-called "HD Ready" TV is one that will show HD pictures but which does not have the means to receive them over the air. So it will require a separate tuner (box) to receive the four HD service broadcast via digital terrestrial television ("Freeview").

Dave Lindsay's 5,724 posts
M
Mark Fletcher
3:10 PM
Halifax

Dave Parker.Cheers,im already preparing for the BBC2 analogue switch off from Bilsdale on the other TV opposite another TV with my digital set top box in my bedroom.What i will do after BBC2 analogue is forever switched off around 12.20am (0020 hours) once the programme "China on Four Wheels" ends (but this is not guaranteed at all,it could be switched off (analogue BBC2) just after half way (after midnight)),is to switch the borrowed group W wideband aerial planted already in a sweet spot in my bedroom,plug out from the analogue TV and plug in to the set top box on top of my other analogue TV opposite,while temporarily replacing my separate set-top aerial into the analogue TV socket of the TV without the set top box.Then it is a case of wait and see if BBCA on 100kw on frequency 26 the old BBC2 analogue frequency is attainable in my locality for which i may/not require a signal booster/amplifier as such.I will conduct these tests as such as well as assisting others out on this forum simultaneously and i hope to be up until 2am-3am period i have too.All the best to you as well David you never know you may have a better chance than me,good luck !

Mark Fletcher's 673 posts
Mark's:
map
M's Freeview map
terrain
M's terrain plot
waves
M's frequency data
M's Freeview Detailed Coverage

Dave Lindsay....Thank you very much David....i didn't know about the "HD Ready" limitations. (54.9778,-1.6129)

Jon Mayo's 4 posts
Wednesday, 12 September 2012
C
Chris in Stockton-on-Tees
3:19 AM

I'm in Stockton-on-Tees and believe I'm receiving from Bilsdale. I reckon the change had taken place by 3am, though probably not much earlier than that, rather than 6am as suggested above. All looks well from here, after a rescan, as far as I can tell.

Chris in Stockton-on-Tees's 1 post

Just retuned my digital receiver with set top aerial after Tyne Tees area switchover.I now have good signal on BBC1,2,3,4 Pick Tv, Dave and some others but very low or no signal (unwatchable) on Itv1, Ch4,Ch5, ITV2,3,More4.
Also low signal but just watchable on Yesterday, Film4, ITV4.
Dont understand the wide variation in signal strength from the same aerial using presumably the same Bilsdale transmitter

Is this likely to get better or am I now stuck with this situation unless I can get a better indoor aerial ? Cant get access to an outside aerial due to the room location.

Appreciate any advice

David Brooks's 4 posts
Select more comments
Your comment please