Changes to BBC HD transmissions on Astra satellites on 20 September 2012

Brian Butterworth published on UK Free TV
About a year ago, the BBC upgraded the satellite transponder it uses for HD channels to the DVB-S2 standard (BBC HD to switch to DVB-S2 on 6th June ), and at the start of this year moved the transponders to a new satellite, Astra 1N (BBC satellite services moving to Astra 1N on 24th February).

Following this, the BBC is now going to make another change to the configuration, moving from QPSK to 8PSK modulation (from 4 to 8 Phase-shift keying), and a corresponding switch of the FEC (forward error correction) from 8/9 to 2/3.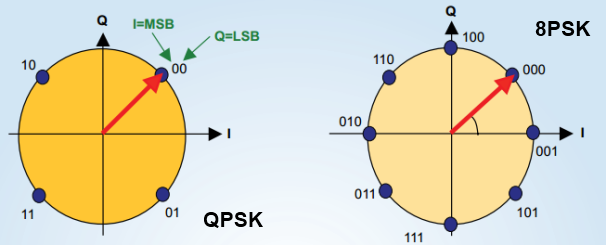 This change will give a significant increase in the bitrate on the transponder - the change allows three bits to be carried per "symbol" (which remain at the 23.0MSymb/s rate) , rather than two as before).

The change from DVB-S to DVB-S2 last year increased the "usable" bitrate from 33.8Mbits/s to 46Mbit/s, the change to the 8PSK 2/3 will provide 58.8Mbit/s. (for more see DVB-S2 ready for lift off).

This will be used to allow for five high definition BBC television streams to be carried on satellite. The current two, used for BBC One HD and the BBC HD channel will be changed to:


BBC One HD for Northern Ireland
BBC One HD for Scotland
BBC One HD for Wales
BBC One HD for England (and the Channels Islands)
BBC Two HD for the UK
The changes will happen later in the year, after the configuration changes have been made to the transponder on 20th September 2012.
Freeview
and
cable
users will not see any changes on 20th September. You won't see any changes if you do not have any HD channels.
If you use
Sky
or
Freesat
-from-Sky your box should not require any action. If you are unable to watch BBC One HD or BBC HD on that date, turn the Sky box off at the
mains
, wait 30 seconds and turn the power back on. After a few minutes the box should be able to show the channels again.
If you use Freesat, you may have to "soft reset" the box on 20th September. To do this, put the Freesat HD box or Freesat HD TV into standby for 30 seconds and then switch it back on again. In some rare cases, this will not work and you will need to do a "first time
install
" on the
receiver
.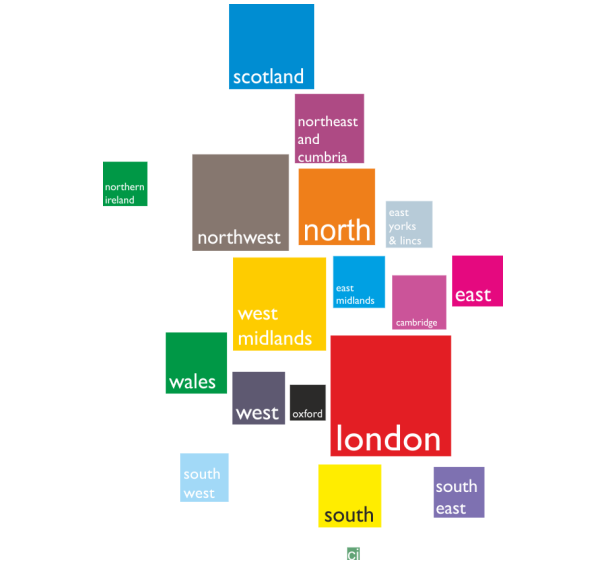 The diagram above shows the United Kingdom, split into the populations in each BBC television
region
. It is interesting to note that the BBC will be providing special versions of BBC One in HD for Scotland (9.1% of the population), Wales (3.5%) and Northern Ireland (2.5%) whilst neglecting the large
London
(18.4%) North
West
(11.7%) and West Midlands (10.9%) regions.
However, the BBC has commitments to the "nations" and does provide additional programming and opt-outs above the "regional news" slots provided for the English Regions.
Comments
Wednesday, 12 September 2012

Brian, your numbers are wrong ... should be:

The change from DVB-S to DVB-S2 last year increased the "usable" bitrate from 33.790850 Mbits/s to 40.62837796 Mbit/s, the change to the 8PSK 2/3 will provide 45.55463347 Mbit/s.


js's 826 posts
Thursday, 13 September 2012

I hope they don't turn the BBC HD channel in to BBC Two HD as this will reduce the choice of programs, but...
If they switch the BBC HD channel to BBC two HD, then they will also need more streams for the Scotland, Northern Ireland and Wales regions.

Mark A.'s 374 posts
Friday, 14 September 2012

Mark A: The reason for converting BBC HD to BBC Two HD is to *save money*. They don't need to employ a separate set of channel controllers, nor need to employ separate playout and continuity announcers. It saves a fairly piffling amount of money, compared to the overall BBC budget, but it's enough for it to be worth doing.

BBC Two HD will initially be a single national service as BBC One HD currently is. Nations services, matching SD, will come later.

Expect to see more BBC Three programmes getting late-night repeats on BBC One, and more BBC Four programmes getting late-night or daytime repeats on BBC Two. Partly this makes up for the loss of the spots on BBC HD, but mostly it'll be due to reduced content spending (in real terms).

If you're looking for someone to blame, blame this Government for freezing the licence fee rather than allowing it to increase in line with inflation, and for loading a bunch of required spending on the BBC licence fee that was previously paid for from other government budgets.

Mike Dimmick's 2,486 posts
Tuesday, 18 September 2012

I cannot receive HD channels 50 to 59 on my Freeview TV set on Post Code WS99ET AND BS229UZ.

QUESTION: Do these Freeview channels transmit HD or does my TV set have a fault?

If HD is not transmitted on Freeview does anyone know when it will be? My set does have Freeview is only one week old!

Ronald's 1 post

Ronald: All Freeview transmitters carry HD after switchover.

Some TVs are labelled as "HD Ready" which means that they can show HD pictures but do not have the means to receive HD signals and therefore require a separate box for such pictures.

Are you sure that the TV has a HD tuner in-built? Does it mention "Freeview HD"?

Dave Lindsay's 5,724 posts

Ronald: The transmitter at Sutton Coldfield has carried HD since 21 September 2011, and The Wrekin since 20 April 2011, covering the first postcode you gave. The second postcode falls into the Wenvoe service area, which launched at the end of March 2010.

As Dave Lindsay says, the most likely explanation is that your TV is not compatible. It must support the DVB-T2 transmission standard, not just DVB-T, and it must support the MPEG-4 AVC video encoding, not just MPEG-2. The easiest thing to look for is the Freeview HD logo.

Mike Dimmick's 2,486 posts
Thursday, 20 September 2012

The only downside to this is a less robust signal so some people in fringe areas of satellite coverage may have problems. Having 5 channels will also mean a very limited bitrate for BBC HD channels. What make this even worst is that most of the BBC 1 HD channels will be transmiting the same programe most of the time. This will make statistical multiplexing ineffective.

So overal this will mean a reduction in picture quality.

trevorjharris's 367 posts
Friday, 21 September 2012

I didn't notice any chnage to BBC HD transmissions yesterday - both are as before. Am I missing something?

George Buchanan's 43 posts

According to this it is the 27th September.

trevorjharris's 367 posts

According to what? Doesn't this page state 20th September?

George Buchanan's 43 posts
Select more comments
Your comment please