Changes to BBC HD transmissions on Astra satellites on 20 September 2012

Brian Butterworth published on UK Free TV
About a year ago, the BBC upgraded the satellite transponder it uses for HD channels to the DVB-S2 standard (BBC HD to switch to DVB-S2 on 6th June ), and at the start of this year moved the transponders to a new satellite, Astra 1N (BBC satellite services moving to Astra 1N on 24th February).

Following this, the BBC is now going to make another change to the configuration, moving from QPSK to 8PSK modulation (from 4 to 8 Phase-shift keying), and a corresponding switch of the FEC (forward error correction) from 8/9 to 2/3.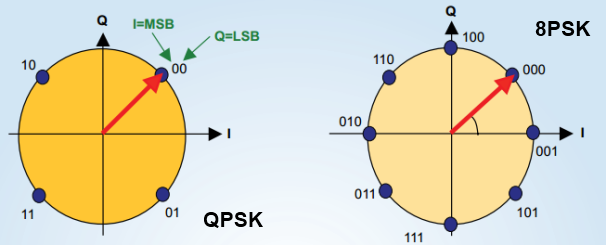 This change will give a significant increase in the bitrate on the transponder - the change allows three bits to be carried per "symbol" (which remain at the 23.0MSymb/s rate) , rather than two as before).

The change from DVB-S to DVB-S2 last year increased the "usable" bitrate from 33.8Mbits/s to 46Mbit/s, the change to the 8PSK 2/3 will provide 58.8Mbit/s. (for more see DVB-S2 ready for lift off).

This will be used to allow for five high definition BBC television streams to be carried on satellite. The current two, used for BBC One HD and the BBC HD channel will be changed to:


BBC One HD for Northern Ireland
BBC One HD for Scotland
BBC One HD for Wales
BBC One HD for England (and the Channels Islands)
BBC Two HD for the UK
The changes will happen later in the year, after the configuration changes have been made to the transponder on 20th September 2012.
Freeview
and
cable
users will not see any changes on 20th September. You won't see any changes if you do not have any HD channels.
If you use
Sky
or
Freesat
-from-Sky your box should not require any action. If you are unable to watch BBC One HD or BBC HD on that date, turn the Sky box off at the
mains
, wait 30 seconds and turn the power back on. After a few minutes
the box
should be able to show the channels again.
If you use Freesat, you may have to "soft reset" the box on 20th September. To do this, put the Freesat HD box or Freesat HD TV into standby for 30 seconds and then switch it back on again. In some rare cases, this will not work and you will need to do a "first time
install
" on the
receiver
.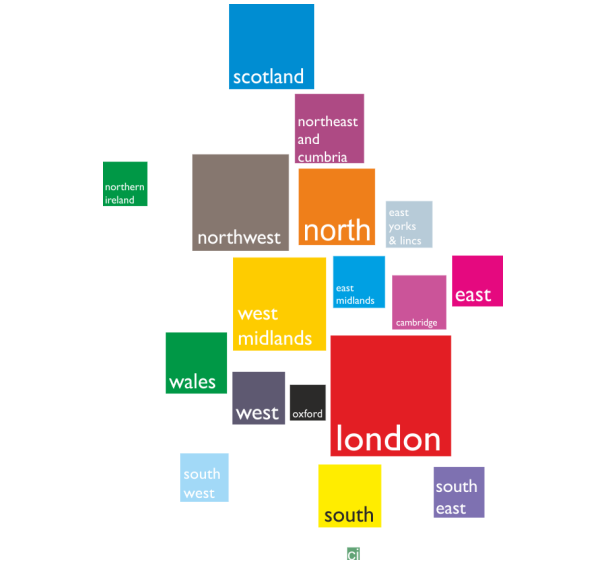 The diagram above shows the United Kingdom, split into the populations in each BBC television
region
. It is interesting to note that the BBC will be providing special versions of BBC One in HD for Scotland (9.1% of the population), Wales (3.5%) and Northern Ireland (2.5%) whilst neglecting the large
London
(18.4%) North
West
(11.7%) and West Midlands (10.9%) regions.
However, the BBC has commitments to the "nations" and does provide additional programming and opt-outs above the "regional news" slots provided for the English Regions.
Comments
Friday, 21 September 2012

According to what? Doesn't this page state 20th September?

George Buchanan's 43 posts

Sorry left off the link

BBC - Blogs - About the BBC - A change to the BBC HD channels on satellite on 20 September

trevorjharris's 367 posts

Thanks - BBC page also states 20th September. Only in the forum responses can I see 27th September mentioned. Confusion, but the BBC article defintely states 20th September.

George Buchanan's 43 posts

Trevor Harris:

It's not about 'most of the time' but the other times. Should all of the UK just receive the current output which is overwhelmingly dominated by England based outpit? One example was just on Wednesday when England women's football international was shown in full HD while Scotland's women's international was shown on BBC Alba at 544 by 576. It's the British Broadcasting Corporation - or is it?

George Buchanan's 43 posts

@George Buchanan

George I did not mean to sujest that I was against regional HD it is just the way the BBC is implementing it.

The BBC still does not have a viable stratergy for regional HD. As far as I know there are no plans to provide regional HD. The BBC is simply not wanting to spend the money on more transponders or on converting regional studios to HD.

trevorjharris's 367 posts
Sunday, 23 September 2012

Quality is an issue for sure. As far as I know, BBC Scotland is prepared for HD so that can't be the reason. I suspect the BBC do want to provide the best quality in utilising more transponders but are constrained by government cuts. I just hope that complaints will be many and vocal and will focus on that as the solution and not on abandoning separate geographical services. You would think there would be some technical way they could transmit the few (and they are few) variations when necessary instead of the wasteful duplication of most of the output most of the time.

At the root is the government desire to reduce the quality of the BBC overall to drive viewers to Sky and ITV. I believe most in this government would like to see it privatised - end of.

George Buchanan's 43 posts
Tuesday, 25 September 2012

Apart from the changes to the HD services (which are due on Sept. 27th BTW) there are also the changes to BBC SD television services on October 12th and major changes to BBC radio services due on October 15th ...

(Source BBCi page 998).

Raymond Woodward's 1 post

Raymond Woodward: I have had a look on BBCi and there is no such page, but I only have access to Freeview here.

I've used Google to look for the changes you have suggested and come up with nothing so far.

It would be very unusual for such change to be done on a Friday and following Monday. Normally changes are made on Wednesdays.

I can't help wondering if you mean BBC to reduce satellite transponders from seven to six on 7 October 2011 | ukfree.tv - 10 years of independent, free digital TV advice ?

Briantist's 38,899 posts
Thursday, 27 September 2012

Briantist:
BBC text Page 998 (off satellite):

"During September and October some of our channels are changing
on satellite and you might need to take some action if you have
trouble receiving any of our services:

On 27 September our HD channels will be changing, that's:

- BBC One HD
- BBC HD

On 12 October several of our TV services will be moving.

On 15 October most of our Radio services on satellite will be
moving."


Blindscan report for BBC HD transponder:

Frequency: 10847.112 Mhz
Symbol rate: 23000 KS
Polarization: Vertical
Spectrum: Inverted
Standard/Modulation: DVB-S2/8PSK
FEC: 2/3
RollOff: 0.25
Pilot: on
Long frame
Carrier width: 28.750 Mhz
BitRate: 44.520 Mbit/s

Note: The bitrate with pilot off would be 45.555 Mbit/s


js's 819 posts
Saturday, 29 September 2012

Know astra 2f is up there freesat will get mor hd channels and a 3d channel also

Conor's 60 posts
Select more comments
Your comment please