Northern Ireland RTE1, RTE2, TG4 special mini-multiplex from 24 October

Brian Butterworth published on UK Free TV
Following on from the 1st February 2012, article Northern Ireland "mini multiplex" (NIMM), here is a summary of the services that will be available to most Freeview homes in Northern Ireland.

It is VERY IMPORTANT to note, however, that you MUST have Freeview HD (DVB-T2) equipment to receive RTE1, RTE2 and TG4 - even though the services are NOT provided in high definition from the Northern Ireland transmitters.

Many homes in the province will be able to get a special "Northern Ireland" mini-multiplex from one of three transmitters - Brougher Mountain (Enniskillen AND Omagh) , Black Mountain and Carnmoney Hill (both Belfast). This very special service is broadcast using the latest standards, which are called DVB-T2 and MPEG4. In the UK, these are used to provide high definition, but only in Northern Ireland are they used to provide three standard definition services from RoI.

The NIMM coverage from these transmitters is shown here:




If you get the NIMM, you will find channel 51 is TG4, 52 is RTE ONE, and 53 is RTE TWO.

This is shown on the transmitter pages like this (Carnmoney Hill) example:





If you can't get the NIMM, you will probably be able to get the extra channels directly from transmitters in the RoI. The following map shows the transmitters: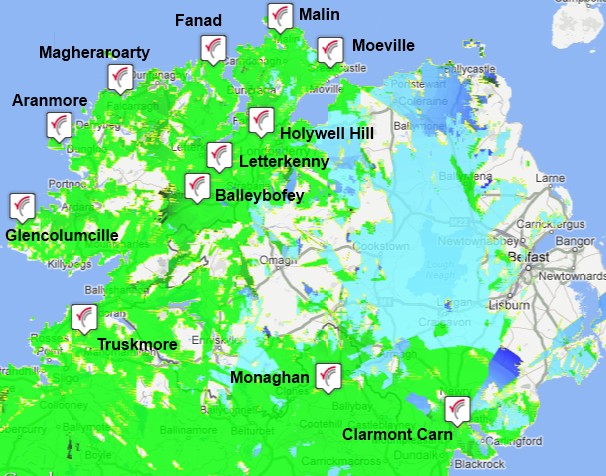 Your existing aerial may not be the right "group", or be pointing in the correct direction.

The RoI service is called Saorview (which is Irish for "Freeview") - see Saorview interactive map.

However, even though Saorview broadcasts in DVB-T mode, it uses the MPEG4 "compression" system - most UK non-HD boxes use MPEG2 (apart from BT Vision boxes, which support MPEG4). So, again, you will need a Freeview HD box.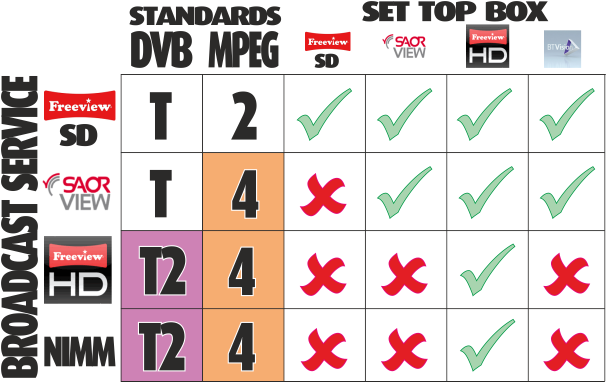 The services broadcast on Saorview at the time of writing are:

1 RTE One, 2 RTE Two HD, 3 TV3, 4 TG4, 5 RTE News Now/Euronews, 6 3e, 7 RTE jr, 8 RTE One +1, 200 RTE Radio 1, 201 RTE Radio 1 Extra, 202 RTE 2FM, 203 RTE Lyric FM, 204 RTE Raidio na Gaeltachta, 205 RTE Pulse, 206 RTE 2XM, 207 RTE Choice, 208 RTE Gold, 209 RTE Chill, 209 RTE Junior,

It is possible that the Freeview HD box will not place the channels on these numbers, but in the 800-899 range.

The Saorview trasmitter pages show the information like this:





Multiplex Broadcasting Services N I Ltd is the not-for-profit joint venture formed by RTE and TG4 to operate a new additional multiplex from a small number of transmission sites in Northern Ireland. The UK and Republic of Ireland Governments Memorandum of Understanding of February 2010 confirmed their intention to make TG4 available on digital terrestrial TV to much of Northern Ireland and to also facilitate the provision of RTE One and RTE Two through NImux or overspill from Saorview (the Republic of Ireland digital TV service).

Ofcom predicts that NIMM services will reach 76% of the population in Northern Ireland and that Saorview overspill will reach 56% of Northern Ireland viewers. Ofcom also predicts that the combined NIMM and Saorview coverage will reach 93.3% of Northern Ireland viewers.
Comments
Friday, 22 February 2013

The IRFU have agreed a deal with Sky for UK rights to home Autumn internationals provided that Rte transnmission of games is blocked on Freeview transmitters within N. Ireland.Howevermany rugby fans can watch games on overspill reception in the North.

Richard's 98 posts
Saturday, 23 March 2013

I live in Donaghadee BT 21 0BW
I have a Samsung Freesat+ other info on the set is HDTV HDMI
My TV is Panasonic Viesta both just over 12 months
I receive my signal via a dish
Can I receive RTE

Mike McNeice's 1 post

Only if you have a paid subscription to Sky Mike.

The NIMux isn't available on Freesat.

You should be able to receive the NIMux from Black Mountain and possibly Saorview from Clermont Cairn in Donaghadee.

Peter Henderson's 240 posts
Saturday, 30 March 2013

Having problems receiving rte3 aka tv3 is this related to my freeview system which is standard def or the signal

Daithi's 2 posts

sorry forgot to say Im in west Belfast bt11

Daithi's 2 posts

Daithi: It depends where your aerial(s) are pointing.

You will only ever receive TV3 if you can pick up (and have an aerial directed to) one of the transmitters in the Republic. The transmitters in the North (those that transmit Republic's channels) carry RT One, RT Two and TG4 only - there is no TV3 from them.

Clermont Carn, Co Louth, may be receivable and it is a bit clockwise of south with aerials vertical. If you have such an aerial, you may need a Freeview HD receiver. Some standard definition sets will work with it, although others might give sound but no picture.

Dave Lindsay's 5,724 posts

Clermont Cairn is definitely receivable in West Belfast with a fairly modest aerial. Group C/D vertically polerised.

If you're getting TG4, RTE1, and RTE2 on channels 51,52, and 53 then you're receiving the NIMux and not Clermont Cairn Daithi.

Peter Henderson's 240 posts
Friday, 17 May 2013

group c/d go up to 68,
will this not cause problems with the 4g?

i think a and b would be best.
in-case you get any problems with the 4g and have to buy more equipment


directvni's 1 post

directvni: It is true that where the frequencies currently in use fall into group A, B or K an aerial for the correct group should be fitted to minimise possible interference problems from 4G signals. Unfortunately if the frequencies fall in the C/D group it is necessary in most cases to use an aerial that covers up to C68 in order to obtain reliable reception of the required Freeview transmissions on their current frequencies. It is possible that manufacturers might in due course, bring out aerials that only cover up to C60 but the question remains if in about five years time all Freeview transmissions are allocated frequencies below C49, whether viewers in former group C/D areas will need to replace their aerials!

KMJ,Derby's 1,811 posts
Monday, 27 May 2013

hi, im living in bangor/newtownards area and want to get rid of my sky subscribtion, but before i do that i want to make sure i am able to receive rte and whats the best/cheapest way for me to do this ?? your help would be greatly appreciated

luke callanan's 1 post
Select more comments
Your comment please