Northern Ireland RTE1, RTE2, TG4 special mini-multiplex from 24 October

Brian Butterworth published on UK Free TV
Following on from the 1st February 2012, article Northern Ireland "mini multiplex" (NIMM), here is a summary of the services that will be available to most Freeview homes in Northern Ireland.

It is VERY IMPORTANT to note, however, that you MUST have Freeview HD (DVB-T2) equipment to receive RTE1, RTE2 and TG4 - even though the services are NOT provided in high definition from the Northern Ireland transmitters.

Many homes in the province will be able to get a special "Northern Ireland" mini-multiplex from one of three transmitters - Brougher Mountain (Enniskillen AND Omagh) , Black Mountain and Carnmoney Hill (both Belfast). This very special service is broadcast using the latest standards, which are called DVB-T2 and MPEG4. In the UK, these are used to provide high definition, but only in Northern Ireland are they used to provide three standard definition services from RoI.

The NIMM coverage from these transmitters is shown here:




If you get the NIMM, you will find channel 51 is TG4, 52 is RTE ONE, and 53 is RTE TWO.

This is shown on the transmitter pages like this (Carnmoney Hill) example:





If you can't get the NIMM, you will probably be able to get the extra channels directly from transmitters in the RoI. The following map shows the transmitters: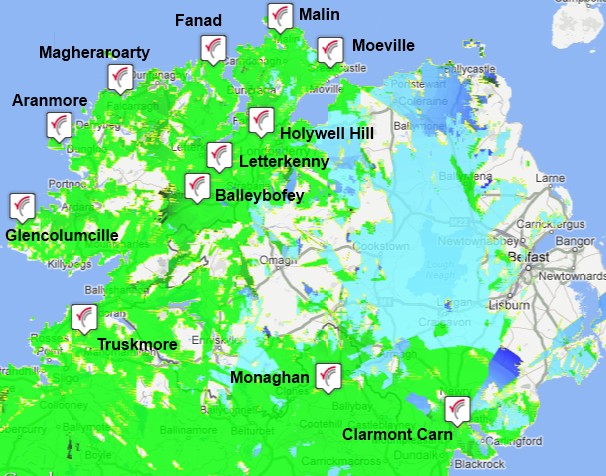 Your existing aerial may not be the right "group", or be pointing in the correct direction.

The RoI service is called Saorview (which is Irish for "Freeview") - see Saorview interactive map.

However, even though Saorview broadcasts in DVB-T mode, it uses the MPEG4 "compression" system - most UK non-HD boxes use MPEG2 (apart from BT Vision boxes, which support MPEG4). So, again, you will need a Freeview HD box.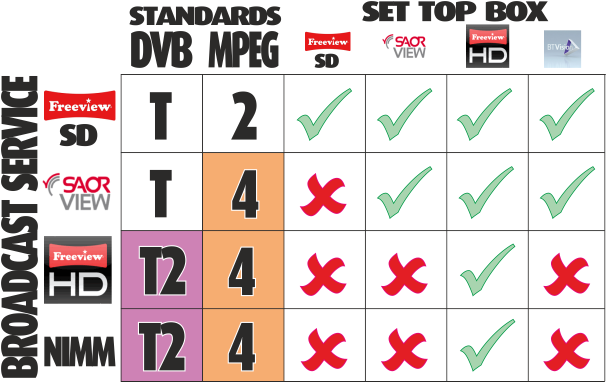 The services broadcast on Saorview at the time of writing are:

1 RTE One, 2 RTE Two HD, 3 TV3, 4 TG4, 5 RTE News Now/Euronews, 6 3e, 7 RTE jr, 8 RTE One +1, 200 RTE Radio 1, 201 RTE Radio 1 Extra, 202 RTE 2FM, 203 RTE Lyric FM, 204 RTE Raidio na Gaeltachta, 205 RTE Pulse, 206 RTE 2XM, 207 RTE Choice, 208 RTE Gold, 209 RTE Chill, 209 RTE Junior,

It is possible that the Freeview HD box will not place the channels on these numbers, but in the 800-899 range.

The Saorview trasmitter pages show the information like this:





Multiplex Broadcasting Services N I Ltd is the not-for-profit joint venture formed by RTE and TG4 to operate a new additional multiplex from a small number of transmission sites in Northern Ireland. The UK and Republic of Ireland Governments Memorandum of Understanding of February 2010 confirmed their intention to make TG4 available on digital terrestrial TV to much of Northern Ireland and to also facilitate the provision of RTE One and RTE Two through NImux or overspill from Saorview (the Republic of Ireland digital TV service).

Ofcom predicts that NIMM services will reach 76% of the population in Northern Ireland and that Saorview overspill will reach 56% of Northern Ireland viewers. Ofcom also predicts that the combined NIMM and Saorview coverage will reach 93.3% of Northern Ireland viewers.
Comments
Monday, 27 May 2013

luke callanan: Reception of RT is not a given. In your general area there are spots that you definately won't get it.

Any prediction is just that and in reality what can be received is best checked by an installer on-site. However, we can, with a more accurate location get an idea as to what the chances of success might be.

For example, I looked at Conlig. Looking on Streetview at Tower Road, all the aerials point at the local relay transmitter or, I believe, Cambret Hill in Scotland, both of which are Freeview Light and don't carry RT. On Forest Hill, aerials point to the main transmitter, Divis. Whilst Divis does not carry RT, Black Mountain does which is close to Divis, thus a lot of people whose aerials face Divis will be able to receive it. However, the Digital UK predictor suggests that RT from Black Mountain will be poor on Forest Hill whilst Divis is good to variable.

All in all, it depends where you are. It would appear that the terrain isn't flat which means what can be received and what can't varies.

Freeview Light means that only PSB channels are available: all BBC standard definition TV, high definition TV and radio, UTV, UTVHD, Channel 4, Channel 4HD, Channel 5, Channel 4+1, E4, More4, ITV2, UTV+1 and U105.

If you can receive RT from Black Mountain then you will require a Freeview HD receiver, even though the pictures are in standard definition. This is because the signal mode is DVB-T2 which is that used by Freeview HD broadcasts.

Whilst Freesat will work with your satellite dish, it will not give you RT, you will need Saorsat for that but that probably requires a separate dish. The reason is because the satellites for each service are in different orbital positions. If you search the internet for Freesat and Saorsat you may find some useful information. I'm not a professional so can't advise you much more on this.

Dave Lindsay's 5,724 posts
Tuesday, 28 May 2013

There's been a significant power increase of the Clermont Cairn Saorview transmitter since DSO Luke, and I'm sure it probably gets into some parts around Newtownards/Bangor, especially if you're at an elecated location with a good take off to the south/southwest.

The increase in signal strength since DSO has been quite dramatic at this location.

Check to see if anyone else has RTE aerials in your area. These will be vertically polarised and pointing in a south/southwest direction.

As Dave says, if you're receiving Freeview from Divis you should get an OK signal from the NI mux at Black Mountain, but you'll need a Freeview HD box to receive this. Some programmes are also blocked due to rights issues (slightly more than on Sky).

You'll also need a Freeview HD box for Saorview from Clermont Cairn as well.

PJH's 75 posts

PJH: Irrespective of whether the terrain allows, Clermont Carn apparently has a null in the direction of Newtownards and Bangor (see its page on this site - the red plot being SV1 which is C52 and the current solitary signal).

Dave Lindsay's 5,724 posts
P
P. Kieran Ward
6:53 PM
Belfast

Hi all! Dave, do you know if the programmes blocked on the NIMM because of 'rights issues' also blocked from Clermont Carn? I am not aware of any such blocking from Clermont Carn but I haven't set out to check this one out!

Regards

Kieran



P. Kieran Ward's 89 posts
P.'s:
map
P's Freeview map
terrain
P's terrain plot
waves
P's frequency data
P's Freeview Detailed Coverage

P. Kieran Ward: I imagine that there will be no restrictions from Clermont Carn because it is within the Republic.

Presumably the rights RT has to certain programmes doesn't allow them to be broadcast from transmitters outside the Republic.

Dave Lindsay's 5,724 posts
R
Ray Lindsay
7:38 PM
Kendal

Dave Lindsay:Have checked 6way splitter inc 100ma fuse behind pc board ok.fused spur ok.Put both hdd dvr,s through fst time installation.One seems to be ok on all but bbc progs;(breaking up).Other, upstairs off same earial picks up bbc & skips all other stuff.We get signal via S,Lakes transmitter at Kendal.Approx 2 mls reasonably clear view from house.Thanks for help.

Ray Lindsay's 3 posts
Ray's:
map
R's Freeview map
terrain
R's terrain plot
waves
R's frequency data
R's Freeview Detailed Coverage

Ray Lindsay: I made subsequent postings to your earlier postings on the other page:

Apologies for UK Free down this morning | About UK Free TV | ukfree.tv - 10 years of independent, free digital TV advice

Try bypassing the amplifier.

Try a manual tune. Kendal's BBC is C60 and ITV/C4/C5 etc is C53.

Dave Lindsay's 5,724 posts
Saturday, 15 June 2013

I would very much appreciacte your help in this matter. I live in Aghalee in Northern Ireland and I am helping out an elderly neighbour of mine who really wants to receive your channels in their second TV (they receive it from their main TV). I
purchased an HD freeview box for them, and one that is DVB/T2 compliant. The particular freeview box I got was the AGR-DVBT2. They can get RTE in their main TV, and it is the same aerial that feeds
this portable TV. Am I missing something in the setup? I have connected the main aerial to the freeview box, then a scart to the TV.
Do I need to also connect a cable from the TV out of the freeview box to the TV aerial socket? I was under the impression that the SCART cable was all I needed.
Is there a particular region I need to set on the freeview box? Any help would be greatly appreciated by both myself and my neighbours.

Peter's 1 post

Peter: Putting a lead in from the Freeview box's aerial out to the TV's aerial in is only required so that Freeview can be received by the TV. In this case the box is being used so there is no need for making that connection (unless the TV has a Freeview tuner in-built and it is to be utilised).

According to the above, RT One will appear on logical channel number 51, if it is the NI Mux that is being used. It might be worth looking in the 800s just incase it has been put there.

Is it a single aerial that your neighbour has pointing east north eastwards?

If the AGR-DVBT2 box allows, try a manual tune on UHF channel 39. If there is a setting on the manual tune screen for mode, as in DVB-T or DVB-T2 then the latter must be selected.

Dave Lindsay's 5,724 posts
Thursday, 18 July 2013

Hi, I was wondering if i could get some advice.

Up until recently i have been able to recieve rte2 hd, tv3 and the other channels broadcast on Saorview viamy freeview HD box a humax fox d2. I have 2 freeview HD boxs and also a tv with a Soarview tuner inbuilt. Getting the signal from the black mountain tuner i think.

I had rescanned the boxs and now i have lost all the soarview channels and i cannot appear to get these back. I can see that in parellel the channels are lost on the boxs but not in the tv so i think this rules out an issue with the ariel??

Have these channels stopped being broadcast on freeview hd. Or have i a problem with my ariel strength. This problem has

Many thanks in advance for your help.

Paddy's 2 posts
Select more comments
Your comment please