BBC advertise for a new Freeview HD channel

Brian Butterworth published on UK Free TV
The advert states that the services may start very soon:

BBC MAKES AVAILABLE CAPACITY ON DTT MULTIPLEX B

The BBC is offering to the market an amount of spare digital terrestrial television capacity on Multiplex B which could enable the acquiring party (or parties) to launch TV channels as early as spring 2013. Channels carried within this capacity will be able to be watched on all Freeview HD and You View receivers.

The capacity will be available on a 24 hour 7 day a week basis and is suitable for either one high definition television channel one provider or up to three standard definition television channels which may come from either one or a number of different channel providers.

The capacity is being offered to the market through a competitive bidding process.

If your company is interested in part or all of the capacity, you can register your interest by email at dttcapacity@bbc.co.uk

Expressions of interest must be received by 5pm on 20th December 2012. Further information, including commercial and technical details about the capacity and the sales process, will then be sent to you.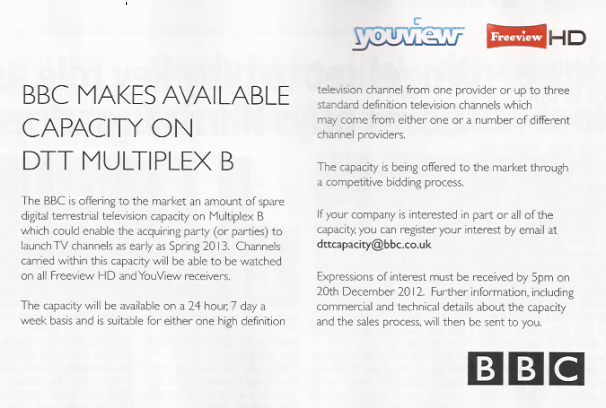 Which channel should be added to Freeview HD?
Comments
Monday, 17 December 2012

dedendwaterfall the shops want to be able to offer the cheapest TV sets they can, Joe Public does not understand the things we discus here.
Would be good for the Government and Ofcom to stop the sale of old technology but they not got the will to do that.
They did with light bulbs though, but probably it was the EU that did that.

David's 306 posts
D
deadendwaterfall
10:23 PM

David: DVB-T2 equipment has come down so drastically in price that you can get a DVB-T2 set top box for as little as £20, so the thing of "cheap" doesn't hold as an excuse for still selling DVB-T only equipment. The thing is, if we don't start to consider a transition to DVB-T2 only broadcasts, there will be many, many, many people moaning about how we "lag behind" this country and that country etc.

Joe Public must be able to understand the importance of DVB-T2 equipment as well as they did the digital switchover, if we are to one day transition all Freeview broadcasts to DVB-T2.

deadendwaterfall's 5 posts
Tuesday, 18 December 2012

Joe Public sees the TV sets marked Full HD and thinks the Freeview programs are ok.
He does not look for the FreeviewHD on the label.
He just buys a 32" TV at £200 with ordinary Freeview from the Supermarket.
Have you ever seen on the shops label DVB-T2 stated?
( By the way I not noticed Freeview HD DVB-T2 boxes so cheap.)

David's 306 posts
Friday, 21 December 2012

BT vision may show interest in this,as they have secured some premier league rights.

marc's 9 posts
P
Peter Henderson
2:07 PM
Newtownabbey

I gather Channel 5 HD is free to view on Sky, as opposed to free to air (i.e. it's acailable under the freesat from Sky platform).

If it's not Channel 5 then I'd prefer Film 4 HD as well.

Failing that, I'm sure those living in Freeview Lite areas wouldn't mind having ITV 3, ITV 4, and possibly Sky news in SD.

Peter Henderson's 240 posts
Peter's:
map
P's Freeview map
terrain
P's terrain plot
waves
P's frequency data
P's Freeview Detailed Coverage

Peter Henderson: Irrespective of what the facility might be called this is the details of what is available, and which all hinges on whether or not a basic Sky viewing card is being used, options listed below.

Free to view "without" a Sky card being used. (none inserted into slot)

BBC1 HD - BBC HD - NHK World HD
------------------------------------

Free to view "with" a Sky viewing card.

BBC1 HD - BBC HD - ITV1 HD (England and Wales only) Ch4 HD - Ch5 HD - NHK
World HD.



jb38's 7,179 posts
Saturday, 22 December 2012
P
Peter Henderson
12:52 AM
Newtownabbey

Yes jb38, that was what I gathered re. Channel 5 HD.

It's pity it's not "free to air" as opposed to "free to view", in which case it would also be available on Freesat.

ITV1 HD is also available on Freesat and Freesat from Sky in Southern Scotland (i.e. Border Scotland region)

Peter Henderson's 240 posts
Peter's:
map
P's Freeview map
terrain
P's terrain plot
waves
P's frequency data
P's Freeview Detailed Coverage
P
Peter Henderson
12:56 AM
Newtownabbey

and of course in other regions under the add channels feature on Sky, and non Freesat mode on Freesat.

Peter Henderson's 240 posts
Peter's:
map
P's Freeview map
terrain
P's terrain plot
waves
P's frequency data
P's Freeview Detailed Coverage

Peter Henderson: Yes, its rather unfortunate regarding Ch5 HD being transmitted by Sky as encrypted, and of course it still is as I just checked it on my Freesat TV's "other sat" tuning menu. (12.266 H)

By the way, I realise that you would most likely have already known about what is available on a Sky HD box with and without the card being inserted, but many others aren't quite sure and so I thought I would clarify this for anyone else that might be reading the postings.


jb38's 7,179 posts
Sunday, 6 January 2013
M
Martin
8:22 PM
Llandrindod Wells

It would be nice to see some of the existing channels (such as Dave) moving onto this multiplex so that the "Freeview Light" transmitters can receive them. A tad annoying that some people have to pay (Sky) for channels that others get free.

Martin's 4 posts
Martin's:
map
M's Freeview map
terrain
M's terrain plot
waves
M's frequency data
M's Freeview Detailed Coverage
Select more comments
Your comment please