BBC advertise for a new Freeview HD channel

Brian Butterworth published on UK Free TV
The advert states that the services may start very soon:

BBC MAKES AVAILABLE CAPACITY ON DTT MULTIPLEX B

The BBC is offering to the market an amount of spare digital terrestrial television capacity on Multiplex B which could enable the acquiring party (or parties) to launch TV channels as early as spring 2013. Channels carried within this capacity will be able to be watched on all Freeview HD and You View receivers.

The capacity will be available on a 24 hour 7 day a week basis and is suitable for either one high definition television channel one provider or up to three standard definition television channels which may come from either one or a number of different channel providers.

The capacity is being offered to the market through a competitive bidding process.

If your company is interested in part or all of the capacity, you can register your interest by email at dttcapacity@bbc.co.uk

Expressions of interest must be received by 5pm on 20th December 2012. Further information, including commercial and technical details about the capacity and the sales process, will then be sent to you.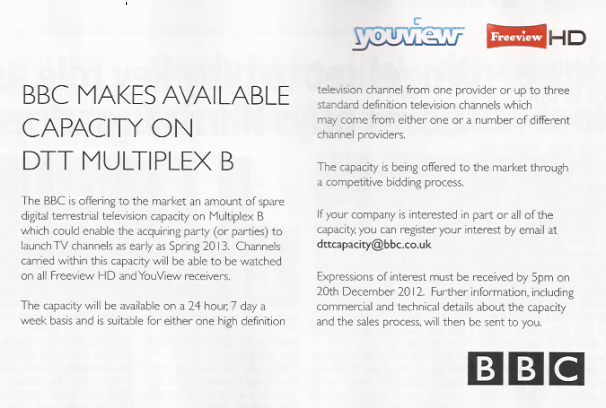 Which channel should be added to Freeview HD?
Comments
Friday, 14 December 2012

Interesting when Five and BBC2,3 and 4 are not HD.

David's 306 posts

Film 4HD would be nice.....

whooshthecat's 1 post
C
Charles Stuart
7:46 PM
Bristol

I think that it would be quite nice to have a new PSB channel 6, specifically aimed at an upmarket audience. I have long believed that a commercial channel could thrive in the UK with programming that is unashamedly upmarket drama, arts, science and current affairs, seeking only a 2-3% share of the viewing audience. As the viewers would probably be high worth individuals, the advertisers could probably pay premium rates.

Charles Stuart's 159 posts
Charles's:
map
C's Freeview map
terrain
C's terrain plot
waves
C's frequency data
C's Freeview Detailed Coverage

I cannot understand BBC logic in advertising its spare HD capacity on Freeview when there are number of HD Programmes on CBBC, CBEEBIES, BBC3, BBC4 and the odd 3D programme. Where are these to go when BBC HD becomes BBC2 HD - The red button?

Roger's 3 posts
Saturday, 15 December 2012

Wasn't there a proposal to use the BBC HD channel for BBC2 HD?

John's 7 posts

John: Yes, from next year. This is about the "fifth" slot on the Freeview HD multiplex, the one that was supposed to be for Channel 5 HD, but they couldn't afford to use it.

Briantist's 38,908 posts

Thanks Brian. I wonder who will take the empty slot? Hope its going to be something interesting and not a shopping channel!

John's 7 posts

John: Shopping channels are unlikely to ever transmit in HD due to the extra costs involved. Three SD shopping channels could be a possibility, except for the fact that only a small percentage of viewers currently have DVB-T2 receivers. This factor is also likely to discourage other broadcasters, as it did Channel 5, who ideally would wish to discontinue the SD transmission once a decision to transmit in HD on Freeview is made.

KMJ,Derby's 1,811 posts

I'd like to see Film4 HD too.

Lee Donaghy's 14 posts
Select more comments
Your comment please