405-line VHF bands I and III historic interactive map

Brian Butterworth published on UK Free TV
405-line TV was broadcast in two bands, each using 5MHz for each TV channel (except for C1 which was 6.75MHz).

The first band with C1 to C5 was "below" FM radio was from 41.5MHz to 66.75MHz. The second band C6 to C13 was "above" FM radio at 176.25MHz to 214.25MHz.


C1: 41.5MHz sound 45MHz video
C2: 48.25MHz sound 51.75MHz video
C3: 53.25MHz sound 56.75MHz video
C4: 58.25MHz sound 61.75MHz video
C5: 63.25MHz sound 66.75MHz video
C6: 176.25MHz sound 179.25MHz video
C7: 181.25MHz sound 184.25MHz video
C8: 186.25MHz sound 189.25MHz video
C9: 191.25MHz sound 194.25MHz video
C10: 196.25MHz sound 199.25MHz video
C11: 201.25MHz sound 204.25MHz video
C12: 206.25MHz sound 209.25MHz video
C13: 211.25MHz sound 214.25MHz video

Please click this map to see more: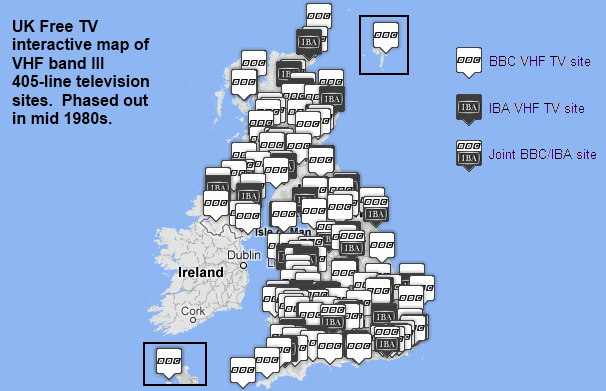 You can hover over each location to see the BBC or IBA
region
, the channel used and the
power
level.
Comments
Sunday, 13 January 2013

On your mapsofvhf.php page you could also add a list of the VHF transmitters so visitors can click on the transmitter name as well as the map to visit a page.
Also next to the names have the channel number, power, vertical horizontal etc. in a table.
EG.
Name, Station, Location, Channel, V/H, Power
Crystal Palace, BBC London & South East, TQ 339712, 1, V, 200kW
Croydon, TQ IBA Theams / LWT, 332696, 9, V, 400-kW

Mark Agius's 373 posts
R
Roy in Eastbourne
5:57 PM

Brian,

405 !! I was there.

Didn't think you were old enough to be aware of it's existence. Brilliant.

Roy in Eastbourne's 6 posts
R
Roy in Eastbourne
6:05 PM

You have got me going now.

When ITV came along my Dad bought a converter "Set Top Box" (painted in brown Hammerite) which took the ITV signal and converted it to Auntie's frequency so that our Sobel could cope. Technology in the making !!

Roy in Eastbourne's 6 posts

Roy. I'm from Eastbourne to and can remember a TV engineer who lived in Rosebery Avenue, who built a scaffold mast on the side of his house so he could receive southern from Dover.

Alan's 24 posts

Mark Agius: Black and white days, VHF band III television | ukfree.tv - 10 years of independent, free digital TV advice now lists the transmitter information, in addition to the map.

It looks like

A Abergavenny BBC1 Wales: C3 at 0.03kW H, HTV: C11 at 0.1kW H Aldeburgh BBC1 East: C5 at 0.025kW V Ammanford BBC1 Wales: C12 at 0.02kW H Angus Grampian Television: C11 at 50kW V Arfon HTV: C10 at 10kW H Ashkirk BBC1 Scotland: C1 at 18kW V Aviemore Grampian Television: C3 at 1kW H Ayr BBC1 Scotland: C2 at 0.05kW H

etc

Briantist's 38,899 posts

Roy in Eastbourne: I remember we had a black-and-white TV set that supported both 405 and 625 lines.

I do recall turning the "on switch" the wrong way and it broke off in my hands.. and you could see mysterious wires if you looked though the hole.

Briantist's 38,899 posts
Ron Lake
9:00 PM
Wakefield

Pre war 30 line, produced from a mirror drum. Now that WAS low definition lol


Ron Lake's 73 posts
Ron's:
map
R's Freeview map
terrain
R's terrain plot
waves
R's frequency data
R's Freeview Detailed Coverage

Can you check Belmount TX as on overview map shows as BBC but changes to IBA when I zoom in ?

Nigel's 58 posts
Nigel's:
map
N's Freeview map
terrain
N's terrain plot
waves
N's frequency data
N's Freeview Detailed Coverage
Monday, 14 January 2013

Nigel: Thanks .. Belmont was a joint site, but the import had a tiny difference in the locations for BBC and IBA... I have fixed it now.

Briantist's 38,899 posts

Re: Briantist
The page looks good, thank you.

My Granddad made the first colour TV.
He had a black and green cathode-ray tube from an old radar display at the end of the war and used it to make a black and green 405 VHF TV.
They used to show fish in a fish bowl between programs, so the fish looked better in black and green than black and white.


Mark Agius's 373 posts
Select more comments
Your comment please