BBC TWO HD launch causes some channel number shifts

Brian Butterworth published on UK Free TV
Following on from BBC Two HD Channel to launch 26th March 2013, the BBC said today there will be some channel number changes (see BBC - Blogs - About the BBC - Hello BBC Two HD; Goodbye BBC HD ).

As well as BBC ALBA moving to 143 on Sky, the following allocations will be in use: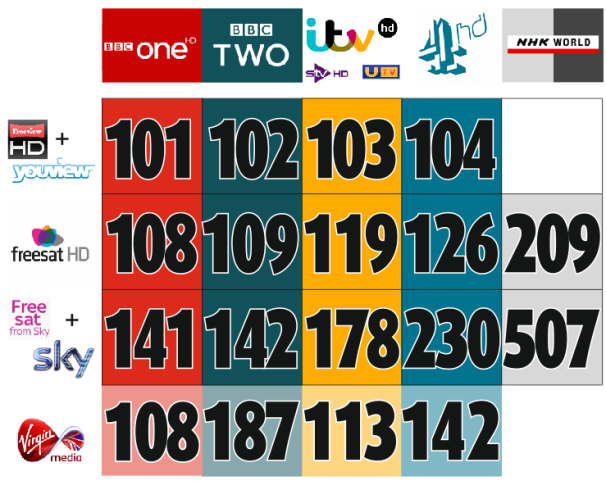 Here is a notice from BBC HD about the change:
Comments
Tuesday, 26 March 2013

Correction VM never said they would change the channel number, I now find out. Seems a pity as it would be easier to have the BBC HD channels all together.

John B's 7 posts
John's:
map
J's Freeview map
terrain
J's terrain plot
waves
J's frequency data
J's Freeview Detailed Coverage

John B: I have noted your comments, and updated the diagram.

And I wish I had stuck to my rule of not covering pay services!

Briantist's 38,906 posts

From Alix Pryde on BBC - Blogs - About the BBC - Hello BBC Two HD; Goodbye BBC HD :

". I've confirmed with my iPlayer colleagues that the position is as follows. By the end of this year we hope that all programmes produced in HD will be available in HD on iPlayer, regardless of whether they have been broadcast on an HD channel. In the meantime, HD content on iPlayer has to have been broadcast on an HD channel, or else have been selected to be put through a separate process. Theres a limit to the number of hours of programming per week that can go through that process, but over the coming months we will be selecting those programmes carefully to try to minimise disappointment.

Then there was the topic ... about the potential to offer repeats of BBC Three and BBC Four series on BBC Two late night or overnight. Its an interesting idea and I have passed it on to Janice Hadlow, the Controller of BBC Two.

highlighted some picture degradation on BBC One HD in the North of England. About the same time, we also received notification of the issue thanks to people contacting the Reception Advice service. Im pleased to report that once we became aware of the issue, my team worked with our supplier to get it fixed quickly by swapping out a single faulty encoder, which took place early on Wednesday. Its clear though that the issue shouldn't have gone on for as long as it did and Im looking into that.

in response to a query on Andys blog, I can confirm that we are updating the references on BBC websites to the EPG numbers for our channels."

Briantist's 38,906 posts

I have lost all BBC channels at home in Somerset I have rescanned and factory reset but nothing?please help am missing FB menu:(

mark's 1 post

michael scott: michael scott: I would suspect you have some screen burn, do you watch C4 a lot? Its an annoying issue and I hate these dogs the broadcasters insist on adding, also why I wont get sky.

If you have a plasma with the right techniques screen burn can be removed, if your set is LCD I`m afraid its permanent.

Matthew's 3 posts
Wednesday, 27 March 2013

Briantist: BBC One still has an SD sustaining feed for the English regions, but it's not played out separately. It's a downscaled version of the BBC One England HD sustaining feed. (An interesting question is what happens if a region fails to opt for the local news: do they still get London regional programmes as before, or do they now get the 'This is BBC One HD' slide? That is, is the SD sustaining feed actually SD London, and the regions opt from that, or do the regions opt directly from the downscaled HD feed?)

I expect this to be the same for BBC Two, now: the BBC Two HD feed is the master playout, BBC Two sustaining feed is a downscaled version of that, and BBC Two Scotland, Wales and NI opt out of *that*. If, however, you're going to put 3D content on BBC Two HD, and it's not the same programme as scheduled for BBC Two England, you need some way to inject programmes into the SD feed, even if the nations then opt out of it.

Sounds like a whole heck of a lot of trouble for very rare occasions when a 3D trial programme is running.

Mike Dimmick's 2,486 posts

If anybody missed the change from the BBC HD channel to the BBC Two HD channel
I have uploaded a YouTube video.
(Fast forward to 8:38 when the testcard ends)

The video is at; BBC HD - BBC Two HD switch. Testcards. - YouTube
(RH163LB)

Mark Agius's 374 posts
Thursday, 28 March 2013

Mark Agius: Thanks.

But... xkcd: Aspect Ratio

Briantist's 38,906 posts
Friday, 29 March 2013

Mike Dimmick, Briantist

Is the testcard at 4:00 a 3D testcard?
See above video.

Mark Agius's 374 posts
Mark's:
map
M's Freeview map
terrain
M's terrain plot
waves
M's frequency data
M's Freeview Detailed Coverage

Mark Agius: It looks like the widescreen testcard configured for 3D, not sure if it's actually 3D.

Briantist's 38,906 posts
Select more comments
Your comment please