How many Freeview, Freesat, Sky and cable homes are there in the UK?

Brian Butterworth published on UK Free TV
Ofcom have published today the latest Ofcom - Digital Television Update - 2012 Q4 that we have been following for the last decade here on UK Free TV.

As this is the first quarterly survey to be published after the Digital Switchover programme is completed, it is worth looking at the current scorecard.

I have reproduced the most interesting numbers in this Venn diagram.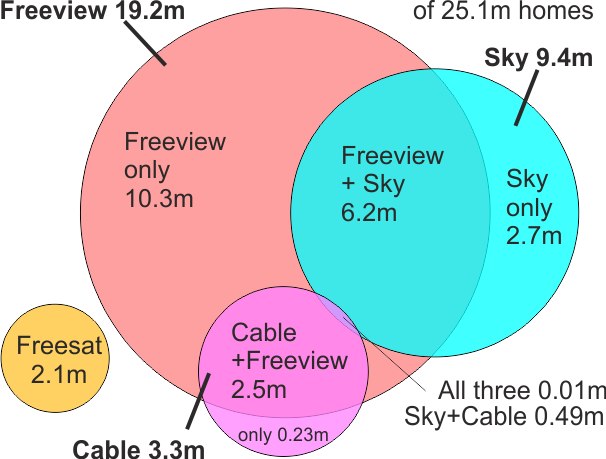 We can see that there are 19.2 million homes with Freeview, 6.2m of which also have Sky and 2.5m of which have cable.

The number of homes with just pay services is small - only 230,000 homes have just cable, and 2.7 million homes have just Sky. Having just Freeview, however is 45 times more than just cable, and four times more popular than having just Sky alone.

And finally - there are only half a million more Sky-only homes than Freesat ones.
Comments
Saturday, 20 April 2013

Sky total given is 9.4m households but their figures for subscribers (on similar site this week) states 10.3m - all relating at end of 2012. Where I wonder are the missing 0.9m?

tony's 3 posts
tony's:
map
T's Freeview map
terrain
T's terrain plot
waves
T's frequency data
T's Freeview Detailed Coverage
Sunday, 21 April 2013
R
Roger Martlew
12:15 AM
Ormskirk

Where does YouView fit into this? It is Freeview plus IPTV, which is a bit like some cable extras.

Where would we fit into the schematic, as we have Youview, Freesat, Freeview and Multisat?

This is overkill I suppose.

Roger Martlew's 16 posts
Roger's:
map
R's Freeview map
terrain
R's terrain plot
waves
R's frequency data
R's Freeview Detailed Coverage
Monday, 22 April 2013

Roger Martlew: In the diagram, YouView (along with BT Vision) are "Freeview".

"Pay digital terrestrial" (ie TUTV) is 0.2m

tony: "Where I wonder are the missing 0.9m?"

The RoI.

Briantist's 38,899 posts
Friday, 26 April 2013

I suspect quite a lot of freesat boxes are bought by people like me who have sky on their main TV but take one of the spare outputs from sky's 4 way LNB to feed a freesat box on my bedroom TV. Unfortunately the figures don't show who has Sky & Freesat.

David Pinfold's 42 posts
Wednesday, 1 May 2013

what about me? i have sky tv,freesat,freeview and a large motorised satellite dish which recieves over 35 different satellites... i agree that alot of sky customers are using their 3rd and 4th outputs for freesat. a freesat box is just a fta satellite reciever with 7 day epg/channel list updater. if people only knew that theres a wealth of free programming from all over the world as the astra2/eutelsat28a satellites are the tip of the iceberg.

mdt's 7 posts
mdt's:
map
M's Freeview map
terrain
M's terrain plot
waves
M's frequency data
M's Freeview Detailed Coverage
Friday, 2 August 2013

The Freesat figure should read freesat and Freesat From Sky and FTA receivers.

fsz's 1 post
Monday, 5 May 2014

Can anyone help me please? I have just purchase a Humax DTR T1010 500 gb
I have Sky+ which I intend to cancel. I've noticed that the satellite dish cable has twin f-connetors whereas the you view box has only one aerial input with a different fitting. Is there a way around this does anyone know? Thank you.

Susan Castle's 1 post

Susan Castle: I believe the you view box you've bought isn't a satellite box. It has an RF aerial input and output connection. It will not work on a sky dish. You will need to connect it to an aerial, not a dish.

Robert Dallenger's 4 posts

Susan Castle: That just said by Robert Dallenger is quite correct, therefore you might have been better purchasing a Humax Freesat PVR (recorder) rather than a Freeview device, as the leads referred to that come from the dish are directly 100% compatible as far as using them on a Freesat box is concerned.

jb38's 7,179 posts

Susan Castle : An example of that referred to can be seen by opening the link.

HumaxDirect

jb38's 7,179 posts
Select more comments
Your comment please