Want EVEN better ADVANCED aerial to Freeview transmitter terrain plots?

Brian Butterworth published on UK Free TV
A big thank you to the feedback from Want better aerial to Freeview transmitter terrain plots? Check out UK Free TV! yesterday.

Several people have asked for a more advanced mode of operation, and this is now provided.

Go to My Freeview - ukfree.tv as before and enter a postcode, national grid location or latitude longitude co-ordinates, and then select "Terrain plot".

You will now see, after the last diagram a new feature: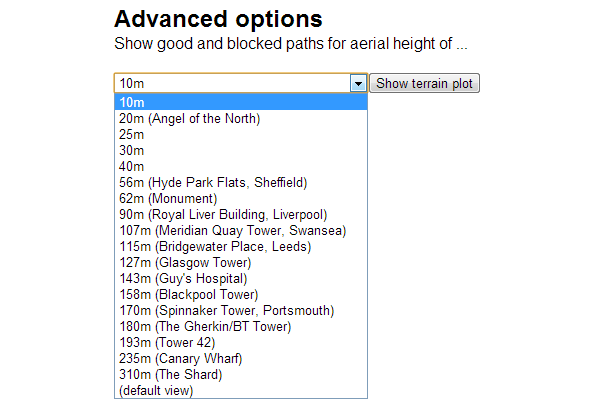 You can now select the aerial height above ground level you want - and press the "show terrain plot" button.

Here is an example: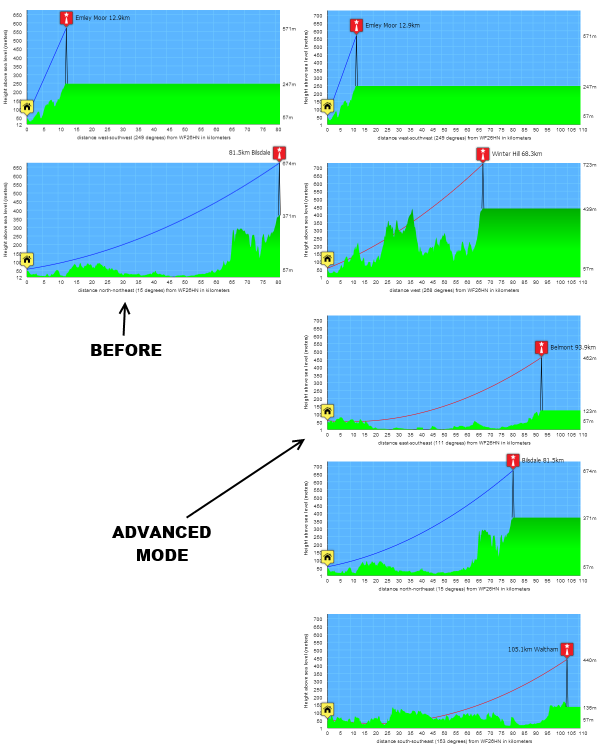 Comments
Wednesday, 8 May 2013

Thanks for the "advanced mode" for the terrain plots. It's very useful to be able to check for possible alternative transmitters. I can receive Crystal Palace very well at my location even though it's allegedly blocked.
(And my aerial is actually LESS than 10m high.)
(+51.14,-000.04)

Mark Heselden's 21 posts

Mark Heselden: I am really pleased you like the "advanced mode".

It's certainly true that you actually need a line-of-sight to get a signal in all circumstances, due to the Fresnel_zone (
Fresnel zone - Wikipedia, the free encyclopedia ).

The prediction system backend uses Fresnel zone calculations, but I left them off the line-of-sight diagrams as it just adds another layer of complications.

Briantist's 38,844 posts

Hi I tried to run the terrain plots but get the following error.Your browser (3) does not support the canvas element. I am using Explorer 8 in XP which does not support canvas. I quess a lot of other people using Explorer 8 will have the same issue.

chris's 1 post

chris: It's not "a lot" of people... less than 7.5% use IE8 on XP...

You can always use XP with Firefox, Chrome, Safari or Opera.

See:

http://support.google.com…5411

Mozilla Firefox 20 System Requirements

Opera system requirements

Safari 5.1.7 for Windows

Briantist's 38,844 posts
Thursday, 9 May 2013
R
Richard E
12:15 AM
Halstead

Why can`t you put heights in feet ,distances in miles ? I hate any metric crud , I am English , I want my birth right measurements! Anyhow aircraft fly in feet & distances nautical miles , all notams are in nm & feet for aircraft info , thats a danger area for pilots ! Check it out you will see I am right !

Richard E's 42 posts

Absolutely. We must defend our beloved home grown measures - avoirdupois. This alien metric crud is clearly a European conspiracy by the same people who put that metal plate in my head!

Let's have proper English units, like Le Galon and ein Tonne, all invented by great Britons like Fahrenheit.

Wot next? Brussels will be claiming Jack Marconi and Henry Hertz were foreigners!

woodface's 39 posts

Let's not be silly. This site uses International System of Units - Wikipedia, the free encyclopedia as it is the best way not to make mistakes when doing scienfitic calculations.

In addition, of course, the terrain data was provided Ordance Survey in meters using the British National Grid ( Ordnance Survey National Grid - Wikipedia, the free encyclopedia ) which is based around km squares.

And it has nothing at all to do with my never being taught "imperial" measurements at school (nor did we do money in LSD either).

Briantist's 38,844 posts

Well Briantist, I think he was joking.
However it is a bad thing actually that so many accept automatically that Napoleon's approach to mensuration was/is intrinsically and uniformly the beginning of proper science.
There was never anything remotely useful in subdividing the approximated circumference of the Earth - or whatever; just conceit. Feet and inches are indeed just fine; arguably better. They are most remarkably persistent!
Anyway I am sure he was joking.
No- no, not Napoleon ... that's unlikely.

And really THANK YOU for this wonderful website.

peter's 16 posts

peter: Thank you. It's always nice to hear that the work is appreciated.

I'm a bit of a hellenophile, so I tend to think that everything scientific goes back to Pythagoras, Archimedes, Plato, Ptolemy, Euclid and Aristotle (see BBC - Radio 4 - In Our Time - Archive by Era: Ancient Greece - page 1 )

Interestingly, speaking of ancient geometry (literally geo- "earth", -metron "measurement" - ), Eratosthenes got the measure of the earth's circumference about right (39690 km, about 2% out) in about 200 BC.





Briantist's 38,844 posts

Well according to the terrain map I would need an aerial mounted at 30m to receive Waltham. Don't think this is correct as mine is on the eves of a standard 2 story house.

Ian's 497 posts
Select more comments
Your comment please