Want a clearer search or information about missing Freeview light channels?

Brian Butterworth published on UK Free TV
I have provided several bug fixes and site improvements this week.

There are several "background" fixes the deal with links to the DAB and FM radio pages, and also other comment links.

The search results page now has a "wider" layout: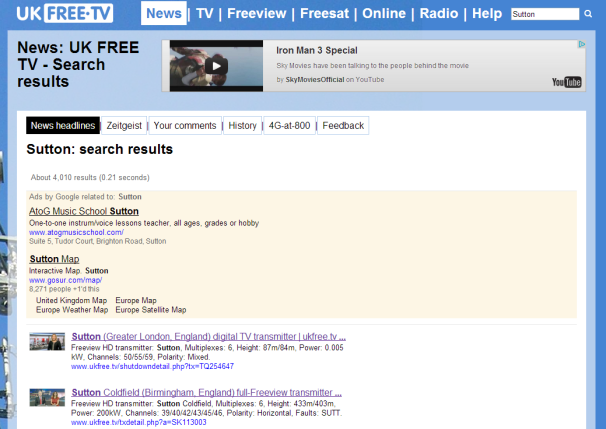 All the pages for the Freeview Light (or public service broadcasting) transmitters now have an explanatory box:



Comments
Wednesday, 22 May 2013

I live in an area where all freeview channels are received by the Winter Hill transmitter. It used to work perfectly up until the 10th of April this year when changes were introduced due to 4G.
Now all channels apart from the BBC channels barely work.
When will this be resolved? Thankyou

Caroline's 1 post
Caroline's:
map
C's Freeview map
terrain
C's terrain plot
waves
C's frequency data
C's Freeview Detailed Coverage

Caroline: If prior to the event mentioned you were receiving Winter Hill then there was an element of pot luck involved, because you are not indicated as being able to receive transmissions from that station due to being located so close to the hill that separates you from the transmitters signal path.

Nothing will be resolved in the official sense as there is nothing to resolve, because unless through the sheer coincidence of a fault having developed in your aerial system then your problem is most likely caused by the signal path from the transmitter having altered though the normal seasonal changes that take place with most non-direct signal paths, yours very much in this category.

Aerials used in your type of situation should NOT be of the multi-element high gain types, the simpler the better being the key word, and so the question is what type of aerial are you using?

"If anyone else around you receives from Winter Hill are they similarly affected? the reason for saying "if" is that practically all aerials seen are vertically mounted and face towards the Darwen transmitter.




jb38's 7,179 posts
Saturday, 25 May 2013

I am using an old Sky+ box to view Freesat but every now and then I lose a set of channels (usually Ch 5 is involved) and have to force a system health check, which usually recovers them. I have a Humax recorder running off the same LNB, which doesn't have any problems.

Any ideas other than the Sky box is on its way out?

Steve's 1 post
Sunday, 26 May 2013

Steve: The simple way to check if its the box or the LNB / cable at fault is by swapping the boxes two inputs over "if" you still have both feeds from the dish connected into the box.

If not then swap the Sky boxes feed over with one used by the Humax (preferably its LNB1) because if the LNB or cable from is defective then the fault will transfer over to the Humax.

jb38's 7,179 posts
Sunday, 2 June 2013
M
Mike Shaw
2:26 PM
Buckley

Occasionally I get no signal for free-view channels 15-25, it can be more.
Would a signal amplifier be of benefit ??

Mike Shaw's 4 posts
Mike's:
map
M's Freeview map
terrain
M's terrain plot
waves
M's frequency data
M's Freeview Detailed Coverage

Mike Shaw: Only if the issue is that the signal level going into your receiver is dipping under the threshold it requires to work. If it's a signal quality issue then it will make no difference.

Which transmitter does your aerial face? Have you confirmed that it is tuned to that transmitter?

If you would like guidance on how to do this then say which transmitter it is and I will advise. If you don't know which transmitter it is then the direction of the aerial should allow us to work that out.

Dave Lindsay's 5,724 posts
Wednesday, 19 June 2013

It looks like the transmitter is probably the one on the Wirral not Winter Hill.

mike shaw's 4 posts

mike shaw: "The one on the Wirral" is Storeton and it only carries PSB (Public Service) channels, hence the channels you are having difficulty with are the COM (Commercial) ones which you are probably receiving from Winter Hill.

The general idea for Storeton Wales transmitter is that it and Winter Hill are roughly in line and so a single aerial should work for both.

Perhaps your aerial could do with turning a little clockwise, nearer the direction of Winter Hill.

Dave Lindsay's 5,724 posts

mike shaw: storton isn't only PBS transmitter it has all multiplexs.

mazbar's 384 posts

mazbar: Whilst you are correct, Mike Shaw lives on the Welsh side of the transmitter and therefore not able to receive the COMs from it, even if he wanted.

The Storeton transmitter relays the PSB channels from Moel-y-Parc. It broadcasts them directionally, towards Wales, using horizontal polarisation so as to match that of Winter Hill. It also broadcasts the PSB and COM channels as a relay of Winter Hill, these being vertically polarised and radiated in the opposite direction to the Welsh PSBs. For that reason Mike Shaw will not be able to receive them and will probably have to use Winter Hill for them.

Dave Lindsay's 5,724 posts
Select more comments
Your comment please