Expecting 4G interference? Tests now show that you have a one in 300 chance

Brian Butterworth published on UK Free TV
Looking back the the original posting, Ofcom moves to protect Freeview interference from 4G mobile, we can see the Ofcom suggested that:

Of the 16.3 million UK homes with a standard (unamplified, unshared) Freeview reception, 110,000 (0.67%) would be effected.

Of the 5.2 million homes using communal aerials systems, 550,000 (10.6%) will have problems.

Of the 5.6 million homes using amplified Freeview reception, 100,000 (1.8%) will experience problems.

Today, at800 have published the results of the tests in London, Brighton and Hove and York - at800 updates estimate of likely impact of 4G at 800 MHz on Freeview:

"Following tests conducted across the country, at800, the organisation responsible for protecting Freeview when 4G at 800 MHz is rolled out across the UK, has provided a new estimate of the likely scale of the impact. If national rollout reflects the results seen during its tests, at800 expects no more than 90,000 households, with Freeview as their primary TV service, to experience disruption caused by 4G at 800 MHz. Whatever the level of disruption, at800 is ready to restore Freeview to viewers.





at800 has now sent postcards to households in London and the surrounding areas in preparation for the activation of 4G at 800 MHz masts over the coming weeks and months. at800 is also sending postcards to other areas of the UK ahead of masts switching on. at800's mailing does not mean that 4G services will be available to consumers. For information about the availability of 4G services, people should contact their mobile operators.

In London, in particular, Freeview received from the Crystal Palace transmitter is unlikely to be affected by mast activation because of the strong terrestrial television signal and its relatively large frequency separation from 4G at 800 MHz. However, at800 is sending postcards and running a publicity campaign to ensure anyone who does experience new disruption to their Freeview service knows how to get in touch."

So with 26.50 million TV households in the UK (see Monthly universe summary - BARB) 90,000 represents 0.340% of them - that's a ONE IN THREE HUNDRED chance.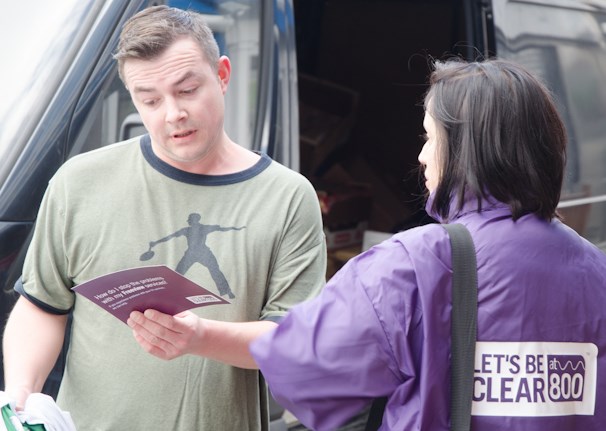 It seems that you are most likely to need a filter if:

a) you are a long way from a high power Freeview transmitter; and

b) you are very close to a 4G mobile phone mast; and

c) you are using a booster.

That's good news for Freeview viewers.



If you have had a postcode from at800 - see Received a postcard from at800?
Comments
Monday, 14 October 2013

Since Friday 11th Oct my signal continually drops out when i switch channels. 'If I move to another channel the guide is still visible telling me what is currently on that channel but there is no picture, only a box telling me there is no signal. If I retune I lose everything.

Km19's 2 posts

Ps my postcode is NP7

Km19's 2 posts

Gweneh: If your aerial is facing Aldeburgh ( @ 6 miles / 162 degrees) then it will be mounted with the elements facing up and down, whereas for Tacolneston (@ 25 miles / 314 degrees) it will be positioned horizontally, and if indeed it is facing Aldeburgh then its a bit surprising that you are picking anything up from Tacolneston with the aerial being so far out of alignment, because even if it wasn't the only mux that's indicated as providing a good signal is COM4 / SDN (ITV3 etc).

By the way, all of the aerials seen on the properties on the Middleton Moor main road are facing towards Aldeburgh, the only exception being on one of the three properties situated near to the pole carrying 4 electricity cables that run behind the houses.

Maybe you could give an update on the result of the aerial installers findings.

jb38's 7,179 posts
G
Gweneh
10:57 PM
Saxmundham

Gweneh:
Thanks jb83. Ariel was/is definitely aimed at Tacolneston - it was installed 8 years ago long before aldeburgh became a relay transmitter. Too dark to see which way the elements are orientated.
Did a bit of manual tuning earlier - signals as follows:
23 medium/poor - cannot pick up stations
28 medium/poor - cannot pick up stations
39 - nothing at all? Defo had arqB stations before
42 medium - can pick up stations
45 medium - cannot pick up stations
55 medium/good - can pick up stations
59 good - can pick up stations

We're on the other side of the road from that pole and you can't see the ariel from the road. Given the sudden appearance of channel 23 I'm sure it means the ariel's shifted slightly although it looks fine from the ground.

I'll let you know what the ariel chap has to say. I hope he can fix it because BBC channels are very hard to watch just now.

Thanks for your interest

Gweneh's 7 posts
Gweneh's:
map
G's Freeview map
terrain
G's terrain plot
waves
G's frequency data
G's Freeview Detailed Coverage
Tuesday, 15 October 2013

Gweneh: If you could please! as I will be interested in the results.

By the way, thanks for the comprehensive signal report, all said has been duly noted for reference purposes.

jb38's 7,179 posts

Here in High Wycombe Bucks HP13 5.. we too have had the same problems over the last two weeks from about 22 Sept13.
All the same reception problems as others - picture & sound break up or nothing at all, affecting the same group of multiplex channels (C55) here. ITV, Channel4, Channel5, ITV2, Channel4+1, More4... (BBC1 & BBC2 OK).
I do have a weak amplified ariel signal, with a hill+trees between my house and the local relay transmitter, but have never had this problem with digital before, although had similar dificulties with analogue before with extreme weather (high pressure I think it was).
Someone on this site has suggested extreme weather conditions, allowing European broadcasts to come here and interfering with British transmissions - effectively scrambling our chosen channels.
Another suggestion is interference from 4G being operative now.

Alan Ward's 1 post
Thursday, 17 October 2013

The ariel man has been and replace the amplifier on the ariel. The cover had blown off and it was all rusty on the inside. Slight panic when the first amplifier he fitted actually reduced reception, he replaced it with a lower gain amplifier and we are now cooking on gas!

The only strange thing is we are getting full signal strength from both aldeburgh and tacolneston - good to very good on all the channels I listed before. The ariel man said that there has been no movement in the ariel itself so I'm mystified as to why I should suddenly be getting signal from Aldeburgh. I've retuned enough tvs in this house to be 100% positive we have never found anything on 23 or 28 until last week.

Gweneh's 7 posts
Friday, 18 October 2013
I
Ian from notts
8:17 AM
Matlock

Gweneh- Where I live (Notts/Derbys border) a lot of aerials will pick up multiple signals, Even when aimed at Waltham (Central East) they will pick up and store Emley Moor (Yorks) while still showing 100% quality on both, You can include Sutton Coldfield (Central West) as sometimes being a 3rd option?
Having a booster on helps "rogue" signals to stabalise in the tuning process but they may break up in poor weather

Ian from notts's 253 posts
Ian's:
map
I's Freeview map
terrain
I's terrain plot
waves
I's frequency data
I's Freeview Detailed Coverage
Saturday, 19 October 2013

Gweneh: Thanks Ian. I guess as aldeburgh is a lot closer than tacolneston I would pick up signal from there...... Especially now the amplifier on the ariel has been fixed. And we definitely suffer in the summer with inversions.

Gweneh's 7 posts
Sunday, 20 October 2013

Gweneh: Sorry for the delay in replying to your update on the outcome of the aerial installers visit, but pleased to see that your problem has been rectified.

I found your report on the standard of reception from Tacolneston interesting, and especially when compared to that given on Digital UK's trade predictor, this proving "once again" that RF signal prediction when of a non-satellite nature is very hit and miss affair to the extent that anything seen cannot be relied upon as even remotely representing fact.

By the way, Aldeburgh is one of the higher powered relay stations radiating on 10Kw, this being most likely why you can receive it so well even although your aerial is misaligned in both polarity and direction, and of course grouping albeit that the latter plays a somewhat lesser role.

jb38's 7,179 posts
Select more comments
Your comment please