Expecting 4G interference? Tests now show that you have a one in 300 chance

Brian Butterworth published on UK Free TV
Looking back the the original posting, Ofcom moves to protect Freeview interference from 4G mobile, we can see the Ofcom suggested that:

Of the 16.3 million UK homes with a standard (unamplified, unshared) Freeview reception, 110,000 (0.67%) would be effected.

Of the 5.2 million homes using communal aerials systems, 550,000 (10.6%) will have problems.

Of the 5.6 million homes using amplified Freeview reception, 100,000 (1.8%) will experience problems.

Today, at800 have published the results of the tests in London, Brighton and Hove and York - at800 updates estimate of likely impact of 4G at 800 MHz on Freeview:

"Following tests conducted across the country, at800, the organisation responsible for protecting Freeview when 4G at 800 MHz is rolled out across the UK, has provided a new estimate of the likely scale of the impact. If national rollout reflects the results seen during its tests, at800 expects no more than 90,000 households, with Freeview as their primary TV service, to experience disruption caused by 4G at 800 MHz. Whatever the level of disruption, at800 is ready to restore Freeview to viewers.





at800 has now sent postcards to households in London and the surrounding areas in preparation for the activation of 4G at 800 MHz masts over the coming weeks and months. at800 is also sending postcards to other areas of the UK ahead of masts switching on. at800's mailing does not mean that 4G services will be available to consumers. For information about the availability of 4G services, people should contact their mobile operators.

In London, in particular, Freeview received from the Crystal Palace transmitter is unlikely to be affected by mast activation because of the strong terrestrial television signal and its relatively large frequency separation from 4G at 800 MHz. However, at800 is sending postcards and running a publicity campaign to ensure anyone who does experience new disruption to their Freeview service knows how to get in touch."

So with 26.50 million TV households in the UK (see Monthly universe summary - BARB) 90,000 represents 0.340% of them - that's a ONE IN THREE HUNDRED chance.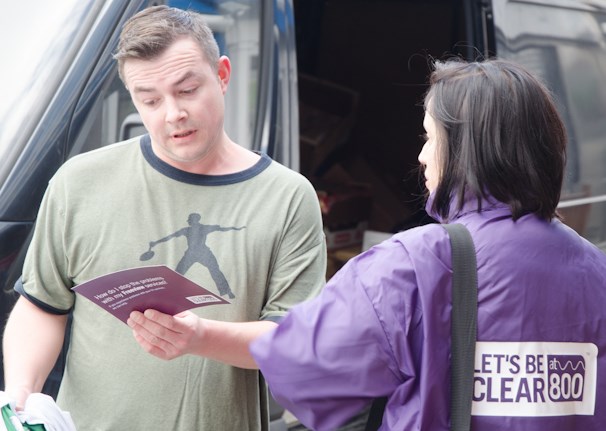 It seems that you are most likely to need a filter if:

a) you are a long way from a high power Freeview transmitter; and

b) you are very close to a 4G mobile phone mast; and

c) you are using a booster.

That's good news for Freeview viewers.



If you have had a postcode from at800 - see Received a postcard from at800?
Comments
Thursday, 2 January 2014

Terrible picture breakup except perfect picture BBC1 8pm to 10pm. Very curious. Is something happening or not happening at this time?

Ann's 1 post
Ann's:
map
A's Freeview map
terrain
A's terrain plot
waves
A's frequency data
A's Freeview Detailed Coverage

Have lost BBC News HD and.BBC 4 HD and some other HD channels from Crystal Palace. Message reads "Weak or no Signal"

Chris Stanford's 2 posts

Chris Stanford: The new HD multiplex is on lower power than the rest, so perhaps your reception is marginal (touch-and-go). If your receiver has a built-in booster it might be worth turning it on for these services.

Dave Lindsay's 5,724 posts

melanie loveridge: How does he know its not his aerial?

If you'd included a postcode, you could have checked via R & T yourself - but there seems no problem with the Marlow light transmitter, and as for Crystal Palace,it serves about 4.5 million homes, so you'd know if there was a serious problem .

Since the transmitters seem fine (and he should ask his neighbours if they are having any problems), it has to be within his own setup.

Looking back through other, similar questions, most people either disappear, or find a problem with the wiring, connections, etc. Since we've just had very high winds, etc, its pretty likely that something has broken or corroded. Even if the aerial is in a loft, it does not mean that corrosion cannot take place, and if he has booster thats powered, that can fail as well.

He needs to check again, and eliminate each possible problem.

MikeB's 2,579 posts

Ann: which transmitter are you using, and what is your signal strength? You coverage is indicated as good for Rosneath VP (8km), Ardnadam (1km!) and even Black Hill (67km).

If your getting really high strength, then the signal can break up, and and also if its far too low. The really strange thing is the time its perfect - is this the same every night?

MikeB's 2,579 posts

Thanks yes he checked all the connections, and sometimes it comes up really clear at about 11 at night! And yes I did do the postcode check and it said it was fine, but it still isn't working. I will tell him to check again, thanks for your help.

melanie's 3 posts
Thursday, 9 January 2014

Hi all, it was a new 4G transmitter. Filter installed, now everything fine. Chris Stanford:

Chris Stanford's 2 posts
Friday, 10 January 2014

Chris Stanford.
I have come across this website Sitefinder Mobile Phone Base Station Database
which indicates where mobile phone masts are located. Unfortunately it doesn't mention anything about 4G, probably because we don't have it around here. Can you please use the link at your location to discover if your 'new' 4G transmitter is mentioned and refers to 4G?

Jack Luxon's 33 posts

Jack Luxon: I'm not sure that Ofcom Sitefinder will mention 4G base stations.

The main page states:

"The last Sitefinder update was done in May 2012, although some operators ceased providing updates from as early as 2005. This is largely a result of the Information Commissioner's decision in 2007 ordering Ofcom to make the raw data used to populate the Sitefinder database publically available, causing some operators to stop voluntarily providing the information. It should also be noted that participating operators have provided their respective datasets at different intervals and some of which may be more recent than others."

Dave Lindsay's 5,724 posts

Dave Lindsay: which means that the data shown here on UK free TV is the same as you will find on site finder...

Briantist's 38,905 posts
Select more comments
Your comment please