Expecting 4G interference? Tests now show that you have a one in 300 chance

Brian Butterworth published on UK Free TV
Looking back the the original posting, Ofcom moves to protect Freeview interference from 4G mobile, we can see the Ofcom suggested that:

Of the 16.3 million UK homes with a standard (unamplified, unshared) Freeview reception, 110,000 (0.67%) would be effected.

Of the 5.2 million homes using communal aerials systems, 550,000 (10.6%) will have problems.

Of the 5.6 million homes using amplified Freeview reception, 100,000 (1.8%) will experience problems.

Today, at800 have published the results of the tests in London, Brighton and Hove and York - at800 updates estimate of likely impact of 4G at 800 MHz on Freeview:

"Following tests conducted across the country, at800, the organisation responsible for protecting Freeview when 4G at 800 MHz is rolled out across the UK, has provided a new estimate of the likely scale of the impact. If national rollout reflects the results seen during its tests, at800 expects no more than 90,000 households, with Freeview as their primary TV service, to experience disruption caused by 4G at 800 MHz. Whatever the level of disruption, at800 is ready to restore Freeview to viewers.





at800 has now sent postcards to households in London and the surrounding areas in preparation for the activation of 4G at 800 MHz masts over the coming weeks and months. at800 is also sending postcards to other areas of the UK ahead of masts switching on. at800's mailing does not mean that 4G services will be available to consumers. For information about the availability of 4G services, people should contact their mobile operators.

In London, in particular, Freeview received from the Crystal Palace transmitter is unlikely to be affected by mast activation because of the strong terrestrial television signal and its relatively large frequency separation from 4G at 800 MHz. However, at800 is sending postcards and running a publicity campaign to ensure anyone who does experience new disruption to their Freeview service knows how to get in touch."

So with 26.50 million TV households in the UK (see Monthly universe summary - BARB) 90,000 represents 0.340% of them - that's a ONE IN THREE HUNDRED chance.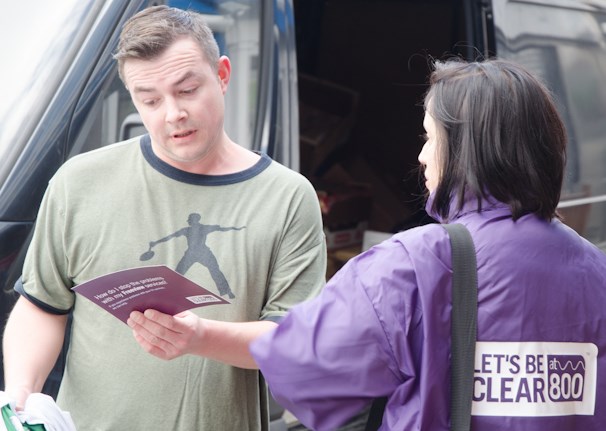 It seems that you are most likely to need a filter if:

a) you are a long way from a high power Freeview transmitter; and

b) you are very close to a 4G mobile phone mast; and

c) you are using a booster.

That's good news for Freeview viewers.



If you have had a postcode from at800 - see Received a postcard from at800?
Comments
Monday, 20 January 2014

walter bell: The switchover in Northern Ireland took place on 24th October 2012 so it is likely that that is when your issue started.

Dave Lindsay's 5,724 posts
Friday, 31 January 2014

We are in Horsham rh12 2 postcode and for the last 3 weeks or so have had times of the day when there is no signal and generally very patchy - we are very close to Horsham centre - we get freezing screen - pixelation

We have a new ariel from just last year but we do have a booster fitted.

I am suspicious that this is due to 4g signals in our area.

What can we do fix - if I buy a filter - then ok but why should I when it was not my problem.

Sean's 1 post

Sean: As it happens at different times it would seem unlikely to be an issue with 4G signals in the 800MHz band because we'd expect them to be constant.

However, you can contact at800 which is the organisation set-up by the mobile operators and tasked with issues filters. Give them a ring and see if 4G is operating in your area - if it's not then the problem must be something else:

Contact at800 / DMSL | General Enquiries | at800

Dave Lindsay's 5,724 posts
Saturday, 1 February 2014

hi we have had virgin turned of because there services were appalling have gone with talk talk for phone and broadband we have free view built in to our tv but we are not getting much from it we have a lot of virgin cable going through the bedroom is there anyway we can use this to get a better reception or what kind of Ariel do we need we miss our channels please help

pauline's 1 post
pauline's:
map
P's Freeview map
terrain
P's terrain plot
waves
P's frequency data
P's Freeview Detailed Coverage
Thursday, 24 April 2014

I live in Surbiton postcode KT6 6 and for the past few days I've noticed the loss of BBC news HD on channel 107 with the words no signal. Channels 106 and 108 are also missing. I have retuned several times and 106; 107; and 108 are completely missing. I'm in a block of flats with a communal aerial. Could this be caused by 4G coming on line

Bill's 8 posts

Bill:
Regarding my previous post, I forgot to mention that I did a complete rescan of all channels without an aerial connected to delete all currently saved channels.
I then did a full rescan with aerial to find 106 BBC 4 HD, 107 BBC NEWS HD and 108 still missing. Any ideas?

Bill's 8 posts
Saturday, 3 May 2014

I live in Settle BD24 0DL in a poor TV reception area. My Aerial signal suddenly packed up during the recent bad weather. As the Aerial and cables were over 10 years old I decided to change all the parts for new ones eg Aerial, Antiference' splitter combiner, Masthead Amplifier and Coaxial cable. I pointed the Aerial to the higher recorded signal on the Meter, happy with the work. Unfortunately, by retuning I can only received ITV and other channels but no BBC channels at all. My radio has slight noise interference.
Do I have to re-adjust the Aerial position and try again or something wrong some where, anyone has any idea?

Eshan's 1 post
Eshan's:
map
E's Freeview map
terrain
E's terrain plot
waves
E's frequency data
E's Freeview Detailed Coverage

Eshan: The only transmitter that your location is indicated as being able to receive is Winter Hill @ 33 miles / 197 degrees, therefore your best policy would be first of all blank out anything stored in your TV's memory by carrying out an auto-tune with the aerial unconnected, once completed reconnect the aerial then go into your TV's tuning menu selecting "manual tuning" and enter C50 (Winter Hills BBC) into the box but do NOT press search or scan, as on most TV's (or boxes) if any signal is there to be received the strength and quality of will be be shown on the indicator bars, if anything is seen then leave the TV on that signal test screen and adjust your aerial for the best results. On completion, you can then either carry out a normal auto-tune or alternatively continue manually tuning in the remaining 5 (or 6) mux channels used by Winter Hill, those being / 59 (ITV1) - 54 (HD) - 58 (ITV3) - 49 (Pick TV etc) - 55 (4Music etc) - 31 (the new COM7 HD channels which may, or may not be receivable at your location)

jb38's 7,179 posts

Eshan : In addition to that said, I also meant to enquire as to what type of Antiference aerial you chose to install? because to be able to take advantage of the new COM HD channels transmitting on mux C31any newly installed aerial should really be a wide band type and not C/D grouping and which its assumed was the type previously fitted? a C/D type's lowest operating channel before its performance drop's off being C48.

By the way, a C/D aerial can be identified by a green plastic plug being seen on the end of the elements support boom, wide band types being black.

jb38's 7,179 posts
Wednesday, 8 April 2015
S
sue Hickerson
8:19 PM
Northampton

8.4.2015: This is a question relating to post code area NN2 8QH , one month ago I had a free view Ariel fitted ,prior to this I used a free Sat system with no problems . Since the fitting and using the free view I have interference on BBC 1 & BBC2 , the tv engineer has fitted a booster but this has not solved the problem . Any help on how to fix this without any further expensive would be appreciated .thank you

sue Hickerson's 1 post
sue's:
map
S's Freeview map
terrain
S's terrain plot
waves
S's frequency data
S's Freeview Detailed Coverage
Select more comments
Your comment please