Expecting 4G interference? Tests now show that you have a one in 300 chance

Brian Butterworth published on UK Free TV
Looking back the the original posting, Ofcom moves to protect Freeview interference from 4G mobile, we can see the Ofcom suggested that:

Of the 16.3 million UK homes with a standard (unamplified, unshared) Freeview reception, 110,000 (0.67%) would be effected.

Of the 5.2 million homes using communal aerials systems, 550,000 (10.6%) will have problems.

Of the 5.6 million homes using amplified Freeview reception, 100,000 (1.8%) will experience problems.

Today, at800 have published the results of the tests in London, Brighton and Hove and York - at800 updates estimate of likely impact of 4G at 800 MHz on Freeview:

"Following tests conducted across the country, at800, the organisation responsible for protecting Freeview when 4G at 800 MHz is rolled out across the UK, has provided a new estimate of the likely scale of the impact. If national rollout reflects the results seen during its tests, at800 expects no more than 90,000 households, with Freeview as their primary TV service, to experience disruption caused by 4G at 800 MHz. Whatever the level of disruption, at800 is ready to restore Freeview to viewers.





at800 has now sent postcards to households in London and the surrounding areas in preparation for the activation of 4G at 800 MHz masts over the coming weeks and months. at800 is also sending postcards to other areas of the UK ahead of masts switching on. at800's mailing does not mean that 4G services will be available to consumers. For information about the availability of 4G services, people should contact their mobile operators.

In London, in particular, Freeview received from the Crystal Palace transmitter is unlikely to be affected by mast activation because of the strong terrestrial television signal and its relatively large frequency separation from 4G at 800 MHz. However, at800 is sending postcards and running a publicity campaign to ensure anyone who does experience new disruption to their Freeview service knows how to get in touch."

So with 26.50 million TV households in the UK (see Monthly universe summary - BARB) 90,000 represents 0.340% of them - that's a ONE IN THREE HUNDRED chance.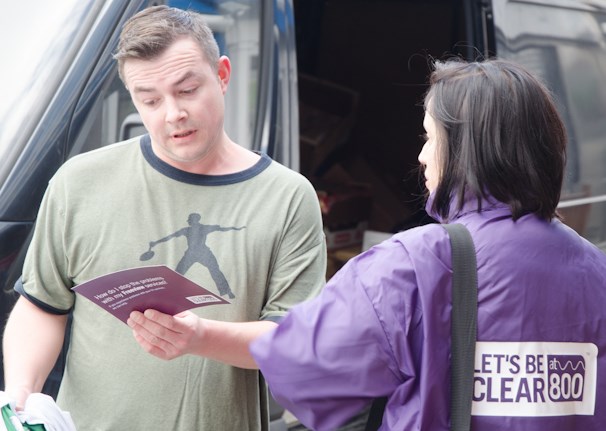 It seems that you are most likely to need a filter if:

a) you are a long way from a high power Freeview transmitter; and

b) you are very close to a 4G mobile phone mast; and

c) you are using a booster.

That's good news for Freeview viewers.



If you have had a postcode from at800 - see Received a postcard from at800?
Comments
Wednesday, 8 April 2015

sue Hickerson: What transmitter are you tuned to? Fortunately, you've included your postcode, and as you can see, you should be fine for Sutton Coldfield, but less good for others. If you are tuned in somewhere else, then you will get poor recption, even with a booster. Of course, if your tuned into the very local transmitter, its so close (and with a booster) that your TV might find the signal too strong.

MikeB's 2,579 posts

sue Hickerson : Although the Sandy (Anglia) transmitter is listed in the "Planned Engineering Works" page under the heading of "Possible weak Signal", this may not necessarily be the cause of your problem, as a number of Northamptonshire areas are notorious for suffering from erratic reception at certain times of the year, basically due to the signal path from both stations receivable in your location, namely Sandy (mostly used in your area) and Sutton Coldfield, both suffering from line-of-sight obstructions, the terrain indicator showing multiple obstructions from the latter mentioned.

Before making any attempts to improve the situation, I would try and make an enquiry with another household in your immediate vicinity to ascertain if they are also suffering from similar reception problems, because if they are, then the problem is out with your control.

That said is based on you using the Sandy transmitter for reception and not the Dallington Park Freeview "light" relay.

jb38's 7,179 posts
Monday, 8 May 2017

Getting 'No Signal' message on two Panasonic HD TVs on some HD channels.
Have 48 element Labgear aerial in loft (4th storey) pointed towards north (Winter Hill), with Antiference amplifier in loft.
Checking DVB signal condition on both TVs seeing;
Signal strength 10 on all channels,
Signal quality 10 on CH31, 37, 49, 50, 58 & 59,
Very variable signal quality on CH55 & 56
Postcode: CW8 1GF

Rak's 2 posts
Rak's:
map
R's Freeview map
terrain
R's terrain plot
waves
R's frequency data
R's Freeview Detailed Coverage

Rak: Could start with having 10 on signal strength - thats far too high, and possible the source of 'no signal'

MikeB's 2,579 posts

MikeB: OK Thanks Mike.
The No Signal only occurs on CH55 & 56 when signal quality falls to 0 and a bit error is displayed.
When signal quality is 4+ picture is OK.
Should I try reducing the Gain on the amplifier to reduce signal strength?

Rak's 2 posts
Tuesday, 9 May 2017

Rak: The tuner will react to a very strong signal in much the same way as too little, and yes, you need to turn down the gain - its debatable whether you might need the amp at all. See 'too much of a good thing' on this website.

MikeB's 2,579 posts
Select more comments
Your comment please