I've got an HD TV ... why can't we have high definition channels in place of the

Brian Butterworth published on UK Free TV
They are the most watched TV channels in the UK, but even after all the investment in recording and producing most of their content in lovely high definition, and

Digital UK (in this Consultation on proposals for the Freeview HD genre and on amendments to Digital UKs LCN Policy document) asked 466 household WITH Freeview HD

"How often do you watch an HD channel rather than its SD version?"

16% said "I always watch the HD version and never watch the Standard version"

13% said "I usually watch the HD Version and occasionally watch the Standard version"

30%, I occasionally watch the HD Version but usually watch Standard definition

27%, I always watch the Standard version and never watch the HD version

and 14% Don't know.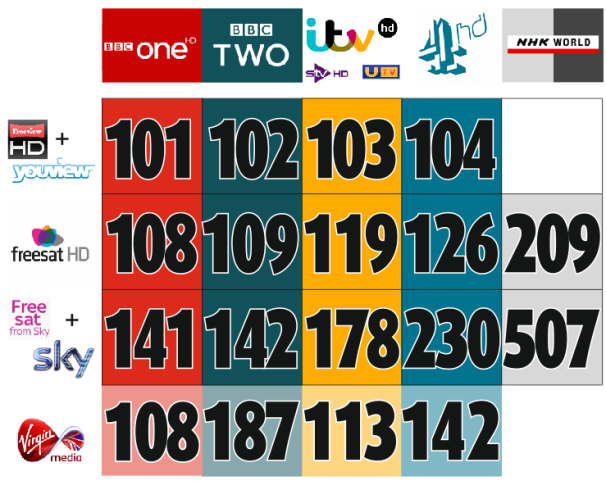 Then asked "Why do you watch SD channels rather than the HD version?"

Among the answer were

18% Laziness/just what I have always watched/habit

16% Don't have HD/can't receive HD

8% Happy with standard tv/the quality of picture

"How do you usually find the HD channel that you watch?"

37% uses the on-screen guide

28% scroll though the entertaiment channels

15% know the channel number and type it in

Which is then followed up by asking where BBC One HD is - with 69% not knowing.





Then asked where they would like to find the channels, the results were as shown:




With 30% saying they would like them on channels 1, 2, 3 and 4. 42% had no preference and 25% like them on 101, 102, 103 and 104.

Another recent report, An Analysis of the Audience Impact of Page One EPG Prominence: A Report for Ofcom shows rather well the effect on TV channels on not being easy to find at the top of the EPG:




The loss of two-thirds of the PICK TV audience when the channel moved down 41 places on the Sky EPG suggests that the Public Service channels need to place their HD services where they can be found - as replacements for the SD ones.


Technical difficulties
The Sky EPG has a feature that swaps HD channels for SD ones. But this is easy for British Sky Broadcasting - all their channels are UK-wide. One SD stream (that's the audio and
video
) is swapped for one HD stream.
However, all of the public service channels have regional versions.
Clearly are the three Channel 3 companies ITV plc, STV and
UTV
.
However, ITV still operates regional news services (for details see ITV PROPOSALS FOR NATIONS AND REGIONS NEWS FOR A NEWCHANNEL 3 PSB LICENCE.

STV also slits into four regions (Glasgow, Edinburgh, Dundee and Aberdeen) for news provision.

For the BBC, BBC TWO is operated with "opt outs" in what the BBC calls "the Nations": Scotland, Wales and Northern Ireland.

And for BBC One there are 14 English regions plus Wales, Scotland and Northern Ireland.

In "the Nations", BBC One is now provided on HD satellite and Freeview HD. BBC One has quite a lot of scheudling changes from the London service in the Nations, but just regional news in England.

Channel 4 is a national channel for scheduling purposes, but sells adverts in six regions.

Channel 5 has no local programming, but five advert regions.
It seems that it's just not possible - because of the time it takes tuning between different satellite transponders - to just redirect the HD channel to an SD channel during the news (or adverts).
This means, the only way that the public service channels could get to the 101, 102, 103 and 104 slots on the satellite services would be to duplicate ALL of their regions in high definition on satellite.
Which is very expensive, and something that "austerity Britain" can't afford.
Is there another way?
Perhaps there is another way. It wouldn't be high defintion, but it could, perhaps, be done.
All it would take is some MHEG5 software (for
Freesat
) and a bit of open-TV tweaking for Sky+HD boxes.
What you do is:
Create just one more full HD resolution BBC One England stream on the
Astra
satellites.
When the regional news is shown, use some standard technology to mix together, eight at a time, the fifteen regional news shows.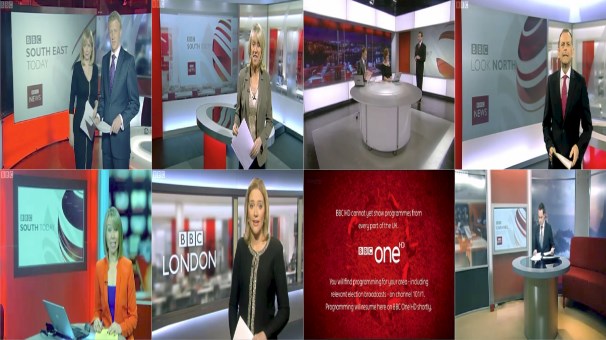 They each would only be at 480x540 resolutions (rather than SD's normal 720x576).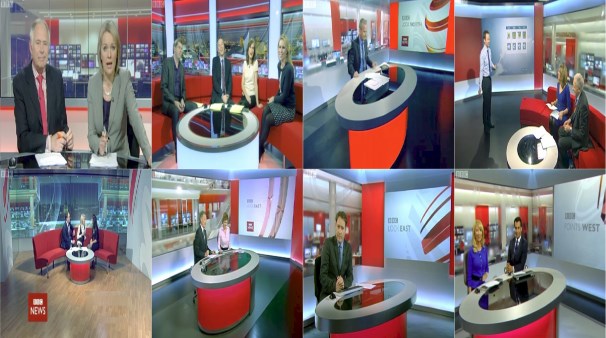 Then use the MHEG5 or Open TV software to stretch the service back into place.
And what of recording? Easy - just redirect the recording to the appropriate SD stream.
Not HD, not ideal, but a good cut-price way to get BBC ONE HD to the top of the EPG.
If there was such a "software solution" then it could be used for other channels too.
What do you think?
Comments
Wednesday, 19 June 2013

I have a HD tv and still watch most programs on normal. I occasionally look at hd option and think not much better so switch back. Hopefully whenever we get super hd tvs down the road there will be a great difference between them both

John Martin's 103 posts

John Martin: I presume you are using a HDMI connection if it is a separate receiver.

Dave Lindsay's 5,724 posts

John Martin: I'm surprised to hear you say that. I find it hard to watch non-HD programmes, I get very distracted by the poor resolution.

Briantist's 38,907 posts
Thursday, 20 June 2013

I can understand the issue with Sky/Freesat as they would need separate HD transponders for each region, but on Freeview, the transmitter only transmits that's region's BBC1 or ITV1 anyway, so why can't they transmit the HD version of the local news?

Ian's 13 posts
Ian's:
map
I's Freeview map
terrain
I's terrain plot
waves
I's frequency data
I's Freeview Detailed Coverage

One variable that is missing from the list is that when you select the SD channel, Humax HDRs offer you the option of watching it in HD instead. The same happens when you choose to record an SD programme - it offers to record the HD version instead.

Ian's 13 posts
Saturday, 22 June 2013
J
Jack Luxon
7:29 AM
Weston-super-mare

I visited a friend who receives his Freeview from Mendip with HD on frequency band 58. I think something happened during his latest retune as he is finding BBC1 HD when he keys in 101, but the other HD programmes are still on numbers starting with 5, 52,53 and 54 (I think). I realise that this would probably change if he retuned, but only if prior to retuning he reverts to default settings which not only wipes out existing tuning data, but also all his carefully set up brightness, contrast settings. How much longer is he likely to get HD programmes on 52,53 and 54?
I watch Freeview HD using a Sony HDT-500 PVR. If I select BBC1 or BBC2 SD and the programme is also available in HD I get a message inviting me to watch in HD, similarly when setting up recordings using the EPG. Sadly this doesn't happen with ITV1 or CH4 programmes. Sony blames the broadcasters. Sony have discontinued their HDT-500 and HDT 1000.
I also use the Mendip transmitter, 58 for HD.

Jack Luxon's 33 posts
Jack's:
map
J's Freeview map
terrain
J's terrain plot
waves
J's frequency data
J's Freeview Detailed Coverage

Jack Luxon: The HD channels changed to 101-104 in September, so yes he should retune. If he doesn't want to do a default settings, try manually tuning UHF ch 58, or retuning with aerial out to remove all of the channels, then again with it back in. Or you may be able to manually edit the channel numbers if you don't want to retune.

Michael's 358 posts
G
George Buchanan
12:34 PM
Fort William

I agree with Briantist - SD now seems very much inferior to HD. My HD channels are all bunched in a group at the top of the listings. I never watch a channel in SD if it's on HD.

George Buchanan's 43 posts
George's:
map
G's Freeview map
terrain
G's terrain plot
waves
G's frequency data
G's Freeview Detailed Coverage

Why all this fuss about HD/SD? Some don't have the HD equipment so enjoy their programmes in SD (625 line/50Hz interlaced). Other with the equipment capable of HD can watch some programmes in 1080 line/100 Hz progressive, giving a somewhat clearer image rendition.
I worked on the Eureka95 project and we had 1250 line/100 Hz progressive running in 1992/3! I also know that Radio Rentals, and maybe other rental companies, offered 1250/100 Wide Screen TVs at around the same time, but public take up was poor.
So for me HD = 1250 line/100 Hz, but 1080/100P is better than 405/50i I reckon.

MikeP's 3,056 posts
MikeP's:
map
M's Freeview map
terrain
M's terrain plot
waves
M's frequency data
M's Freeview Detailed Coverage
Monday, 24 June 2013
J
Jack Luxon
6:40 AM
Weston-super-mare

Michael, thanks for info. I did try manual tuning 58 (Toshiba 32RV753B) but it simply came back 'No new channels found', or words to that effect. I didn't try removing the aerial although I did try this some time ago with my Humax 9200T, but when attempting to tune manually the message 'No Signal' came up and the existing tuning remained intact. At the moment LCN 51,52,53 & 54 are not allocated; once they are I guess he will HAVE to re-tune to get BBC2,ITV1 and CH4 HD, however it puzzles me as to why he got LCN 101 (BBC1HD) to tune OK. Was 101 introduced to replace 51 before the introduction of 102-104? I'll look into manual channel editing. Recently tuning has become more straightforward as newer digital equipment asks where one lives. Here in WSM manual tuning is a must on older equipment to avoid picking up the welsh programmes from Wenvoe.

Jack Luxon's 33 posts
Jack's:
map
J's Freeview map
terrain
J's terrain plot
waves
J's frequency data
J's Freeview Detailed Coverage
Select more comments
Your comment please