Want to run a phase two local TV station? You can apply now

Brian Butterworth published on UK Free TV
Ofcom has asked for bids for the second round of local TV stations today.

These are at

Aberdeen
Ayr
Bedford
Carlisle
Derry/Londonderry
Maidstone
Plymouth
Reading
Stratford upon Avon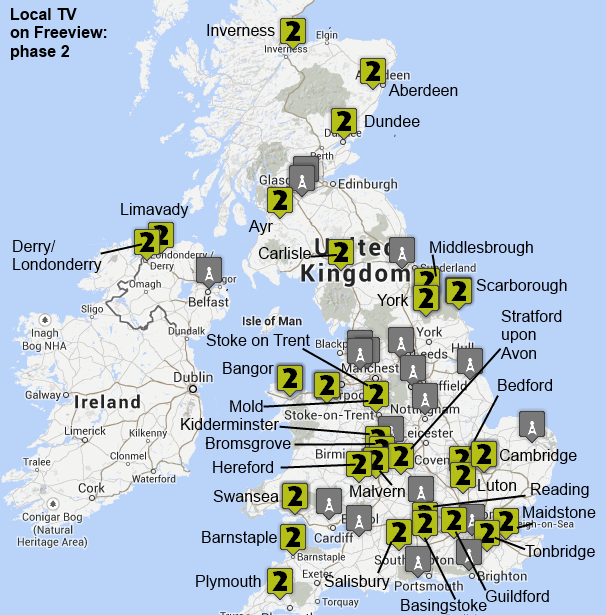 It is notable that Bangor, Cambridge, Middlesbrough, Mold, Scarborough, York and Swansea are not on the list.
The closing date for applications for
Bangor
,
Cambridge
,
Middlesbrough
, Mold, Scarborough, Swansea and York is 11 September 2013. It is possible that there may be
channels
in phase two locations on air by the end of 2014.
In addition,
Ofcom
is proposing to merge the Maidstone and Tunbridge licences into one licence, and also to merge Hereford and Gloucester into a single licence area.
Comments
Thursday, 20 June 2013
C
Charles Stuart
10:54 PM
Bristol

Have Ofcom published the transmitter power details for each of the phase 1 sites and/or each of the phase 2 sites? Have any of the phase 1 franchisees opted to use better mast positions than was assumed in the forecast maps? If yes, how will these changes affect the areas where reception is possible?

Charles Stuart's 159 posts
Charles's:
map
C's Freeview map
terrain
C's terrain plot
waves
C's frequency data
C's Freeview Detailed Coverage
Friday, 21 June 2013

CCharles Stuart: The transmitter powers are as per the "reference offer" document the Arqiva produced for Ofcom: http://www.ofcom.org.uk/s….pdf

Comux - Homepage | Comux - (see Ofcom | Ofcom awards local TV 'multiplex' licence ) has not asked to change any of the locations in their bid.

They can't really - the interleaved frequencies are as they are because they are interleaved...

Briantist's 38,899 posts
Sunday, 30 June 2013

Actually, they are advertising for the locations you say are not on the list. The closing date for applications being 11 September 2013. The remaining 23 locations in the list to be advertised, in batches, over the next year.

Ofcom | Ofcom starts second phase of local TV licensing

jj20x's 2 posts

jj20x: Yes... I have corrected the article.

Briantist's 38,899 posts

Briantist: Indeed, I noticed the changes earlier. Although perhaps the location markers showing as "3" on the map could also be updated to avoid any confusion.

jj20x's 2 posts

jj20x: Thanks. Yes, indeed. I updated the interactive map[1], but not the grab of it shown above...

[1] Local television on Freeview | ukfree.tv - 10 years of independent, free digital TV advice

Briantist's 38,899 posts
Wednesday, 3 July 2013

I thought Shrewsbury and Telford were proposed to run local TV channels.
Were the companies with applications for licences rejected by Ofcom or something?
Could they re-apply or anyone else apply for a licence in the future?
And how soon could the winning licence get on the air? (SJ294530)

Stuart Owens's 156 posts
Sunday, 22 September 2013

how far down the list is salisbury for local tv and local dab

david's 66 posts
Your comment please