Digital UK on Freeview HD channel numbers: "we can not do that, sorry"

Brian Butterworth published on UK Free TV
As I am sure you will know, if you have purchased yourself a Freeview HD box or TV, the actual HD channels are all sat together at the end of the guide, starting on channel 101.

This compares somewhat favourably to the seemingly random numbers provided on some other digital platforms.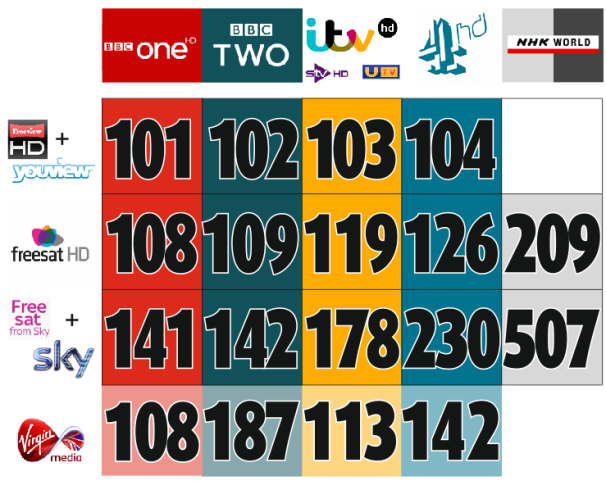 However, when the public were asked "where would you like to find HD channels", the answer came back a resounding "on the normal channel numbers please".

So, is Digital UK going to do this? No.

The problem is that the existing Freeview HD services are not directly replacements for the standard definition channels, as I covered recently in I've got an HD TV ... why can't we have high definition channels in place?.

BBC One HD currently existing in three versions that are suitable for "substitution", the versions for Scotland, Wales and Northern Ireland.

BBC Two HD is currently the English version, so can be substituted only in England.

ITV has 17 standard definition versions, only four of which are in HD: Granada, Central West, Meridian East and London. Outside these areas in England, no substitution could be made.

STV has 4 standard definition variants, but one HD service: Central West, so only Glasgow could be switched automatically.

UTV is OK; it has one SD version and one HD version.

Channel 4 has 6 SD versions, but one HD version: the London (advertisements) service.

Digital UK will reconsider the introduction of substitution late 2014 or early 2015.

For more, see Statement on proposals for the Freeview HD genre and on amendments to Digital UK's LCN Policy Published: 7 August 2013.
Comments
Thursday, 8 August 2013

thank god for NHK world the only programs that makes any sense

nick's 38 posts

We have a very bad system here in the UK, seems only Sky have control over the box product and system.

David's 306 posts

David: that's vertical integration for you!

Briantist's 38,899 posts

My older Sony Bravia does rearrange the Freeview channel order on a prompted retune but my newer one and my Panasonic boxes don't so I don't have a big problem with the order & I'm certainly not tempted to pay Rupert Murdoch to sort it for me! Being retired I just waste 10 mins reordering them. I sometimes switch to a regional variant of the local news (on Sat) when BBC 1 HD goes off line briefly in the morning (interesting to see what is happening in Glasgow, Belfast or Cardiff) but otherwise I keep BBC 1 London SD next to BBC 1 HD on the newer Sony Bravia and the Panasonic STBs so that I can switch back & forth easily. I have all the BBC channels first followed by all the ITV channels followed by the Channel 4 & 5 variants with the rest in alphabetical order and finally the national regional variants of the BBC & ITV so I can find my way round & I leave the shopping rubbish where it ends up. I do find that I watch much more BBC and less commercial TV than I did before so I probably see more German & Czech adverts (on Sat) than British ones these days and I probably miss out sometimes but you can't watch everything can you! By the way Nick I agree that the quality of the pictures on NHK HD are pretty good but I can't say I've been divinely inspired by their programmes. Still whatever turns you on!

Neil Bell's 106 posts

I think the thing about NHK is that if you have a SD box its the same number.

David's 306 posts

Neil i just find their programmes to be of a bygone age with a touch of innocence

nick's 38 posts

Nick I should be more patient & open minded. Maybe I need to nominate 1 channel each week and spend more time watching it at the expense of one of my more usual channels. I had a 10 minute look just now at NHK World HD and it was an interesting programme about geikos and their training. Mind you I'm not certain how this furthers the argument about where SD & HD versions of channels should be juxtaposed.

Neil Bell's 106 posts

back on topic the HD channels are best served by being close to bbc 1 etc and not in the hundred bracket
a bit of common sense i feel

nick's 38 posts
S
Stoddy75
5:50 PM
Whitley Bay

I'm glad my FreeviewHD box allows channel swapping. All my HD channels are now located on 1, 2, 3 and 4 instead of 101, 102, 103 and 104.

Shame that there aren't more regional variations with the HD channels.

Stoddy75's 2 posts
Stoddy75's:
map
S's Freeview map
terrain
S's terrain plot
waves
S's frequency data
S's Freeview Detailed Coverage

I agree with Nick but its not that simple. If you have a full HD TV/STB and you have a simulcast like BBC 2 SD & HD then you don't need the SD channel but if you can't receive HD broadcasts then its the SD version you need. In London you need both BBC 1 HD and BBC 1 London SD but in Ulster their HD & SD versions of BBC 1 are simulcast so you only need one. At the moment there are only 4 HD channels plus regional variations on Freeview/Freesat so keeping both HD & SD channels alongside each other is acceptable but next year there will be more. A good example for the future in the UK is that on my Sat receiver I have about 60 distinct German channels of which about 18 are HD (They too have a lot of regional variations within each Land so the actual numbers are much higher than this). I simply store one variety or flavour of each station in my German favourites - HD if its available - SD if not - sorted in alpha order so I can find them and it is just about manageable.

Neil Bell's 106 posts
Select more comments
Your comment please