Do not forget that 4G starting soon in 20 cities and towns really soon

Brian Butterworth published on UK Free TV
The actual 4G services will start very soon in these places:

Birmingham, Bradford, Brighton, Coventry, Edinburgh, Glasgow, Guildford, Leeds, Leicester, London, Manchester, Merseyside, Newbury, Newcastle upon Tyne, Nottingham, Paisley, Sheffield, Slough, St. Albans, York




At800, the people tasked with restoring Freeview to anyone who finds they have problems, have today launched a campaign to reach those people in the UK who are "offline" with a novel campaign to send a "tweet" by postcard for free.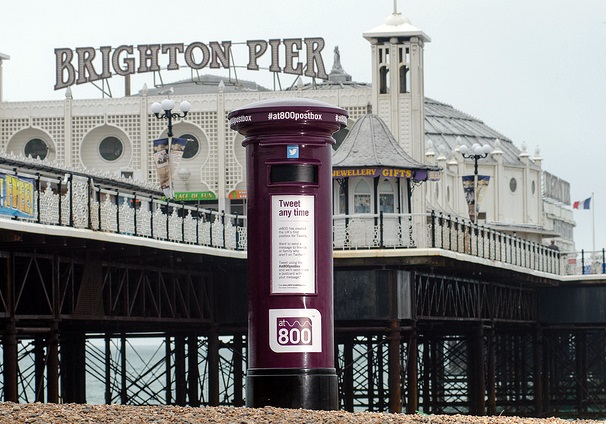 First you have to follow @at800tv on Twitter. Click on the link and then click the "Follow" button.

If you know someone who lives in the places listed above, tweet a message for them using the #at800postbox hash tag (that means put #at800postbox in your twitter message).

At800 will then send you a direct message on Twitter to get the details of the recipients name and address, and that you agree to the terms and conditions.

You find direct messages on Twitter this way:




Find out more about the service here - at800 Postbox
Comments
Tuesday, 20 August 2013

Thanks Brian. I'm on London CP and living in crawley with a loft aerial and a mains booster and have always had no problems bar the digital changeover so fingers crossed it stays that way

nick's 38 posts

I thought it was O2 that started this month and that EE was going already I'm not into this 4G as a user but noted my Tesco have had the dongles for sale for a while now for EE and O2 not on sale yet.

David's 306 posts

David: this is about the 800Mhz 4G services not the 1800MHz ones. Thus the mentions of 800 lots of times above.

Briantist's 38,899 posts
Wednesday, 21 August 2013
I
Ian from notts
7:50 AM
Nottingham

I don't expect much trouble from this myself in NG16 but what sort of area will these first lot of signals cover? Will there be a list of Phonemast Postcodes using 800 ? Anythinh in place to make it a simple check to see if they may be a problem?

Ian from notts's 253 posts
Ian's:
map
I's Freeview map
terrain
I's terrain plot
waves
I's frequency data
I's Freeview Detailed Coverage

Ian from notts: Right..

The maximum zone that it has been shown than "any effect at all" can happen from a 4G mast is about 1.5km.

In theory, the Ofcom Sitefinder system should carry details of 4G services. In practice, it may not as the system is not mandatory.

Sitefinder Mobile Phone Base Station Database

You can see your existing mobile phone masts by clicking on "Reception map" and then "Zoom in to home to see mobile phone masts" - see My Freeview | ukfree.tv - 11 years of independent, free digital TV advice .

There won't be a "postcode checker" because at800 don't think that they can produce a system that will be of any use.

The don't want people coming to a checker, putting in the postcode, being told "it's OK" and the next day getting data from the operators doing the "eight week notification thing".

Postcode zones (like your NG16) are too large compared to mast locations and even full postcodes - each covering 15 properties) in rural areas are too large to decent predictions for 4G issues.



Briantist's 38,899 posts

what about the people not on line that dont use twitter?

Ian's 497 posts
Ian's:
map
I's Freeview map
terrain
I's terrain plot
waves
I's frequency data
I's Freeview Detailed Coverage

Ian: can't send a tweet in the first place..

Briantist's 38,899 posts

Ian: call 0333 31 31 800 (local rate) or 0808 13 13 800 (free from landlines) - I found that at Contact at800 / DMSL | General Enquiries | at800 .

at800 are sending postcards to addresses that could be affected: Will 4G masts affect Freeview in my area? | at800

Mike Dimmick's 2,486 posts

These 20 cities are more than what O2 and Vodafone has publicised for launch and estimations by the end of the year!

Both Networks have commited to Leeds and London for launch day with a few extra.

This suggests O2 and Vodafone may hoping to launch in more areas before 1 October!

Notble exceptions for 4G 800 Cardiff, Bristol and Belfast not like EE 4G 1800 treatment as being amongst the launch city list!.

Three and EE 4G on 800 are behind Vodafone and O2 who playing catch up. Three by October from EE will be given a batch of 1800 spectrum!

Jamie's 11 posts

Jamie, it is not only Leeds and London for O2, I happen to know Bradford is the first.

David's 306 posts
Select more comments
Your comment please