The end is near for analogue radio... Part 3, satellite Freeview online and DAB

Brian Butterworth published on UK Free TV
Radio in the Sky
Looking back to
Astra UK Channels
in 1997, we can see one interesting development for radio was the inclusion of the BBC Radio
services
on the
Astra 1 analogue TV service
.
As each
transponder
could carry six associated audio feeds, UK
Gold
had
BBC World Service
and Radios 2, 4 and 5 Live in mono, and Living carried Radios 1 and 3 in stereo. In addition, Virgin Radio, which was a mono AM service could be heard in stereo from the Astra 1 satellites.
For this reason, it almost came by accident that on 1st October 1998, the new
Sky Digital
television service would also include lots of
digital
radio stations
. With an abundance of capacity and the radio stations could take advantage of the MPEG2 layer III audio system (aka "MP3") and provide many radio stations in high
quality
stereo. The inclusion of radio stations in the
channel
numbers also meant that listeners could tune into radio stations without any difficult tuning issues.
"Eureka"
Of course, the first "official" digital radio service developed out of the Eureka 147 project - see
DAB: an introduction to the Eureka DAB System and a guide to how it works
, which gave the world MPEG-1 layer II audio
MPEG-1 Audio Layer II
.
The BBC started
test
transmissions of
DAB
in January 1990, and its national DAB
multiplex
went on air in 1995.
The DAB service was thought of as a way of supplying superior quality sound for the existing five BBC
network
radio stations. However, the very high cost of receivers, around £800 back in 1998 (£1200 in today's prices). The BBC launched digital radio in the UK in 1995 followed by national commercial multiplex operator Digital One in 1998.
"Extending Choice"
However, as early as 1992, the BBC had published "Extending Choice", which proposed that the BBC stop chasing mass audiences, and provide high quality services to audiences that the commercial broadcasters were not. This first camge to fruition in September, 1998 (
BBC News - ENTERTAINMENT - BBC unveils digital TV
) when the
BBC News
24, Choice and Knowledge
channels
were announced, and that DAB would soon have
BBC Parliament
(an audio service), the Asian Network and a side-channels to back-up Radio Five Live.
Since then local DAB (digital radio) commercial services have become available offering non-national BBC Radio and ILR on a local basis.
Greg Dyke, the BBC DG in 2001
BBC News - TV AND RADIO - Dyke warns of digital backtrack
made a decision to launch three new networks, codenamed X, Y and Z. These became 1Xtra, 6Music and BBC7 (see
radio-now.co.uk
)
This was a strategic decision to remove DAB from being a "sound quality" proposal to one of "listener choice". However, DAB radios still cost £300 (£420 at today's prices).
Radio Freeview
So, it was quite fortunate for these stations that the big digital
terrestrial
balls-up that had been ONdigital (see
ONdigital Timeline - ONhistory
for more) resulted in the BBC having two DTT multiplexes to fill when the replacement service
Freeview
launched.
For quite some time, the second multiplex only carried
BBC FOUR
and
Cbeebies
, and there were plenty of bits left for all of the BBC national stations to be carried to most homes in very high quality.
As the new BBC radio stations came on air, they were also added to the digital
satellite
platform.
From 15 November 1999 the first national DAB commercial multiplex "Digital One" launched. This now adds another 15 national stations.
For those who are not happy with the provision of more services at lower bitrates, most UK radio stations can be listened to online at high quality. The unexpected popularity of listening to radio on Freeview has allowed many homes to sample stations that would otherwise have been exclusive to DAB. Now when people consider a DAB purchase, many "new" stations are already familiar.
The most recent figures show that 52.5% of the population tune in to digital radio every week: 65% of that is DAB, 15% on Freeview,
Freesat
and
Sky
, and 15% online. See
RAJAR DATA RELEASE | QUARTER 2, 2013
How many people are listening on long and medium wave?
Due to the cuts imposed on the BBC from the Licence Fee being frozen, the BBC is looking into removing the Long and Medium Wave services.
According to
BBC News - BBC set to cut ... 2017
"There will also be no reinvestment in long wave, which will lead to the end of Radio 4 on LW in the long term".
"The BBC says the eventual closedown of the Long Wave service is determined not so much by the digital
switchover
but a dwindling supply of valves used by the
Droitwich
transmitter
, owned and operated by Arqiva. At the last count there were only 10 left and their operating life is put at between one and 10 years" (from
Will the move to digital cut off my long-wave radio? - Telegraph
).
As part of the DQF process, four BBC local radio stations closed down on medium wave. At three of these there were no complaints, but at BBC Radio Mersyside, according to
BBC criticised for AM radio shut-down - Media - theguardian.com
600 listeners complained.
Using this as a baseline, 600 listeners from a potential 1,664,000 (from RAJAR) pairs of ears, makes 0.0361% of the population.
If we multiply this up by 53,205,000 (that RAJAR national 16+ figure) we get 19,200.
If there are
really
only 19,200 people listening to long and medium wave, then it's probably time to turn off the service.
If you look at it the other way, then a service proposal to cover 20,000 people in the UK from 73 transmitters wouldn't be regarded as economic.
It may also be worth noting that if you can't get your BBC radio stations from DAB, or satellite, or Freeview, or online: it is doubtful you are paying for a
TV Licence
.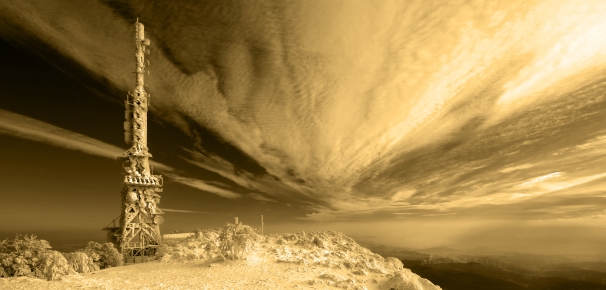 So why switch of FM/VHF?
In the last part,
The end is near for analogue radio... radio gets very high - Digital radio
the limited FM radio spectrum prevents the UK having more than 5 national FM stations.
DAB, with just two national multiplexes provides 25 stations. There is space reserved for a second national DAB service, which could add another 15.
In
London
, there are an additional three DAB multiplexes adding brining the total stations to over 55. Central Scotland has 45 stations.
Over the last few years, the BBC and commercial operators have been making the DAB local radio network match the FM local radio network -
Ofcom - Annex B. Local DAB build-out plans
. There are still a few areas of the UK to cover - notably Derbyshire and
West
Wales
- but both in car, and in home, DAB
reception
is as good as or better than FM.
But there are 758 FM transmitting masts in the UK, some carrying as many as 12 FM stations (
Black Hill (North Lanarkshire, Scotland) analogue radio transmitter
) This is a considerable cost for the radio broadcasters because DAB is as low as one-sixth of the cost of FM transmission.
"Transmission will be cheaper, too. DAB can be transmitted at lower
power
than today's FM and AM signals yet with no loss in geographic coverage, which means less cost to the broadcaster (and less power consumption means DAB is more environmentally friendly than conventional FM and AM)." -
WorldDMB - Frequently Asked Questions (FAQ)
The current plans are to announce a rolling switch off of VHF for the BBC and commercial broadcasters: the switch off will occur areas where digital radio use is highest. Community radio stations (which are not profit making) will continue on FM.
However, the recent success of the
Small Scale DAB The potential for lower-cost transmitting stations in support of DAB rollout
suggests that community radio could now be very cheaply provided by DAB too.
Now in 2013, you can grab a DAB radio from your local supermarket for £20
ASDA Portable DAB Radio - Radio - ASDA direct
- one sixtieths of the cost in 1998, there is little standing in the way of radio choice being available in every UK home.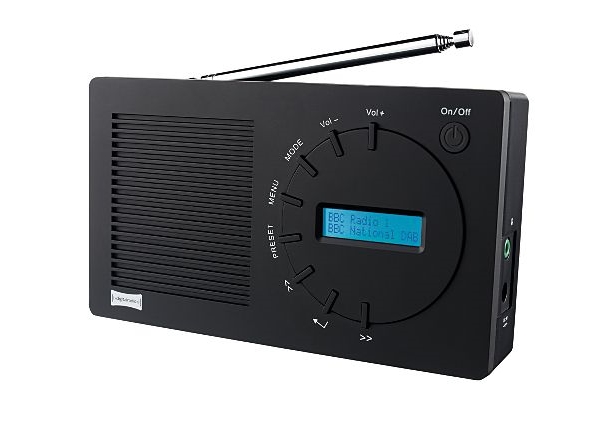 Comments
Friday, 30 August 2013

Actually I have found some DAB car radios do support traffic anouncements but is a useless feature in the UK.

Ironically some DAB car radios actually do support TA by using FM RDS.

Trevor Harris's 367 posts

Trevor Harris: TA is a bit of an old fashioned idea anyway. What's the point when you can use Waze or Google Maps Navigation?


Free GPS Navigation with Turn by Turn - Waze
Briantist's 38,908 posts
DaveCheltenham
11:58 AM
Cheltenham

Thanks Brian for providing some realism and making this a fact driven debate against some who seem to pluck absolute certainties out of the air.

I am now long in the tooth, once with golden ears and recall similar debates on the changeover from AM to FM and records to CDs. I was amazed when I built my Jason FM1 Tuner around 1959 by the sound quality where there were cries from many about the backward step it was and they would never transfer to FM as it was harsh and they liked the AM sound and refused to listen on FM. As we know, people got used to the higher fidelity sound.

In 1983 when CD players were first introduced, there was a similar experience. Many people liked records with their particular sound characteristic and refused to accept (and still do) that CD sound was a truer representation of the original. It was again a revelation to me as I had stopped buying records because of the very variable quality with all the attendant pops and crackles. I was accused of being too fussy and told I should just concentrate on the music.

Around 1990, I went to broadcasting house in London where there was a BBC Radio Exhibition and the Engineering Information was demonstrating how good FM was with a reference receiver and an A:B test of the studio feed to Wrotham and the reference receiver. It was not difficult to tell the off-air from the studio feed mainly by frequency response but more so by the signal to noise ratio. The first BBC Radio analogue transmissions from the Astra Satellite were a revelation in quality and signal to noise ratio far exceeding that of FM although they did get the channels reversed on the first day.

About 10 years ago I bought my first DAB receiver, a Technics ST-GT1000 and what a success it has been particularly for Radio 3 @ 192kbits/sec. Radio 4 is fine @ 128kbits/sec but would accept that Radios 1 and 2 are slightly better on satellite and Freeview. I completely accept the compromise of lower bit rates of some stations for the extended choice. As you pointed out Brian, Radio 3 HD can be listened via the internet and on my Squeezebox is another revelation. In addition having DAB in the car is a vast improvement in overall quality and choice. Traffic announcements work just fine as reverting to FM where DAB coverage is not complete.

Thanks again for your excellent informative site and comments.

DaveCheltenham's 35 posts
DaveCheltenham's:
map
D's Freeview map
terrain
D's terrain plot
waves
D's frequency data
D's Freeview Detailed Coverage

A £20 DAB radio! and just how long will that last in this throw away society?

It will also not replace the quality of the car radio or even work in the car. Nor will it come anywhere close to the main stereo in the living room. and what about the other 7 radios I have in the house? I don't want to listen in MONO.

If we have to have DAB forced upon us, has no one considered making DAB boxes that can be used at home like the ones for cars?

Ian's 497 posts
Ian's:
map
I's Freeview map
terrain
I's terrain plot
waves
I's frequency data
I's Freeview Detailed Coverage

Ian: No one is forcing DAB on you, but I understand the problem of upgrading so many radios around the house. We've 3 FM radios, plus an internet/FM/DAB in the kitchen, and its only gradually that will we be replacing them.

However, your car radio is easily upgraded to DAB, for about £70 at the moment. £20 is pretty reasonable for a DAB radio, and there is no reason that it should not last a while. I notice that Argos in 1985 were doing a Ferguson 4 band portable radio for £29.99, and Philips radio with cassette for £32.99 Vintage British Argos 1985 Catalogue - a set on Flickr - allowing for inflation, etc - that Philips would cost between £84 and £115! Consumer goods have hugely fallen in cost, and a Pure radio such as mine is available for around £99, which is much more capable.

The main stereo is actually not a problem to upgrade - there are plenty of DAB units to retrofit to large speaker systems, and in fact, you could run everything via your PC network or through an Ipod. The other sets are probably not worth upgrading, but prices have fallen hugely in the past couple of years, and of course natural wastage means an upgrade anyway.

FM is probably going to be with us for a while yet, in one form or another, but actually we tend to buy new stuff anyway - I'm sure you don't use a tape player much, and almost certainly thats been replaced by a CD player. That player will probably be upgraded to something else at some point, etc.

If that little £20 DAB radio has a line out, there is no reason why you cannot hook it up to older equipment (providing they have a line in), and thus upgrade your equipment at relatively little cost.

MikeB's 2,579 posts

@ Trevor Harris

Germany has launched a traffic system on DAB:

http://www.worlddab.org/n….pdf

Mark's 181 posts

What kind of sound quality is a £20 DAB radio going to give? probably the same as a £5 FM radio will, in other words crap. If the BBC stop transmitting on FM I will stop listening simple as that.

Ian's 497 posts
Ian's:
map
I's Freeview map
terrain
I's terrain plot
waves
I's frequency data
I's Freeview Detailed Coverage

Ofcom coverage maps claim that DAB already equals FM coverage in this area. NOT TRUE. Unless there are as yet unpublished plans for further infill DAB relays, low-lying and sparsely-populated areas will be worse off after FM and AM switch-off. It will then be too late to voice concern. We will be informed that we need an external aerial on a long pole... Not the same as current FM/AM reception on a battery-friendly portable radio almost anywhere on the estate or in the wine cellar ... If DAB coverage genuinely matches FM (and in fringe areas AM) reception, the change will be acceptable. SFNs, text info, audio quality etc are subsidiary issues to the primordial one of reception equivalent to current FM / AM coverage. It is legitimate to scrutinise official claims, both on grounds of current empirical observation and of projections based on official publications.

michael's 869 posts

michael : The problem really is that DAB coverage has to be better than that on FM if it is to be an acceptable replacement. It is quite normal, at least in the Derby/Derbyshire area for FM to have varying amounts of hiss, dropping into mono at times when driving or walking about. Such a variation in signal on DAB is likely to result in "no signal" evey hundred yards in some areas.It took quite a long time before BBC local radio on FM increased power from a few watts to several kilowatts to achieve acceptable coverage. It remains to be seen if DAB power is to be stepped up in record time to service mobile listening!

KMJ,Derby's 1,811 posts

michael: The Ofcom coverage maps reflect the position a) when 90% rollout has been achieved and b) the DSO position, as outlined in the MoU.

They do not reflect the current position on any of the local multiplexes and nobody is claiming that FM can be switched off with current DAB coverage.

There are one or two exceptions, such as Leeds, where 96% coverage has now been reached, but most local muxes need investment as agreed in the MoU.

There is currently only one local DAB transmitter on-air in North Devon but the Ofcom map shows many more than this for the DSO position.

Mark's 181 posts
Select more comments
Your comment please