The end is near for analogue radio... Part 3, satellite Freeview online and DAB

Brian Butterworth published on UK Free TV
Radio in the Sky
Looking back to
Astra UK Channels
in 1997, we can see one interesting development for radio was the inclusion of the BBC Radio
services
on the
Astra 1 analogue TV service
.
As each
transponder
could carry six associated audio feeds, UK
Gold
had
BBC World Service
and Radios 2, 4 and 5 Live in mono, and Living carried Radios 1 and 3 in stereo. In addition, Virgin Radio, which was a mono AM service could be heard in stereo from the Astra 1 satellites.
For this reason, it almost came by accident that on 1st October 1998, the new
Sky Digital
television service would also include lots of
digital
radio stations
. With an abundance of capacity and the radio stations could take advantage of the MPEG2 layer III audio system (aka "MP3") and provide many radio stations in high
quality
stereo. The inclusion of radio stations in the
channel
numbers also meant that listeners could tune into radio stations without any difficult tuning issues.
"Eureka"
Of course, the first "official" digital radio service developed out of the Eureka 147 project - see
DAB: an introduction to the Eureka DAB System and a guide to how it works
, which gave the world MPEG-1 layer II audio
MPEG-1 Audio Layer II
.
The BBC started
test
transmissions of
DAB
in January 1990, and its national DAB
multiplex
went on air in 1995.
The DAB service was thought of as a way of supplying superior quality sound for the existing five BBC
network
radio stations. However, the very high cost of receivers, around £800 back in 1998 (£1200 in today's prices). The BBC launched digital radio in the UK in 1995 followed by national commercial multiplex operator Digital One in 1998.
"Extending Choice"
However, as early as 1992, the BBC had published "Extending Choice", which proposed that the BBC stop chasing mass audiences, and provide high quality services to audiences that the commercial broadcasters were not. This first camge to fruition in September, 1998 (
BBC News - ENTERTAINMENT - BBC unveils digital TV
) when the
BBC News
24, Choice and Knowledge
channels
were announced, and that DAB would soon have
BBC Parliament
(an audio service), the Asian Network and a side-channels to back-up Radio Five Live.
Since then local DAB (digital radio) commercial services have become available offering non-national BBC Radio and ILR on a local basis.
Greg Dyke, the BBC DG in 2001
BBC News - TV AND RADIO - Dyke warns of digital backtrack
made a decision to launch three new networks, codenamed X, Y and Z. These became 1Xtra, 6Music and BBC7 (see
radio-now.co.uk
)
This was a strategic decision to remove DAB from being a "sound quality" proposal to one of "listener choice". However, DAB radios still cost £300 (£420 at today's prices).
Radio Freeview
So, it was quite fortunate for these stations that the big digital
terrestrial
balls-up that had been ONdigital (see
ONdigital Timeline - ONhistory
for more) resulted in the BBC having two DTT multiplexes to fill when the replacement service
Freeview
launched.
For quite some time, the second multiplex only carried
BBC FOUR
and
Cbeebies
, and there were plenty of bits left for all of the BBC national stations to be carried to most homes in very high quality.
As the new BBC radio stations came on air, they were also added to the digital
satellite
platform.
From 15 November 1999 the first national DAB commercial multiplex "Digital One" launched. This now adds another 15 national stations.
For those who are not happy with the provision of more services at lower bitrates, most UK radio stations can be listened to online at high quality. The unexpected popularity of listening to radio on Freeview has allowed many homes to sample stations that would otherwise have been exclusive to DAB. Now when people consider a DAB purchase, many "new" stations are already familiar.
The most recent figures show that 52.5% of the population tune in to digital radio every week: 65% of that is DAB, 15% on Freeview,
Freesat
and
Sky
, and 15% online. See
RAJAR DATA RELEASE | QUARTER 2, 2013
How many people are listening on long and medium wave?
Due to the cuts imposed on the BBC from the Licence Fee being frozen, the BBC is looking into removing the Long and Medium Wave services.
According to
BBC News - BBC set to cut ... 2017
"There will also be no reinvestment in long wave, which will lead to the end of Radio 4 on LW in the long term".
"The BBC says the eventual closedown of the Long Wave service is determined not so much by the digital
switchover
but a dwindling supply of valves used by the
Droitwich
transmitter
, owned and operated by Arqiva. At the last count there were only 10 left and their operating life is put at between one and 10 years" (from
Will the move to digital cut off my long-wave radio? - Telegraph
).
As part of the DQF process, four BBC local radio stations closed down on medium wave. At three of these there were no complaints, but at BBC Radio Mersyside, according to
BBC criticised for AM radio shut-down - Media - theguardian.com
600 listeners complained.
Using this as a baseline, 600 listeners from a potential 1,664,000 (from RAJAR) pairs of ears, makes 0.0361% of the population.
If we multiply this up by 53,205,000 (that RAJAR national 16+ figure) we get 19,200.
If there are
really
only 19,200 people listening to long and medium wave, then it's probably time to turn off the service.
If you look at it the other way, then a service proposal to cover 20,000 people in the UK from 73 transmitters wouldn't be regarded as economic.
It may also be worth noting that if you can't get your BBC radio stations from DAB, or satellite, or Freeview, or online: it is doubtful you are paying for a
TV Licence
.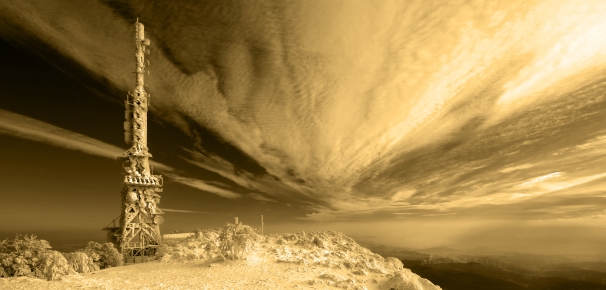 So why switch of FM/VHF?
In the last part,
The end is near for analogue radio... radio gets very high - Digital radio
the limited FM radio spectrum prevents the UK having more than 5 national FM stations.
DAB, with just two national multiplexes provides 25 stations. There is space reserved for a second national DAB service, which could add another 15.
In
London
, there are an additional three DAB multiplexes adding brining the total stations to over 55. Central Scotland has 45 stations.
Over the last few years, the BBC and commercial operators have been making the DAB local radio network match the FM local radio network -
Ofcom - Annex B. Local DAB build-out plans
. There are still a few areas of the UK to cover - notably Derbyshire and
West
Wales
- but both in car, and in home, DAB
reception
is as good as or better than FM.
But there are 758 FM transmitting masts in the UK, some carrying as many as 12 FM stations (
Black Hill (North Lanarkshire, Scotland) analogue radio transmitter
) This is a considerable cost for the radio broadcasters because DAB is as low as one-sixth of the cost of FM transmission.
"Transmission will be cheaper, too. DAB can be transmitted at lower
power
than today's FM and AM signals yet with no loss in geographic coverage, which means less cost to the broadcaster (and less power consumption means DAB is more environmentally friendly than conventional FM and AM)." -
WorldDMB - Frequently Asked Questions (FAQ)
The current plans are to announce a rolling switch off of VHF for the BBC and commercial broadcasters: the switch off will occur areas where digital radio use is highest. Community radio stations (which are not profit making) will continue on FM.
However, the recent success of the
Small Scale DAB The potential for lower-cost transmitting stations in support of DAB rollout
suggests that community radio could now be very cheaply provided by DAB too.
Now in 2013, you can grab a DAB radio from your local supermarket for £20
ASDA Portable DAB Radio - Radio - ASDA direct
- one sixtieths of the cost in 1998, there is little standing in the way of radio choice being available in every UK home.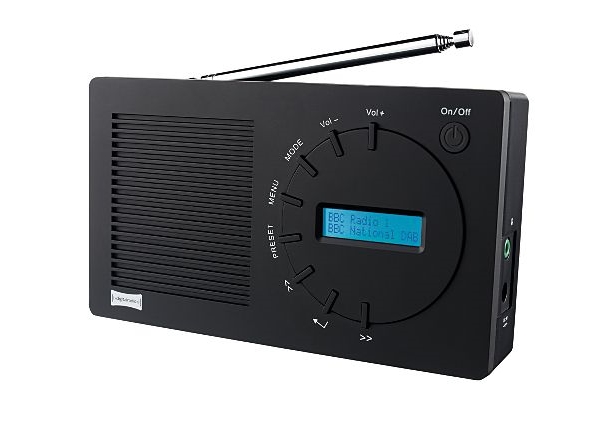 Comments
Saturday, 21 December 2013

errrr......Trevor, it was called "The Light Programme" ...

Posh people listened to Stravinsky etc on "The Third Programme".
They were so posh that they couldn't tell whether the snap-crackle-pop on Medium Waves was part of the score or not :-)

michael's 869 posts

"Consumers should be educated and encouraged to buy DAB radios which are DAB+ compatible, so that when that standard eventually starts in the UK they will not be caught out. Such radios are available right now." TonyB

Tony, unfortunately the horse has bolted. There has been more public reticence than expected to invest in DAB radios. The planned demotion of FM to local and community use has now been postponed indefinitely. It would be unrealistic to now insist that all who bought DAB radios in good faith should dispose of them and replace them with DAB+ compatible receivers. The powers-that-be may well meantime deeply regret the premature choice of DAB, but they are stuck with it now for the foreseeable future. I hope they will soften the digital dogmatism and agree with the industry and listeners on a cost-effective compromise : FM for BBC 1,2,3,4, local and perhaps 5; the choice of either DAB or FM for commercial operators and other BBC output, as available spectrum permits, with no obligation to duplicate on the other platform. DAB could then allow better bitrates and counter one of the valid criticisms.


michael's 869 posts

michael: That's all very well but while there are many DAB radios there are few DAB tuners. In addition we have poor coverage (both FM and DAB) where I live and no local BBC radio station.

GEM's 14 posts

michael:

Radio 5 Live is never going to be on FM, there are no available slots for it. Radios 1, 2, 3 & 4 are never going to be removed from DAB - some people have poor FM reception of these networks.

Switchover hasn't been abandoned, far from it. Vaizey himself said that he expects the switchover to happen around 2020. This is what he actually said:

"I absolutely believe that the future of radio in this country is digital. We cannot go backwards.

"The radio listener will get a much better service, and better functionality. There will be far more choice, with many more stations. The UK is at the forefront of developments in digital radio. This package of measures is intended to cement this and herald in a digital age, as and when the consumer is ready."


Mark's 181 posts

Trevor: I well remember the Light programme carried The Archers, also Listen with Mother and Woman's Hour which later transfered to the Home service. Before Waggonners Walk was introduced on Radio 2 there was a serial called The Dales, formerly Mrs Dale's Diary. In the evening at 7pm on the Light programme there was Radio Newsreal, the start of which triggered a quick tuning in of Radio Luxembourg for some decent music!

KMJ,Derby's 1,811 posts

Typo, that should read Radio Newsreel, of course!

KMJ,Derby's 1,811 posts
Sunday, 22 December 2013

Mark, we all know there is no ideal solution. We all know that "they" want us all to embrace DAB. Vaizey now accepts that there are too few converts for analog to be displaced by DAB just yet. Vaizey's claim that "The UK is at the forefront of developments in digital radio." is patently deceptive when others are developing DAB+. "This package of measures is intended to cement this and herald in a digital age, as and when the consumer is ready." This suggests consumers are judged to be too dumb to understand that the Government knows best. Government must now find a compromise which best meets the conflicting preferences both of broadcasters and of listeners. There is not enough spectrum for DAB alone to meet all needs and many more relays would be needed to meet current FM coverage. There are plans for more DAB relays, but given the higher frequency, many more would be needed than for FM equivalency. The FM and DAB spectrums together would allow the best mix of services; the allocation of specific services to FM or to DAB would ideally be a function of the best provision and coverage.

A local independent station has just started here on a local FM relay - surprisingly not on DAB, presumably mindful of audience and cost issues. Because of topography, local BBC can only be received on Medium Waves. DAB is required by statute to meet FM coverage. As BBC local on FM is not receivable here, neither will DAB be. If AM is discontinued, local BBC will only be receivable via internet - no longer on a domestic portable. I am pro-DAB, but have doubts as to whether technical and cost issues will allow the Brave New DAB World to alone offer the coverage and portable and mobile reception of current FM and AM. There will be many winners, but also many losers.


michael's 869 posts
Monday, 23 December 2013

michael: The Voice (North Devon) is on both FM & DAB.

DAB and DAB+ services can be broadcast alongside each other on the same multiplex. "DAB" is the generic term for the technology but the UK broadcasters can use DAB+ on the existing transmitters when enough sets become available.

The Government has announced funding to build out the local DAB transmitter network to FM equivalence by 2017.

There is a large capital cost involved in continuing FM into the 2020s, most of the transmitters will need replacing as they will have reached the end of their useful life.

Mark's 181 posts

Mark: I believe michael is referring to reception in Ilfracombe, where the FM relay for Voice has started but not a DAB relay.

Steve's 2 posts
Steve's:
map
S's Freeview map
terrain
S's terrain plot
waves
S's frequency data
S's Freeview Detailed Coverage

Thanks for the clarification Steve.

The rollout of the North Devon DAB multiplex is not a matter for The Voice, but this multiplex will be available in Ilfracombe by the end of 2015.

Mark's 181 posts
Select more comments
Your comment please