The end is near for analogue radio... Part 4, the local radio to do list

Brian Butterworth published on UK Free TV
As we saw from part one, radio started out as a regional services. From this national networks were added. Then from 1969 onwards, local radio was added.

However, running a network of local radio stations, all with their own output, staff, presenter and news has always stretched the budget of individual stations a little bit thin.

This is as true for BBC stations, which share a small proportion, 4.6% of the TV Licence (£114.7m on content, £9.9m on distribution, £27.9 on infrastructure, making £152.5m), as it is for local commercial stations that fund themselves from adverts.



DAB local radio
Almost all of the country does now have a local radio
DAB
service - see
List of all DAB multiplexes
, but there are still some on the "to do very soon" list.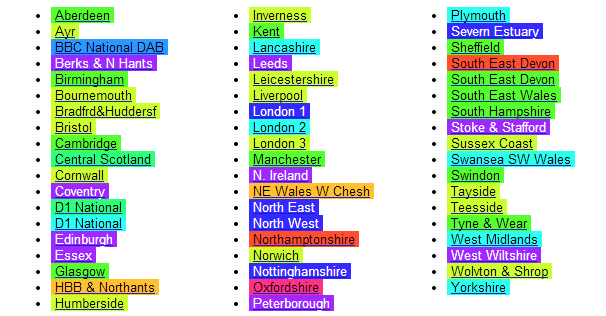 The "missing" services cover 5,583,000 people, which is about 9% of the UK population.
These are:
Cumbria
- 408,000 people
Derbyshire
- 652,000 people, Now
Digital
(East Midlands) Limited
Gloucestershire
- 498,000 people, MuxCo (Gioucestershire) Limited
Hereford and Worcester
- 501,000 people, MuxCo (South Midlands) Limited
Lincolnshire
- 550,000 people, MuxCo Lincolnshire Limited
Mid and West Wales
377,000 people, MuxCo
Wales
Limited
North Yorkshire
- 531,000 people, MuxCo North Yorkshire Limited
Somerset
- 444,000 people, MuxCo Somerset Limited
Suffolk
- 541,000 people
Surrey
about 1.085 million people, MuxCo Surrey and North Sussex Limited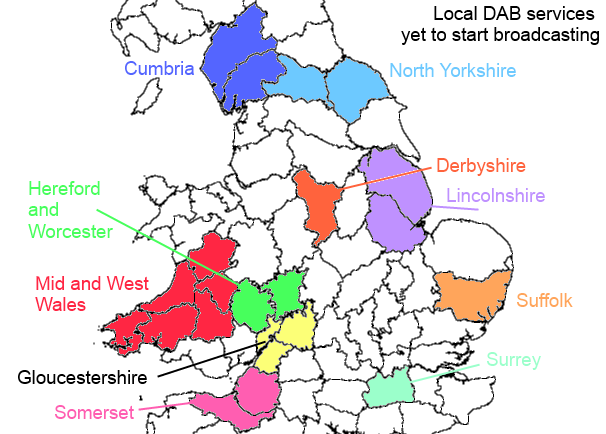 Why can't we have local radio on Freeview?
The
Freeview
service is provided on six
Multiplexes
. Like the DAB multiplexes, these services provide a large number of
channels
together on a single broadcast.
The three "commercial" multiplexes operate a UK wide service, and are therefore unsuitable for local radio. One of the "public service" multiplexes is for high definition TV services only.
This leaves the BBC and Digital 3+4 multiplexes. However, even though these services are "regional", they each cover many "local radio" areas. It would therefore be impracticable to add so many local stations to either
multiplex
.
However,
Local television on Freeview
is coming. These services are designed to provide a
local TV
service to specific local areas. It may be possible for each of these multiplexes to have local radio added to them.
Why can't we have BBC local radio on Freesat or Sky?
The additional cost for the BBC to add the 39 local radio stations not on digital
satellite
(BC
London
94.9 is already there) to the
four DVB-S mode transponders
would probably be marginal.
However, the BBC does have to currently pay
Sky
a large fee to add channels to the Sky EPG, so this would be perhaps unreasonably expensive (see
Government to stop Sky charging public service broadcasters for "retransmission"
).
And whist the BBC owns
Freesat
, it would probably not be worth the bother of up linking 39 radio streams if Sky viewers could not also benefit.
See also
BBC - Annual Report 2012/13 - Expenditure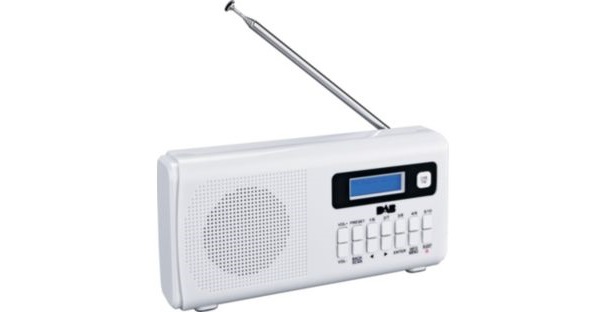 Comments
Saturday, 6 September 2014

MikeB seems confused between digital audio and digital transmission a digitally recorded (or re-mastered) CD broadcast on FM or AM is broadcast in analogue whether Frequency Modulation or Amplitude Modulation. As for the implied vast amount of DAB receivers in use the percentage listening to DAB (or DAB+ if/when available in UK) is still only 28% irrespective of transmitter coverage after 10 years!. We are stuck with DAB so the government in its ignorance can flog-off spectrum to phones etc, companies - no other reason as even Ofcom now have to admit the low bit-stream rate makes for poor reproduction when properly monitored which frequency modulation easily beats and even the quality of such as Radio 4 BBC and Radio 1 RTE on long wave match up to. But what of those wanting to listen to European stations, after all we are in the EU are we to become 'little englanders' as regards being isolated into regions with no overseas stations to hear on our heavy battery drain DAB 'bricks' or possibly DAB+ 'bricks' which use considerably more electricity than our AM/FM radios at a time the EU wants to save energy - not waste it. Also remember the BBC and Ofcom flatly refuse to acknowledge the extra cost of equipping and running all the hundreds of digital senders compared with AM/FM giant - but more economical - masts. On the whole DAB and DAB+ stations are far more expensive to run and receive than FM and even such as Radio 4 LW at a time digital quality limits are obvious by demonstration. I live in south Leics and recently work on Droitwich R4 LW has taken it off the air - however, if Droitwich goes off-air I still can hear a lower but acceptable signal from Westerglen in Scotland - try that with DAB or DAB+! most listeners are not busy trying to keep up with the finer points of sampling rates on FM or bit-rates on DAB, they want a decent signal and I reckon with all the claims of digital versus analogue the proof is in the abysmal sales of digital receivers, the failure of DAB the non-show ('cause they are far too expensive anyway) of DRM sets for the very limited amount of DRM (usually 30 minutes) programmes. Mr & Mrs Normal want decent FM and AM (for their local community MW stations) Forget about the analogue switch-off the trade don't want to loose all their listeners and the listeners are not going to be bullied.

Watlingfen's 38 posts
Saturday, 22 November 2014

Re comments K.M.j Derby and his on FM
I find the suggestion that back ground hiss is tolerable on FM totally abhorrent Does he really think that some one with a 7:1 capable AV amp and speakers would be happy hearing any kind of back ground noise when replacement value of the amplifier and speaker system exceeds £6ooo + cabling and well installed FM Arial (8 element yagi) I say to ditch the lowest common denominator approach as proposed by him and for the BBC to continue providing the best possible quality content on there signal and then it is up to end user to extract cleanest sounding programming which is how it has been for as long as I have used FM and yes I do use DAB but need a 4 element yagi at commuting distance from Cambridge The FM yagi pulls in BBC London cleanly from Wrothem in Kent. Also a point forgotten is the fact that few cars have DAB tuners so how are folk to adapt when car audio system is integral with cars dashboard the common sense way might to have a low power convertor that re-modulates DAB content to the FM band 1 or outputs the audio via a wire so that all existing in car systems can reproduce the FM replacement service and it could be a simple add on since many in car systems now have a media input jack for use with I players and the like.

G.lewendon's 29 posts
Sunday, 23 November 2014

It is unrealistic to speculate on the possible end of analogue radio (AM and FM) as DAB and DAB+ have singularly failed in UK and the digital lobby still refuse to actually tell us what DAB costs both in reception and transmission. We can sparate satellite and cable transmission/reception from this folly because even BT can't crunch the numbers to make digital TV box reception a practical aim. As for WiFi 'hot spots' which rely on uncensored ISPs - what about car reception.Even if the average listener is happy being reduced to UK only and UK re-broadcast transmissions to a 'brick' that uses batteries like no normal transistor radio ever did - this after decades of world reception (Short Wave seems to be conveniently ignored from this conversation stream). If, as it seems the in thing is to push along a dead elephant (DAB and DAB+) rather than a ride on a race horse then unless real costs of digital are honestly published together with an unbiased list of pros and cons (which will show to true real disadvantages of DAB or DAB+ then how can anyone purporting to be 'in the trade' (unless agitating the excrement) sugest a less radio for more money plan ?

Rog Parsons's 38 posts

Analogue radio listening as a proportion of the total is reducing every year. In Sept 2014 the FM/AM percentage of total listening was 56.4% (down from 59.6% in Sept 2013). Some of this share is going to DAB and some of it is going to online & digital TV listening. The future of radio listening will be a combination of DAB, online and digital TV, but I don't think FM will be switched off before 2024.

At this rate of reduction FM/AM listening will be below 50% of total listening by the end of 2016, and below 25% by 2024.

mark's 181 posts
N
nickwilcock
4:05 PM
Witney

DAB has yet to make much market penetration into the in-car arena. Neither will most people be happy with a nasty little add-on box with trailing cables.

DAB car radio is not a fit/form/function replacement for analogue, because it uses totally different frequencies and will need a new antenna system, which (apart from tacky, stick-on windscreen antennae) could well be an expensive item to install.

Sorry, digital geeks, but £000s for a different radio and the potential of 'bubbling mud' isn't going to appeal to the majority.

nickwilcock's 24 posts
nickwilcock's:
map
N's Freeview map
terrain
N's terrain plot
waves
N's frequency data
N's Freeview Detailed Coverage

mark: I agree, thats the trend - in London is already above 50% for digital. FM isn't going to disappear any time soon, but its not going to be the main means of radio listening nationally for much longer.

nickwilcock: DAB wasn't generally put into cars as standard for years, but now most new cars will have the option, or have then as standard. DAB coverage is also being extended to fill the gaps, so we are less likely to hear 'bubbling mud' (although the hiss of analogue isn't great either).

In fact mobile radio is with us now, and for many drivers, they are already streaming radio direct to their car stero's - in fact BMW is now including such a system in many of their cars, and I suspect others will follow.

I'm not a digital geek, and I suspect Mark isn't either. Personally, i'm happy with whatever works for the particular person, but Mark has laid out the facts - the trend away from analogue is clear.

MikeB's 2,579 posts
Monday, 24 November 2014

I am curious about streaming mobile radio via 3G or 4G. What is the subscription cost for sufficient bandwidth to listen for many hours a day? In less populated areas mobile signals are patchy, as is DAB (and even FM to a lesser degree). In order to attain acceptable nationwide coverage, a lot of infill relays will be necessary, which is not an attractive option for commercial operators.

michael's 869 posts
Sunday, 30 November 2014

Surely DAB or DAB+ as now the government after taking its orders from Strasbourg are trying to woo the digital listener (1 !) is a contradiction to internationalisation and the 'global market' as it restricts DAB receivers (I mean rereal DAB receivers not WiFi Internet 'radio' or Satellite) to very restricted regional muxes . Radio in UK did NOT begin as regional stations as such but essentially small stations with limited range on paper but 2LO London could be picked-up on a long wire aerial (quite common then) in the Midlands and Hampshire , 2MT Writtle Nr.Chelmsford was getting reports even from Scotland (because few broadcast stations we on air so these original broadcasters were not 'regional' stations the British Broadcasting Company later set up city relay stations in Birmingham, Newcastle, Cardiff, Plymouth etc, at deliberate low power (typically 100 to 200 watts) but some years after Marconis MZX (15kW) later 2MT or 2LO which were never intended simply for the capital or Essex alone but hoped to be received much further out - unlike DAB (or DAB+) which is far more restricted far from international or in any way global . We are, by accepting 'bubbling mud' also accepting a very restricted service our fathers and grandfathers didn't have to put up with listening on Medium , Short and Longwave to a vast choice of even
US/Canada or Australian radio whereas we have only what the muxes agree to put out in our area - nowt else!
We seem to have not freed ourselves with the digital technology but rather much more restricted what we can listen to and because DAB sets use much more electricity , whilst such as BBC naively still push DAB , flogging a dead horse, but spending more and more licence money on rather 'passing water into the wind' there seems not sensible conclusion . However while the MW seems to be going over to LPAM in UK though on the continent some national stations remain there, is hope for all analogue radio - the FM band is becoming overcrowded and extending it to 86 mHz or lower impractical as most current receivers only go down to 88.5 mHz. DAB is 'bubbling mud' - far from a 'trend away from analogue' whilst BMW may be fitting DAB (I asume DAB+?) in new (expensive) cars the mess the broadcasters of the 21st Century have created - including black spots (no signal at all) in cities even FM didn't give us, when AM faded but didn't die must be considered . The claimed up to 50 radio stations on DAB is more like 150+ with analogue FM and AM so lets get real.
Is that progress, I think not.

Rog Parsons's 38 posts
Saturday, 21 February 2015

No background hiss in my part of Cheshire on BBC Radio 4 FM, which continues to broadcast evening programmes in STEREO every day, including THE ARCHERS, ANY QUESTIONS, THE FRIDAY PLAY the 7:45pm drama, FRONT ROW and FACE THE FACTS, unlike BBC RADIO 4 DAB which since 2012, despite promises to the contrary from Jenny Abramski (former controller of Radio 4), is in MONO, giving its stereo bits to BBC Radio 5 Live Sports Extra. Madness !!! Even more silly is that TV broadcasts radio in stereo where radio broadcasts radio in mono !! BBC Radio 4 extra has always been in mono on DAB, but always been in stereo on the tele (Freeview/Freesat/Virgin & Sky) and online.


Nedbod's 619 posts

Agreed - the BBC Radio 4 display on my (wretchedly inadequate) DAB radio shows '80kps Mono'.

Quite clearly this is NOT an adequate alternative to FM....

nickwilcock's 24 posts
Select more comments
Your comment please